Books
Musician, actor, author: Steven Van Zandt on his new book, his local roots, and Boston vs. Jersey
The longtime guitarist of Bruce Springsteen's E Street Band and "Sopranos" star has quite a story to tell.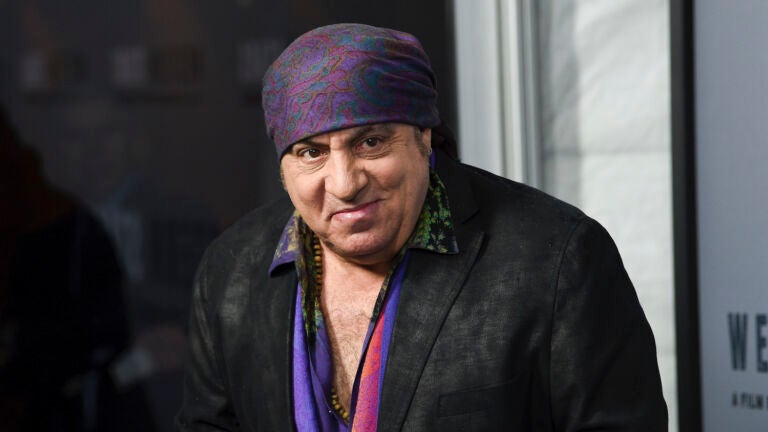 There are likely very few, if any, with the resume of Steven Van Zandt.
His life's work is as varied and colorful a mosaic as many of the bandanas and groovy shirts that complete his signature look — the chosen uniform of perhaps rock and television's most preeminent sideman.
The latest entry in his five-decade-spanning career has long been imagined but, even with Van Zandt's continued creative charge as he nears 71, may not have come to fruition if it weren't for him being stuck inside his Greenwich Village apartment as COVID-19 eclipsed New York City last year.
"I was in quarantine. What are you gonna do, you know?" he says over a recent Zoom call from that same apartment, as he discusses "Unrequited Infatuations," (Hachette Books) a memoir whose release now adds a new descriptor for the still-evolving rock legend: author.
"You go through Netflix and Hulu and eventually you run out of things to watch," he jokes. "Seriously, I think it was the quarantine providing an opportunity because I don't think (the book) would have ever happened if I wasn't trapped at home."
How Van Zandt finds time for all of his various projects, even not during a pandemic, is a wonder.
He's on constant standby to fulfill his legendary status as Bruce Springsteen's right-hand man in the heart-stopping E Street Band, still touring the world after 50 years.
His television career has kept him busy over the past 20, since he began his just-as-famous performance as a fictional consigliere in "The Sopranos." Most recently, he starred and wrote for the Netflix series "Lilyhammer," about a former New York mobster relocating to a rural Norwegian village.
He's still overseeing his kingdom of cool with Sirius XM's "Little Steven's Underground Garage" station and his label, Wicked Cool Records.
Van Zandt is also still a rambunctious political activist, vocal arts education advocate, and even a proprietor of holistic products in his "Underground Apocrethary," including a line of CBD-oriented marijuana joints he launched here in Massachusetts this year.
Oh yeah, and he just came out of the "three most productive" years in his life, between 2017 and 2019, as he says, during which he put out a total of six album packages of his solo work with his backing band, the Disciples of Soul.
"I was really very happy about that and it provided some closure, you know, on that chapter of my life," says Van Zandt, who clearly still stitches his patchwork of projects with ease.
"It was really a thrilling three years and it felt like, OK, I see (this) … kind of beginning, middle and an end here to the story, at least, you know, at least this far."
That story, told with all of his New Jersey bravado, makes for an easy, page-turning read in "Unrequited Infatuations," which traces Van Zandt's up-again, down-again career from his early childhood in Watertown, Mass., to his shore days in Asbury Park to earning, finally, his place in the pantheon of rock and roll.
Boston.com's Christopher Gavin, Pete Chianca and Rami Abou-Sabe caught up with Van Zandt to cover it all. Here's what he said:
---
Watch the full interview:
The interview below has been edited for length and clarity.
On the new book
Pete: We've all been poring over the book in recent weeks and I think the first question has to be: Why a book? Why now? It's been a long time. You've been involved in a lot of things. Why at this juncture?
Well, you know, I was in quarantine. What are you gonna do, you know? (laughs) You go through Netflix and Hulu and eventually you run out of things to watch…Seriously, I think it was the quarantine providing an opportunity because I don't think it would have ever happened if I wasn't trapped at home.
But the previous three years, I think, really is what allowed it to happen, because I tried it like 10 years ago, 15 years ago, and I couldn't really figure it out because by then, I was just kind of drifting. And these last three years, I re-connected with my life's work, which I didn't expect to do. And I didn't realize how important it was to do that, you know? And of course, like most of my life it happened by accident. But I was very glad it happened.
And '17, '18, '19 turned out to be the three most productive years of my entire life. I got two new albums — "Soulfire" and "Summer of Sorcery" — and a total of six album packages in three years. And I'm always a little frustrated with my output, but six packages in three years is about as good as you can do. I was really very happy about that and it provided some closure, you know, on that chapter of my life. If "Summer of Sorcery" was the last tour I do with the Disciples of Soul, you know, that's OK. I went out doing something that I'm really proud of….
It was really a thrilling three years and it felt like, OK, I see (this) … kind of beginning, middle and an end here to the story, at least, you know, at least this far.
Chris: I think I read somewhere, it was put very succinctly, the book sounds like you. It sounds like you're just kind of telling your story straight to us, maybe from your kitchen like you are now. But were you reading anything specific or did you have something in mind (going into it)?
There was nothing exactly like what I wanted to do … I had a lot of help from an editor named Ben Greenman, and he was just terrific.
What I told him going in, I said, 'Listen, my narrative I want to be only really a third of the book. Another third I want to be history, I want to talk about history in a way that most people don't because I witnessed everything except the first 10 years of rock and roll history, you know? And I kind of got my own kind of observation of that.
And the other third were the various crafts I've been involved in which, again, is kind of different than most people. I wanted to balance between those three things, the history, the narrative, and the craft. And I wanted it to end up being more than just a music book for music people. You know, the first half of the book is kind of that, which is great, you know, New Jersey kid makes it all the way to the top and rock and roll and nothing wrong with that. That's a good story. But the second half gets a little bit more interesting and a bit more universal in its themes after I leave The E Street Band and my life sort of officially ends at that point. And I'm left staring into the abyss and I got (the) whole rest of my life to live with no plan whatsoever.
And it turns out that's when I do most of the work that everybody knows. So it becomes a whole different story that second half. So there was nothing really to compare it to, to be honest.
On his Boston roots
Chris: To kind of delve into that personal history you mentioned, you lived in Watertown until your family moved to New Jersey when you were a kid. Do you have any early memories of growing up in the Boston area? What does it mean to you when you come back to town?
No … back then all I remember (is) just a couple things. I remember my grandfather bringing me to the Italian section of town. There were still pushcarts in the '50s, like "The Godfather: Part II," you know? That kind of vibe. I remember my grandfather's shoe making store. He was a shoemaker and I remember his shop was all the machines, along one wall.
Somebody the other night, literally two nights ago, somebody gave me a picture of the house I grew up in there, which, uhh, I don't know what I did with it but if I find it I'll show you. But not much else.
I remember there being a lot of snow in those days. (laughs) (But I don't remember) too much. I left when I was seven.
Pete: Have you found Boston to be a welcoming environment when you've come back?
Oh yeah, yeah yeah. It's great. It's one of the great towns. I got some really important friends there, you know, [J. Geils Band frontman] Peter Wolf is one of my best friends and I know the Aerosmith guys, and a couple of [pioneering local rock band] The Remains, a couple of guys here, a couple guys there. It's just a great town. Always has been.
Rami: You mentioned being able to witness the history of rock, except for those first 10 years. Who would you consider to be the great Boston bands? And do you see a through line at all between the Boston sound and the Jersey Shore sound? Is there a connection there?
Yeah, I mean, to some extent, yeah. If you just take the three most notable, I think, not counting the garage bands, but the bigger bands you know — The Remains, J. Geils Band, and Aerosmith are probably the three big ones. But you know you get the Lyres, you got — oh man, there's all kinds of garage bands. Of course I can't think of them right now but there's a million of them.
And … especially The Remains and J. Geils were pretty rootsy, you know. Aerosmith took it to the next level in a way of being a hybrid, starting to get into the hard rock thing, mixed with their blues roots and rockabilly roots and things like that. So yeah, I think there's rootsy-ness, if you will, to the Boston stuff I think that we share with Jersey.
But I think most of the bands in the '60s were very similar, really, and it wasn't until the '70s really started the fragmentation and … all the hybrids started to explode. But you can definitely see a connection between Southside Johnny and the Asbury Jukes and J. Geils Band for instance …
There's a connection I think in the tradition, you know. There's a traditional aspect to it, and Boston had an even deeper tradition than Jersey. I mean, you had the great traditional venues, which Jersey didn't have until we invented one, which was The Stone Pony. There was no Jersey scene like Boston, you know: Club 47 and The Rat and The Boston Tea Party and, one venue after the other. I saw the Paul Butterfield Blues Band at The Boston Tea Party. And you had all the great folk tradition with Club 47 and, you know, all of that. So you had a much deeper, big town tradition than we had in Jersey. We had no such thing.
On 'The Sopranos'
Pete: I think to this day my favorite episode (of "The Sopranos") is the Columbus Day episode. And I remember calling my friends and saying, 'You got to see this one. It's all Stevie.'
And reading the book you're talking about your work with the Native American reservations, and I said, 'Wow, that is so opposite of Silvio in that episode it is even more ironic.' It just got me thinking, what was it like to play that character? What about that character was like you and what was the total opposite of you?
That episode was a lot of fun because I knew a lot of the Indians, you know, playing the Indians. My favorite thing was … I remember ending the episode by saying, 'Go back where you came from, you f******,' you know — my favorite line in the whole series. I don't think it was in the show though.
What was like me and what was not like me? Well, one of the most fascinating aspects of this … (is) I started off as a very vague character … I get the gig. It's a very vague character running the strip club for the family. There's no really assigned role, per se. There's no position.
And what's fascinating to me now, as thorough as David Chase is … he creates like 15 interesting characters, but does not assign the role of either underboss or consiglieri.
So here I come, and I come in through the side door because I told him I don't want to take an actor's job. So he says, 'OK I'll write you in a part that doesn't exist.' I had a treatment about a guy named Silvio Dante, an independent hitman. He ran like a Copacabana club, and lives in the past. That's why it looks like a '50s guy. HBO said they couldn't afford doing a Copacabana club and so they made it a strip club. And that was all we really talked about.
So now I'm running the strip club for the family but no particular role and I think me and Jimmy (Gandolfini) started bonding off screen, because I think we're both similar in that he was more comfortable being a character actor and I'm more comfortable being a sideman, and neither one of us really was big fans of the spotlight. But we both would rise to the occasion when necessary. I think we kind of bonded on that basis.
Rami: Have you seen "The Many Saints of Newark" and what did you think?
I love it. I loved it. I mean, David Chase is a genius but he's also a contrarian. He's never going to make it easy (laughs) for you or for himself. That's just his inclination, like to go left when everybody expects him to go right. So he does a prequel, based on a character that basically wasn't in the TV show. (laughs) That's just him.
But I just love being back in that atmosphere, those characters, even though they were 20 years younger or 30 years younger, whatever it is, you know. It's fun being back in that world.
Rami: Just today, there's been confirmation that there's a new series possibly in the works with David Chase and HBO. Will you be involved?
First I've heard of it. If it's near a sequel, Silvio can run out of that coma. I promise you that.
Rami: I think the idea is that it's between '"Many Saints" and the show, somewhere inbetween the two.
Well, I don't know. Maybe I can have some plastic surgery and play myself.
Pete: They can do that all with computers now, Stevie. You were in "The Irishman."
That was only like $200 million. I'm in. Believe me, if it's possible, I'm in.
On entering the Mass. marijuana business
Chris: You're now among a growing number of musicians who've entered the marijuana business. You have a line of pre-rolled joints that you're selling at Canna Provisions right here in Massachusetts. I know you sell a lot of wellness products, things like that, but why did you decide to go into specifically the marijuana business and what attracted you to the dispensaries here?
Well it's a new thing for us. We're trying it out, and I like the idea. The whole pandemic thing kind of suggested, you know, are there ways to strengthen our immune system somehow? That got me thinking about it.
As far as the cannabis end of it, you know, I don't smoke. And I haven't smoked cannabis since the '60s, but I feel very strongly that it should be legal. We're gonna be giving some percentage to NORML (the national nonprofit dedicated to reforming marijuana laws) to help legalize it everywhere.
And we kind of balanced the chemical balance a little bit more towards the wellness side, CBD side from the THC side, you know … (from) the getting high stuff (to) the more medicinal stuff. We kind of balance it more towards the medicinal because it does really help a lot of people (with) various illnesses and … helps some people just go to sleep and just relax, you know. So, (we) made it part of our Little Steven's Underground Apothecary. We'll see, what happens with it.
Chris: I can imagine, you know, you could have gone into business in Colorado at first or California, New York now. Anything about Massachusetts (that stood out)?
Well we really liked those guys. You know we met those guys and my people really liked what they saw, how they do business. So we were able to partner with them.
But they seem to be particularly, you know, righteous people. So you know we're always looking for relationships that is more than just business, you know? I mean, at this stage of the game, it's got to be something more than that. You got to feel some kind of connection philosophically, spiritually, you know. And they were really cool.
Chris: I want to say I read somewhere too that they were involved with Willie Nelson's line (of cannabis). (Canna Provisions CEO Meg Sanders worked with Nelson's estate to launch the product line.) So if they get Willie's stamp of approval, I feel like maybe that goes far in the marijuana world.
Yeah, he's like, you know, other than Cheech and Chong, he's probably right there in the hierarchy. (laughs)
On leaving the E Street Band and a possible 2022 tour with the Boss
Rami: You know we can't make it this far without touching on it: Given that it's been nearly 40 years, does it still surprise you that people are talking about why and people are so interested in why you left the E Street Band? By people, (I mean) mostly the media. But 40 years on, were you expecting that decision to have so much interest?
Well, you know, what's been fun about this book (is) there's so much in it that almost every interview is different, to tell you the truth. That does come up more often than not, but you can go in 100 different directions with this book. And it's been fun.
It was just a perfect storm at the time of various things that led me to leave. And it's kind of an emotional thing, and I go into great detail about the three kind of fights me and Bruce had in our lives and that was really the first. It got quite emotional so it didn't really hit me what I'd done until a little time later, until I was on a plane to South Africa [to work with the anti-apartheid movement]. And that's when I realized I'm not just changing jobs here. I just ended my life. My whole life has ended. And that's why that second half of the book from then on, I think, becomes a little bit more interesting…
Nothing wrong with the first half of the book, you know, local kid from Jersey makes it to the top in rock and roll. I mean that's a really good story by itself. And I'm grateful forever for that. But then you leave now and that whole part of your life ends, and there's no plan after that. That was my whole plan. That's my whole life.
So now what? Now you're staring into the abyss. You're staring into the wasteland. And now begins a much bigger theme, a much more universal theme I think for most people who want more than just a music book for music people, although there's plenty of that. And now it becomes a little bit more everyman. Everybody hits a wall maybe in life and hits a disappointment or their first plan of their life doesn't work out.
And then what happens? It's not the disappointment, or the failure, or the end. It's what happens after that that matters. And this is where I think my life can kind of be a bit helpful and useful because everything I've done — virtually everything I've done — happened after my life ended. You know, in my mind it was over. And now what? I'm looking at nothing, and yet everything that I accomplished happens after that.
So, if you can find a way to move forward in spite of what's going on or disappointments in life, if you can find a way just to kind of hang in there and move forward, you might be surprised by what destiny has in mind. You don't know. And you could end up doing something that is useful without knowing it, without planning it.
Chris: Bruce recently hinted at a tour next year with the band. Any idea when you'll be back in Boston or when you're likely to get that call from the Boss?
He really made news the other night. (laughs) We were doing an event that he interviewed me (at), and it's going to be online eventually … But he kind of made news by announcing the tour. (laughs). I was like, damn! So I don't know. We'll see, we'll see. I'm not sure when exactly or what exactly. But it became a real possibility 24 hours ago.
Chris: There's a part in the book where I think you talked about him putting together a tour with like six weeks (notice) or something. Do you ever get any notice at all? (laughs)
That remains one of the most remarkable achievements in the history of the business. I swear to God. I mean, it was one of those moments, he said, 'We're definitely not touring,' you know, definitely not. And this is (the) end of November, like Thanksgiving. And we're on stage in January.
I'm telling you, the logistics alone, they're impossible. So I don't know how (tour manager) George Travis pulled that one off. So that kind of spoils you and, you know, spoils Bruce's long-term thinking. (laughs) Kind of makes it obvious that maybe we don't have to think long term. We can kind of get things done rather quickly. So we'll see. We'll see. You'll know before me, probably.
Pete: In recent years Paul McCartney has shown up and played with you, with the E Street Band, yes, and also with you and the Disciples (of Soul). I assume you could probably get him on the phone tomorrow if you needed to. What would 14-year-old Stevie think about that?
No, no, no way. No way. No, no, no possibility. It's still the most remarkable thing in my life.
You got to compartmentalize to some extent, you know what I mean? You can't be that 13- or 14-year-old kid, especially when you're with him. He's just another friend, another musician, and that's how he wants to be treated.
And man he proved it that day, not only is he a total for-real musician, but what balls to come on stage, no rehearsal, not knowing what we're going to do — no idea.
And, you know, coming on stage with the E Street Band was thrilling, inviting me and Bruce on stage with him in Madison Square Garden was thrilling, but coming on my stage with my band in a little club. You know, this is not the big time. (laughs) This is Stevie world, which is a cult, at best, OK? (laughs again) Cult may be over-exaggerating my world.
It was amazing, amazing. What an endorsement. It made my life. It gave me the ending to the book. Sorry I had a spoiler for you. But, it really was a complete circle, complete closure, with how my life started really.
My manager suggested that actually, and I was like, yeah, that's the ending, you know, at least for this part of my life anyway. We'll see. I'm hoping for a big fourth quarter.
Watch the full interview above for more on Van Zandt's efforts to end apartheid in South Africa, his work with his "Teach Rock" arts curriculum, and what the future may hold for Little Steven.
Newsletter Signup
Stay up to date on all the latest news from Boston.com