Racial Justice
5 recent books to buy for your friend who doesn't believe in systemic racism
These books lay out the historical lessons the U.S. hasn't fully learned, and the obstacles it still needs to overcome.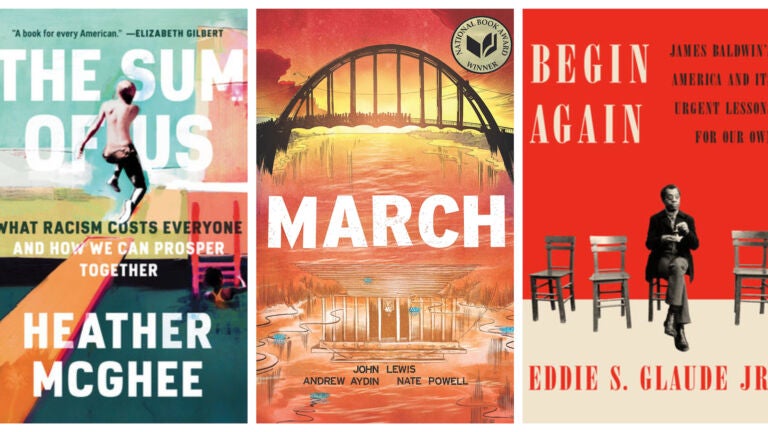 It's something of a Catch-22: The typical people reading books about dismantling inequality in American society — books like the best-selling "How to Be an Antiracist" by Ibram X. Kendi, director of the Center for Antiracist Research at Boston University — may appreciate the message, but not be the ones who really need to read them.
Instead, those books should be landing on the reading lists of the people who don't think inequality needs any dismantling, not because they're racist but because they see systemic racism as ancient history in the post-Obama era.
As the fight to preserve voting rights once again dominates the headlines this MLK Day, it might be a good time to look back at this nation's civil rights battles, with an eye toward remembering how many have yet to be won. So gifting a copy of one of the books listed below to someone who could stand to hear that message might be a good way to mark the day.
"March" by Congressman John Lewis, Andrew Aydin and Nate Powell. It wasn't that long ago, but much of the civil rights movement is already clouded by the fog of history (and by the efforts of those who'd rather we not remember). Maybe that's why the stark depictions of the sacrifices suffered by the late congressman and his fellow activists in this three-volume graphic novel, collected as a set in 2016, are a revelation — and a reminder of how the past is still very much present.
"Walk with Me: A Biography of Fannie Lou Hamer," by Kate Clifford Larson. If you're asking, "Who?," then you need to drop everything and pick up this 2021 biography of one of the civil rights movement's most inspiring leaders. But even if you do know about Hamer — whose testimony at the 1964 Democratic Convention, about being beaten and humiliated while attempting to register to vote, is considered a watershed moment in the movement — you're sure to learn something new from Larson's impeccably researched work.
"Begin Again: James Baldwin's America and Its Urgent Lessons for Our Own," by Eddie S. Glaude Jr. If you haven't read Baldwin, do so immediately, starting with "The Fire Next Time," his 1963 non-fiction book that provided some of the first testimony to white Americans trying to understand the battle for civil rights. (Its opening essay, "My Dungeon Shook: Letter to My Nephew on the One Hundredth Anniversary of the Emancipation," famously inspired "Letter to My Son" in Ta-Nehisi Coates' "Between the World and Me.") But then check out Glaude Jr.'s 2020 revisiting of Baldwin's legacy, which acts as both a primer for Baldwin's work and a sad reminder of how little has changed since he first put pen to paper.
"Caste: The Origins of Our Discontents," by Isabel Wilkerson. Wilkerson's book drew Oprah Winfrey's attention when it was released in 2020, and it's easy to see why: It's a staggering and utterly convincing analysis of the unseen hierarchies that continue to dictate many aspects of life in these United States. Wilkerson points out uncomfortable resemblances between America's treatment of its Black citizens and elements of India's notorious caste system, and even with the practices of Nazi Germany, which actually looked to Jim Crow-era America as a template for its oppression of Germany's Jewish population.
"The Sum of Us: What Racism Costs Everyone and How We Can Prosper Together," by Heather McGhee. If there's one book on this list that should be required reading in every U.S. high school, it's probably McGhee's devastating 2021 analysis of how racist policies — from housing to the workplace to the environment — have made America worse not just for people of color, but for everyone (with the possible exception of the wealthiest of the wealthy). What's so depressing is how she clearly shows how much better things could be if those who wield the levers of power had put in even the slightest effort toward equality — rather than do just the opposite.
Other options: Self-help, memoir, and fiction
"Me and White Supremacy: Combat Racism, Change the World, and Become a Good Ancestor," by Layla F. Saad (2020). For those looking to dive right into the hard work of becoming an anti-racist, Saad's no-nonsense workbook walks you through a 28-day journey to get there. (Be prepared to make notes.)
"My Vanishing Country: A Memoir" by Bakari Sellers (2021). The former South Carolina state legislator and son of a prominent civil rights activist paints a compelling picture of the forgotten southern, rural Black working class he counts among his neighbors.
"Crossing the Line: A Fearless Team of Brothers and the Sport That Changed Their Lives Forever," by Kareem Rosser (2021). Poor Black kids from the outskirts of Philadelphia wind up finding redemption in the sport of polo, of all things, in this inspiring memoir.
"No Gods, No Monsters," by Cadwell Turnbull (2021). If metaphor is your thing, check out Turnbull's Boston-set novel that takes on issues of inclusivity, ostracization, and privilege by way of werewolves, witches, and dragons.
Newsletter Signup
Stay up to date on all the latest news from Boston.com