Boston Marathon
'Supernatural' actors Jared and Genevieve Padalecki ran the 2019 Boston Marathon, and fans went wild
The celebrities attracted some serious support during the race.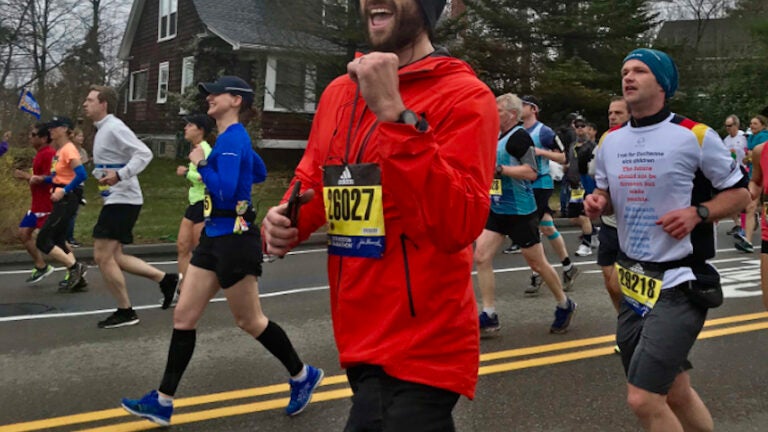 Even with numerous celebrities running the 2019 Boston Marathon, two "super" famous racers received a particularly noteworthy outpouring of fan support.
Jared Padalecki, star of the CW series "Supernatural," ran the Marathon along with his wife, actress Genevieve Padalecki ("Wildfire,'' "Supernatural''). The couple raised more than $30,000 as part of the Boston Marathon team for Dream Big!, a Boston-based nonprofit organization that supports underprivileged girls who want to play sports and participate in physical activities.
Genevieve, who was running her first marathon and finished with a time of 3:36:57, praised the support she received from spectators along the route.
"You walk almost a mile before you cross the start, and you've got so much adrenaline going, so it was kind of overwhelming," she said after the race. "But once you get going, everywhere you turn there are people cheering you on, and it's the friendliest, most fun, kind, energetic city I've ever been in."
Jared, who stopped multiple times throughout the race for selfies with fans, finished with a time of 4:32:24.
Please excuse me and my family screaming but hey @jarpad What's up king!!! Rooting for ya ! ? #BostonMarathon pic.twitter.com/pwxMIwtgd2

— jenna (@jennleonaa) April 15, 2019
Ugh I don't know what I did to deserve this but thank you so much @jarpad ???? pic.twitter.com/sbSpLsQ4Rd

— Kate ? (@rr_waitress) April 15, 2019
Seriously @jarpad is the best bean for stopping for everyone! #RunPadsRun

CC: @xkristinnnx @womanofletters6 @TaiyouKitsune pic.twitter.com/l7RUZu5Zb3

— 『T』?? (@TONiANN_ROSE) April 15, 2019
Excuse the sound of our inner fangirls dying as @jarpad sees our poster? Photo cred to @adriannarosadio and shout out to my cheering partner @a_moruzzi24 #BostonMarathon #SPNFamily pic.twitter.com/9ZFPMjCX4K

— Caroline Martell (@c_martell4) April 15, 2019
Talia Viera, 18, of Quincy, stood on Boylston Street with a sign she made for Jared Padalecki (@jarpad) and his wife Genevieve (@realGpad), who both star in the TV series "Supernatural." She will be cheering them on as they run the #BostonMarathon. "I'm really excited," she said. pic.twitter.com/6wDV9Askgt

— Emily Sweeney (@emilysweeney) April 15, 2019
Even fans who weren't stationed along the race route excitedly tweeted screenshots of the Padaleckis' progress throughout the 26.2 miles.
HOME STRETCH @realGpad you got it girl coach O is going to be so proud of you I know I am!!!! #RunPadsRun pic.twitter.com/xnrGEHOjL7

— Diane Amendola #keepcalmandloveTeamTinyCas (@DianeAmendola) April 15, 2019
Caroline Martell and her friends Adrianna Rosadio and Angela Moruzzi positioned themselves near the one-mile marker in Hopkinton in the hopes of seeing the Padaleckis and cheering them on.
Excited to cheer on @jarpad and @realGpad at the mile 1 mark! #MarathonMonday #SPNFamily pic.twitter.com/aKUco76ZKI

— Caroline Martell (@c_martell4) April 15, 2019
In a Twitter direct message, Martell said she and her friends "can't even begin [to] summarize our enthusiasm for him and the show."
"We usually all go to the Marathon anyway as it's such a great event," Martell wrote, "but knowing that Jared and his wife Gen were running for a good cause definitely motivated us to make the sign and support them. We're super happy we were able to see him briefly and send him our energy!"