Boston Marathon
Marine veteran who crawled to the Boston Marathon finish line was inspired by fallen comrades
Micah Herndon was running to honor the lives of three men killed by an IED in Afghanistan.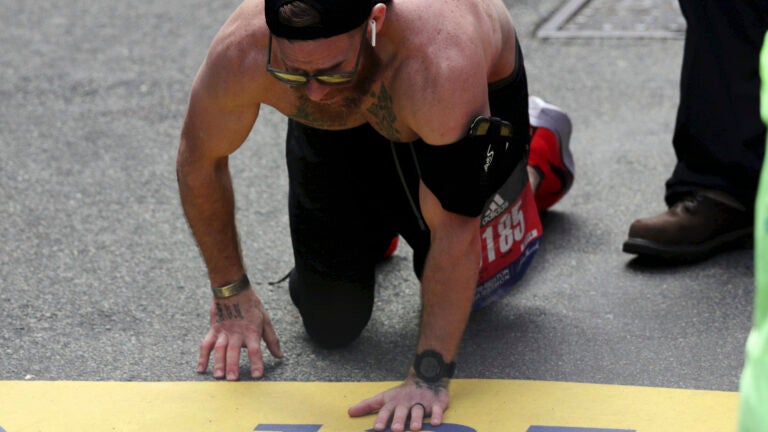 Micah Herndon ran the 2019 Boston Marathon in three hours and 38 minutes on Monday. Ran and crawled, that is.
Video of Herndon, a 31-year-old Marine veteran from Tallmadge, Ohio, finishing the race on all fours went viral on Monday, with both local and national outlets sharing footage of his drive and determination.
LET'S GET IT! ? Micah Herndon told me, "I'm doing this on my own." Refusing help as he pulled himself across the Boston Marathon Finish Line. The Marine said he was repeating the names of 3 fallen soldiers who were killed in Afghanistan as motivation. #WBZ at 11pm. pic.twitter.com/vntmggCJad

— Tiffany Chan (@TiffanyChanWBZ) April 16, 2019
In the lead-up to the race, Herndon frequently posted on his Facebook page the hashtag "#4ballardhamerjuarez," which coincides with the three names that he wears on his running shoes and that could be seen on his right hand during the race: Ballard, Hamer, and Juarez.
According to The Washington Post, Herndon's fellow Marines Matthew Ballard and Mark Juarez and British journalist Rupert Hamer died in 2010 from an improvised explosive device's blast in Afghanistan. When his Achilles tendon starting giving him trouble on Monday and his legs "gave up" near the end of the race, Herndon told the Post that he chanted his fallen comrades' names aloud to help himself focus on finishing.
"I kept repeating those names," Herndon told the Post. "The thoughts of their memories and their families flowing through the mind just like they always do."
In videos from near the finish line, Herndon can be seen resolutely crawling forward as Marathon officials create a buffer between him and other runners, allowing him to complete the race.
"Nothing against no one that got help, but I didn't want help," Herndon told the Post. "I wanted to finish on my own because whatever pain that I was feeling at that time, or whenever, is nothing compared to the guys and the families that were lost over there."
Approximately three months before the race, Herndon posted a status on Facebook about what taking part in the Boston Marathon meant to him.
"The meaning of getting accepted in this race is more than the prestige that surrounds the Boston marathon," Herndon wrote. "It's for my brothers Ballard, Juarez, Hamer, and for the families that lost loved ones on that day."