Breweries & Bars
You don't have to go to Graceland to see Elvis's 'Jungle Room.' Just go to this Boston bar.
The green shag carpet and the rock wall from Elvis Presley's den, the Jungle Room, are coming to Boston in a pop-up event.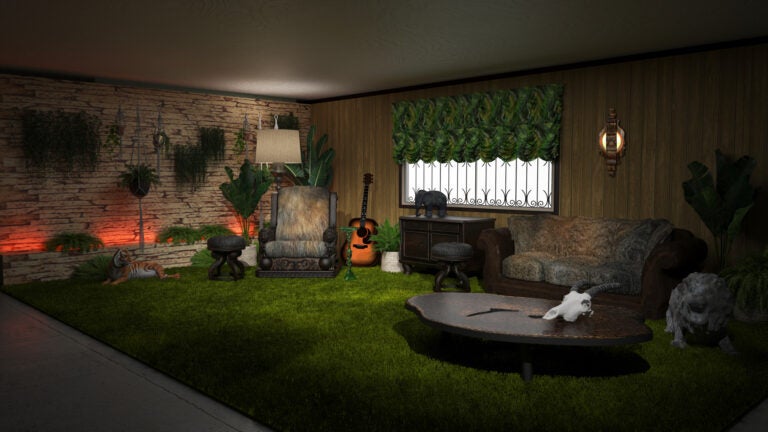 Fans of the King may know the Jungle Room as Elvis Presley's den, a space in his Graceland mansion that was his at-home tiki bar and a recording studio for the aptly named "Way Down in the Jungle Room" compilation album.
Now that notable room, with its shaggy green carpet and over-the-top mid-century furnishings, is coming to Boston — or a replica of it, anyway.
For two nights only, the Jungle Room is taking over The Point, a pub near the Rose Kennedy Greenway, and transforming it into an Elvis-themed pop-up bar. The city tourism agency Memphis Travel is calling it the "Love Me (Bar) Tender" (get it?).
Along with the kitschy interior design that was once considered the height of luxury, the team at Memphis Travel said visitors can expect a playlist full of Memphis musicians — perhaps some Elvis tunes. And the cocktails will also be on theme: a Memphis Soul Fashioned, Heartbreak Hotel Highball, a vodka and Prosecco Blues on Beale, and the Burning Love Bacardi.
Oh, and there will be plenty of selfie opportunities, from the actual photo booth there, to using the room as your backdrop. The forest green shag carpet will be in place, as will the built-in rock wall (though no waterfall, sadly).
So how do Boston's Elvis disciples get into this limited-time event? Memphis Travel said patrons should register for a space, but it's free to attend.
Tickets are available each hour, from 4 to 10 p.m., and each ticket gets you an hour-and-a-half at the pop-up.
Memphis Travel recommends registering over showing up — their New York event has already reached capacity — though there may be space for walk-ins, the tourism agency said. If visitors register when capacity is met, they'll get added to a waitlist.
Dates: Oct. 10 and 11, from 4 to 11 p.m.; Address: 147 Hanover St.
Newsletter Signup
Stay up to date on all the latest news from Boston.com