Business
A Boston entrepreneur is pitching her PMS symptom-fighting chocolates on 'Shark Tank'
PMS Bites come in flavors like "Plain Crazy" and "All Kind of Nuts."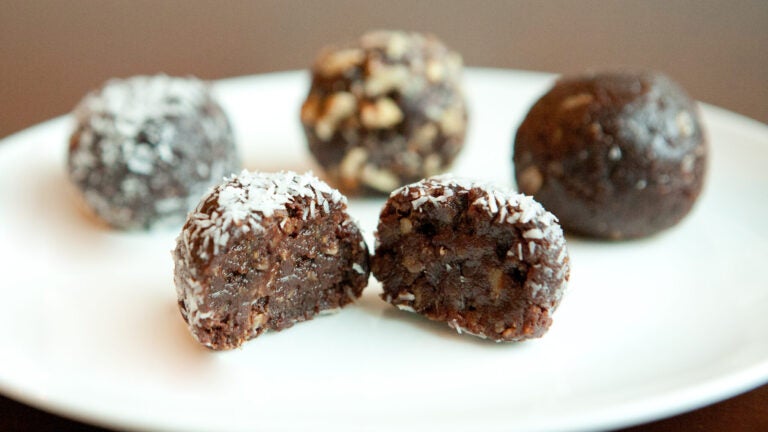 Tania Green has always cared about being healthy, but her willpower against sugary treats would dissolve when she experienced PMS—especially considering all the bakeries so easily accessible from her North End apartment.
"If you're a tourist it's fine, but if you live here 24/7, it can get difficult," Green said. "I realized that during that time of the month, I would forgo all of my healthy habits and go down to my local bakery and get a brownie."
Though women may crave sugar during that time of the month, Green says it can actually exacerbate symptoms like irritability, bloating, and fatigue. So, she decided to create a healthier alternative.
After running a successful Kickstarter campaign and becoming a finalist for the startup accelerator competition MassChallenge, she recently got the chance to pitch her business PMS Bites on ABC's Shark Tank.
"It was an exciting experience, and everyone was really positive and professional and upbeat," Green said. "I felt really at home. There was no time for nerves—It was a once in a lifetime opportunity."
Green's Shark Tank episode will air May 20. Now 30 years old, she first started PMS Bites with a Kickstarter campaign in February 2015. Green worked in her North End apartment's kitchen to perfect the recipes for her chocolate desserts. They're all natural, gluten free, vegan, and infused with herbs that help alleviate PMS symptoms such as bloating and cramps.
They also come in cheekily-named flavors like "Plain Crazy" and "All Kind of Nuts."
"I get lots of feedback on my website where women reach out to say they really have helped them feel a lot better," Green said. "I just got another investor from the Boston area—Mark Andrus, co-founder of Stacy's Pita Chips—and basically what put him over the edge to invest was that he gave some products to one of his friends, and she said 'Oh my God, this makes me feel so much better. I really love these.' That's what sealed the deal."
Green said Shark Tank reached out to her, but she's not exactly sure whether they found her through the Kickstarter, her MassChallenge connection, or after a serendipitous run-in at Boston Common Coffee with a producer for the fellow-ABC show Dancing with the Stars.
"We started talking and he learned about my business and thought it was awesome, and two days later I was contacted," Green said. "I thought that it was crazy timing but when I called him, he said he didn't do it."
However she got there, Green is glad she got the chance to pitch to the Sharks, though she couldn't share how the episode played out. Catch it on ABC, May 20 at 9 p.m.