Business
Here's a running list of AAPI- and Asian-owned businesses to support in Greater Boston
Let us know your favorites. We'll add it to this list.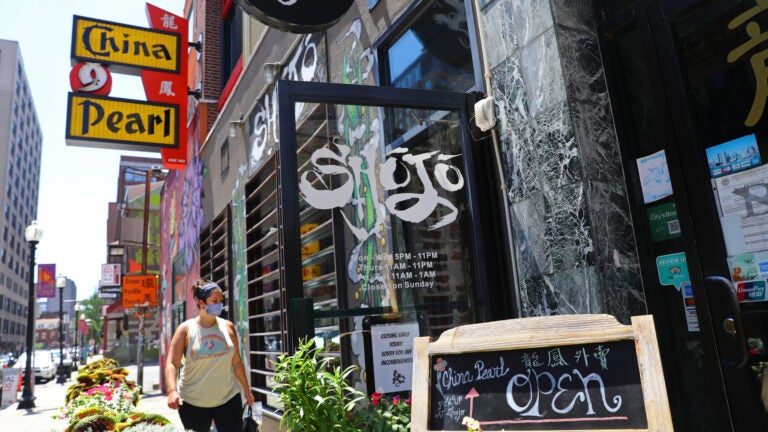 May marks Asian American and Pacific Islander (AAPI) Heritage Month, and this month of cultural celebration comes after a year marred by a nationwide rise in anti-Asian violence. Anti-Asian hate crimes increased by 60 percent in Boston, according to a report by California State University, San Bernardino, and Asian-owned businesses have been hard-hit by the economic downturn as a result of the pandemic, as well as individuals having faced racial discrimination.
Lawmakers in the state Legislature's House Asian Caucus and civic leaders called on the community to support Asian-owned businesses by spending their money at these establishments, in addition to attending cultural events and celebrations throughout the month of May.
AAPI- and Asian-owned local businesses and nonprofits are an important part of Boston's community, and several have stepped up in recent months to give back to marginalized people throughout the pandemic. As we continue to celebrate the influence and contributions from the AAPI community, we've compiled a list of small businesses and organizations you can support in the Boston area.
Share your favorite local AAPI- and Asian-owned businesses and non-profits in our survey below or by e-mailing [email protected], and we'll add it to our list.
---
Local businesses
Bánh Mì Lê (419 Hancock St., Quincy)
This eatery offers up delicious Vietnamese fast food with their classic bánh mì, bubble tea, and more as their way of "keep[ing] the Vietnamese Culture alive" in Quincy. You can dine in or have them cater your event.
Cha Yen Thai, (613 Mount Auburn St., Watertown)
As the weather gets warmer, stop by this Thai eatery, which serves classic dishes like pad see ew and panang curry, but also has Thai ice cream on the menu. They change their flavors bi-weekly and in the past have featured flavors such as Thai iced coffee and jasmine Thai basil.
China Pearl Restaurant (9 Tyler St., Boston and 237 Quincy Ave., Quincy)
If you're looking for a dim sum experience in Boston, it doesn't get more classic than China Pearl. With dishes like steamed shrimp dumplings and BBQ pork buns, this eatery has been a favorite of many residents since it opened in the late 1980s.
This Central Square coffee bar is another 2020 addition to the city's restaurant scene. It's owned by Vinh Le and Duong Huynh, who also ran pop-up eatery, Nem Kitchen in Somerville. Try their Bạc xỉu, or Saigon street coffee.
Essex Corner (50 Essex St., Boston)
Located in Chinatown, this crafts store is a great place to find Asian arts and goods such as chopsticks and food dishes, decorative items, and stationery. During the Lunar New Year you can find traditional red envelopes and lanterns, but their year-round selection of cultural products make it a worthwhile visit any time of the year.
Eye Lush (Locations in Boston, Quincy, and Watertown)
If you're looking to pamper yourself, try one of these greater Boston salons. Owner Thuy Leung offers a number of luxury eyelash extension services as well as waxing appointments.
This MetroWest supermarket specializes in Asian goods from Japan, Taiwan, China, Korea, and other southeast Asian countries. For those with special diets like vegan, halal, and vegetarian, they offer a variety of diet-specific selections.
FuGaKyu (1280 Beacon St., Brookline and 621 Boston Post Rd., Sudbury)
At FuGaKyu, you'll find both traditional and creative takes on Japanese cuisine. They cook with seasonal ingredients to guarantee the freshness of their meals. If you go, try the staff favorites: grilled miso-marinated Chilean sea bass or sashimi taco trio.
To satisfy your sweet tooth, try this bakery in the heart of Chinatown. This café offers an array of Asian baked goods, plus flavored milk teas and smoothies.
H Mart (581 Massachusetts Ave., Cambridge and 3 Old Concord Rd., Burlington)
H Mart is your one stop shop for Asian groceries. With a wide range of imported groceries, packaged foods, and ready-to-serve meals, these stores are a great resource for cooks skilled in making Asian dishes as well as newcomers to the cuisine.
Hong Kong Supermarket (1095 Commonwealth Ave., Allston)
Can't decide between Chinese, Thai, Indian, Korean, or Japanese for dinner? Try Hong Kong Supermarket, an Asian food market and food court in Allston. The shop is also known by its former name, Super 88 Market, because of the signage above its location. Inside you'll find nearly a dozen stalls offering a host of affordable Asian cuisine. The food vendors are subject to change, but the variety of options means there's always something worth eating.
Moonshine 152 (152 Dorchester Ave., Boston)
Asia Mei, the chef and owner of Southie's Moonshine 152, mixes traditional East Coast and Asian flavors. The restaurant is open for dinner and hosts weekend brunch on its outdoor patio so it's a perfect place to enjoy chef Asia's famous cinnamon french toast sticks outside.
Award-winning chef and restaurateur Joanne Chang runs a number of much loved eateries in the Boston area. Myers+Chang, which she co-owns with her husband, Christopher Myer, serves Asian-inspired small plates while her Flour locations focus on baked goods and other cafe staples.
This eatery is perfect for our vegan and non-vegan readers alike. My Thai offers exclusively vegan Thai food and is also well loved by locals for its bubble teas. This second-story restaurant stays true to traditional Thai flavors while foregoing meat.
Phinista Café (96 Peterborough St., Boston)
This café specializes in Vietnamese-style drip coffee. Owners Yeanie Bach and Phi Pham started Phinista as a pop-up, selling tea and Vietnamese coffee at markets around the city. Their idea has since grown to the brick and mortar location in Fenway where they offer specialties like bánh mì and vermicelli bowls in addition to their classic coffee and crepes — be sure to try the staff favorite drinks like Milk N' Oolong and Berry Matcha N' Milk.
Reign Drink Lab (1370 Dorchester Ave., Boston)
This coffee shop has deep roots in Dorchester's Fields Corner, a Vietnamese enclave that was recently designated by the Mass Cultural Council as Boston Little Saigon. Owner Tam Le is an active part of community advocacy in the area and his father runs Pho Hoa, a restaurant off Dorchester Ave. Reign Drink Lab is currently open Saturdays and Sundays and their specialty Vietnamese coffee makes it a great weekend treat.
Rutchada Thai (153 Belgrade Ave., Roslindale)
This Thai eatery opened its doors in 2020 but already has fans among Boston.com readers. Their menu includes Thai dishes such as chicken massaman curry as well as several takes on the classic pad Thai.
Tao's Beauty (35 Harrison Ave., Boston and 141 Harvard Ave., Boston)
This lifestyle and skincare store specializes in Asian beauty supplies. They boast over 10,000 products ranging from skincare to snacks at their brick and mortar locations in South Boston and Allston, and through their online store.
The Maharaja (57 John F. Kennedy St., Cambridge)
Looking for dinner with a view? This Indian restaurant has floor to ceiling windows and boasts panoramic views of Harvard Square. Reserve a table and try dishes that span the subcontinent from biryanis to lamb specialties.
Twelve Hours (559 Washington St., Brighton)
This "noodle café" offers Thai, Japanese, Vietnamese, Korean, and Chinese noodles of all varieties, from soup to stir-fried. They also have a selection of dishes off the grill and fried rice specialities.
If you love dumplings and want to enjoy them from the comfort of your own dining table, Yang's Dumplings has got you covered. Founder Mama Yang's dumplings are handmade and delivered to your front step, frozen or fresh. ​The restaurant also partners with CommonWealth Kitchen, a nonprofit that aims to create an "equitable, sustainable food economy" in the state.
ZZDessert/OneZo (145 Brighton Ave. and 83 Harrison Ave., Boston and 19 Billings Rd., Quincy)
Milk tea lovers should try this joint dessert and bubble tea spot. They have several locations in the Boston area and pride themselves on making their own specialty tapioca balls in house. A new location is reportedly opening in Brookline.
Non-profits and community organizations
AACA aims to provide economically disadvantaged people in greater Boston with education, occupational training, and social services, including English classes and after-school and college preparation programs. The group launched a pilot program during the pandemic to provide training and mentorship to Asian businesses owners in the area. You can support their mission by donating and volunteering your time.
​Asian Women for Health describes itself as a "peer-led, community-based network" that works to Asian women's health. Using education and advocacy work, the group addresses the barriers to healthcare that Asian women face. support them by volunteering, donating, or getting involved in the medical research they support.
NAAAP Boston serves Asian American professionals by providing them with professional development, networking, and community service opportunities. The group accepts donations to aid in their work to support professionals and entrepreneurs in the greater Boston area.
This art gallery and community center is a collaboration with Boston Chinatown Neighborhood Center with the goal of highlighting and celebrating Asian culture. You can visit the center for art exhibits, cooking demonstrations, festivals, and more.
This non-profit was founded with the goal to serve South Asian immigrants and workers in the greater Boston area. They foster community through youth programming, bi-monthly Chai Addas, or organizing meetings, and in the past year, COVID-19 relief fundraising. The group is always looking for donations as well as volunteers to help with events, photography, videography, social media, and fundraising.
VietAID (42 Charles St., Dorchester)
The Vietnamese American Initiative for Development was founded in 1994 by community leaders and residents who wanted to create affordable services to the Fields Corner community. They offer childcare services, youth leadership programs, immigration support, as well as opportunities for the greater Boston community to celebrate Vietnamese cultural traditions. You can support this group by volunteering and donating, as well as participating events like anti-Asian racism workshops.
---
We'll continue to update this list with your suggestions. If you have a favorite business or group you don't see here, let us know below or e-mail [email protected].
Newsletter Signup
Stay up to date on all the latest news from Boston.com