Cars
Weekend road trip ideas for friends near Boston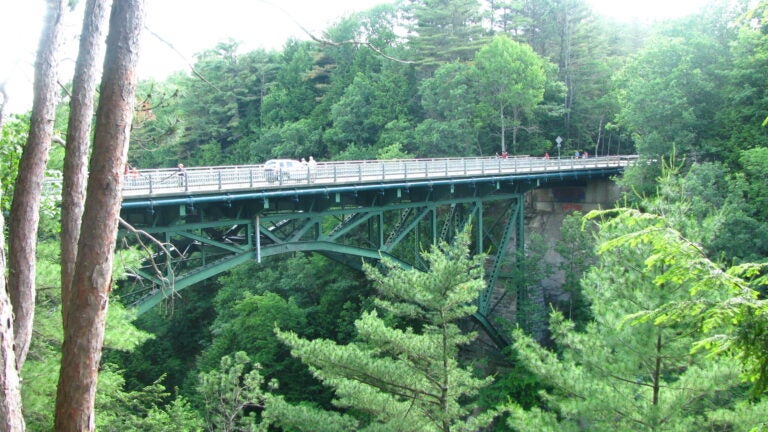 Get amazing travel deals when you sign up for Boston Traveler. Find the perfect getaway, grab special fares for local and international trips, and much more.
Summer is the season for road trips in the Northeast. Check out three awesome itineraries for friends looking to get out of Boston for a weekend of adventures.
TO THE NORTH
The basic idea: Bond with your buddies while getting closer to nature and absorb some culture in Vermont and New Hampshire.
SATURDAY
Morning: Get your friends together in the car and head north on Interstate 95. Drive for about an hour and pull off when you get to Amesbury. Arrive at the Cider Hill Farm and enjoy the morning picking your own blueberries and raspberries, both of which are now in season. Fresh vegetables, including zucchini and summer squash, are also available.
Lunch: When you and the gang have had your fill of berry picking, Amesbury has plenty of good restaurants to grab lunch including Italian-American food at Phat Cats, artisan pizza at Flatbreads and pub fare from Ale House.
Afternoon: Get the gang back in the car and drive north on Interstate 93, switching to Interstate 89 heading towards Vermont. Get on U.S. Route 4 and head towards Quechee State Park. Grab the berries you picked earlier and enjoy them while taking in the spectacular sight of the park's 165 feet-deep gorge. The park also offers several hiking trails to explore.
Dinner: Top off the day by getting a meal and taking in some live music at a local establishment like the Public House or Cj's At Than Wheelers located nearby in White River Junction.
Where to stay: If you and your party feel like roughing it, Quechee State Park has 45 tent and trailer sites for camping. If you'd rather sleep on a mattress, Parker House Inn and Quechee Inn at Marshfield Farm are also nearby and get strong reviews.
SUNDAY
Morning: Once everyone is up and has enjoyed breakfast (don't forget those berries you picked yesterday), head into Woodstock, Vermont and stop at Gallery on the Green, a local art gallery hosted in the town's oldest building.
If your group isn't into the local art scene, stop by Billings Farm & Museum for an interactive lesson on Vermont farm life. Remember to get a souvenir like a candle, a bar of soap, or perhaps something edible that the Green Mountain state is known for, like cheese or maple syrup.
Lunch: Stop by a well-respected establishment like Woodstock Farmers' Market or Mon Vert Café.
Afternoon: Pay your lunch bill and head south on I-89. Stop in Warner, New Hampshire for a visit to the Mt. Kearsarge Indian Museum (if you arrive by 2 p.m. you'll be in time for the museum's daily tour). Take a tour of exhibits and galleries highlighting Native American culture, where you'll learn about crafting and medicine techniques and more.
Dinner: Get dinner at a nearby establishment like the Local, Everyday Café & Pub or the Number 5 Tavern, all of which are just outside Concord. After you've had dinner get on I-93 south and you'll be back in Boston in just over an hour.
TO THE WEST
The basic idea: Experience the sweet life at a Berkshires resort, then go for a canoe trip on the Housatonic River. 
SATURDAY
Morning: Start the day early and head west on the Mass. Pike to the Berkshires. Pack your clubs, sunscreen and water and head to the Cranwell Resort in Lenox for a day on the golf course. If a member of your party doesn't have their own clubs, a set can be rented from the resort.
Of course, we understand that golf isn't for everyone. Cranwell also offers a series of spa services if you'd rather spend the day getting pampered than digging a golf ball out of a sand trap.
Lunch: Cranwell Resort offers several dining options including Sloane's Restaurant and Bar and the Spa Café. Other reputable spots to eat around Lenox include Church Street Café, Betty's Pizza Shack and Jae's Asian Bistro.
Afternoon: Continue your golf game or your spa treatments and soak in the Berkshires high life.
Dinner: There are several great eateries in the Lenox area including Frankie's Ristorante Italiano and Old Heritage Tavern. After dinner, check out the Lion's Den at the Red Lion Inn for live music starting at 9 p.m. on Fridays and Saturdays.
Where to stay: The Cranwell Resort has rooms for guests to stay but please note they're on the expensive side. An alternative is to stay at a well-respected bed and breakfast like the Cornell Inn, Hampton Terrace Bed & Breakfast and the Garden Gables Inn.
SUNDAY
Morning: Wake up the gang, eat breakfast and head to the Berkshire Canoe Tours in Lenox for a journey on the Housatonic River, and take in the sights of the flora and fauna found in Western Massachusetts.
Lunch: Get a bite to eat at Mazcots Sports Bar and Grill, Teddy's Pizza & Restaurant or the Marketplaces Café (located in Pittsfield).
Afternoon: Soak in some of the Berkshires rich history by stopping at a notable institution like Herman Melville & Arrowhead, the home where the "Moby Dick" author once lived. Or head south to the Mount in Lenox where another famous author, Edith Wharton, once lived. Explore the Mount's rich gardens, architecture and stables.
Dinner: As the day draws to a close it's time to move the party towards the Mass. Pike for the trip home. But before hitting the road, grab dinner at a local establishment like Once Upon a Table, Alpamayo, or Baja Charlie's.
After dinner, it's about two hours to get back to Boston.
TO THE SOUTH
The basic idea: Enjoy life on the ocean followed by a tour of the local food and drink scene.
SATURDAY
Morning: Before setting out on this particular excursion, you and your friends might want to pack a few items to prepare you for the potential of getting wet. A change of clothes, a towel, sunscreen and sunglasses will probably come in handy.
Get the gang in the car and head south on Route 24 to Newport, Rhode Island. It will help to leave on the early side.
Head to Ford Adams State Park for a sail in a 12-meter yacht around the Newport Harbor. The trip lasts two hours and allows you and your crew to experience riding in a vessel used in America's Cup races. Book in advance online to reserve your spot.
Lunch: Grab some local grub from well-respected restaurants like Easton's Beach Snack Bar, Mission or Brick Alley Pub & Restaurant.
Afternoon: Drive east to the opposite end of the peninsula. Find a place to park and walk along the Newport Cliff Walk, a 3.5-mile public access walk along Newport's shoreline.
Please note that the path will require the right set of shoes for walking along slippery rocks. Poison ivy can also be a problem in parts of the path so longer pants might be a necessity.
Dinner: After the walk, grab a bite at one of Newport's many dinner venues like Malt, Midtown Oyster Bar or Salvation Café.
Where to stay: There are plenty of hotels to choose from in the Newport area. But if you'd prefer a bed and breakfast, options include the Francis Malbone House, Cliffside Inn, and the Spring Seasons Inn. 
SUNDAY
Morning: Eat a lighter breakfast after you and your friends wake up. You'll want to have an appetite because eating is a central part of today's activities.
Lunch: Get to know Newport's culinary culture by booking a tour with the likes of Newport Food Tours. Tours cost about $72 and last about two hours
Afternoon: Now it's time to switch gears to a drinks-focused outing. Continue the day's fun with a tour of a local brewery or vineyard. Some establishments, like Carolyn's Sakonnet Vineyards in Little Compton or Newport Vineyards in Middletown, offer live music on Sundays.
Dinner: Providence, Rhode Island is 45 minutes to an hour away from Newport, depending on the route you select. Once you arrive, there are plenty of well-reviewed dinner options like Rasoi Restaurant, Broadway Bistro or Providence Coal Fired Pizza.
Pay your bill and head north on I-95 back to Boston. You should be home in roughly an hour.