Celebs
'You Got That, Chief?': A Greater-Bostonian Remembers Robin Williams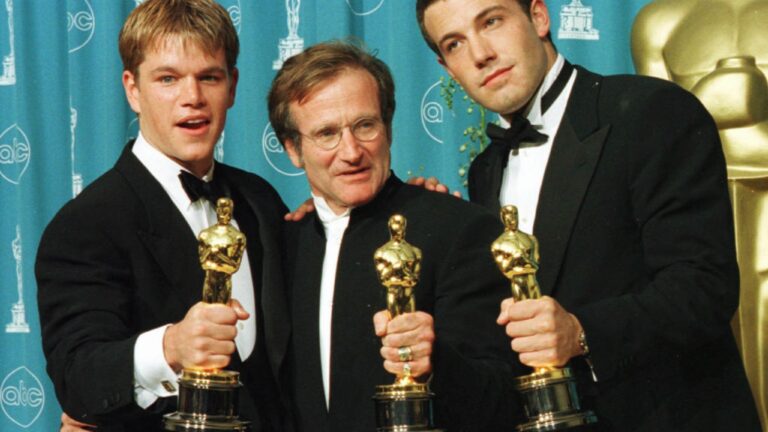 Robin Williams wasn't a Bostonian. He was a Midwesterner, and like a lot of actors from the heartland (Martin Sheen's Mayor Quimby bray from "The Departed'' is a good example), he couldn't quite nail the Boston accent in "Good Will Hunting.'' It's there, lingering at the edges as he tears Damon's psyche down on that park bench and yells at Stellan Skarsgard in the restaurant, but it never completely bulls-eyes that specific tone.
You know what, though? It doesn't matter. Not one bit. That's the brilliance of that movie, and Williams in it; his Sean Maguire is in the pantheon of true fictional Boston characters, right up there with Sam Malone and Eddie Coyle and Helene McCready. Maguire's such an authentic creation, so skillfully written by Affleck and Damon and so wonderfully played by Williams that it seems like he stepped right off L Street onto the screen — bad accent or not. Williams might not have been a Bostonian, but damn it, he sure made himself into an unforgettable one.
Like a lot of people, I'm sure, I popped in the DVD of "Good Will Hunting'' last night, well after the news of Williams' death had settled in (and after I'd laughed myself silly at his golf stand-up bit). Seventeen years after its release, "Hunting'' has still got a punch. At its heart, the movie is about male relationships, and the patient-shrink bond between Will and Sean is at its core — initially antagonistic, eventually fruitful. Williams gives Maguire the physical, hard edge a widowed Vietnam veteran from Southie would have — I always loved Damon's chagrined reaction when Williams' talks about his bench-pressing prowess — and his expressive eyes show that he recognizes a kindred, wounded spirit, another person hardened from years of pain and turmoil who's lashing out at the world.
Maguire is rough and profane, intelligent and caring, and infinitely deeper than anyone would ever give him credit for — which really sums up this fair city, doesn't it? He's Boston manifested, wrapped in an aging sweater and faded Red Sox cap. Give him a statue on the Common.
I came to another realization as I rewatched the movie last night — "Good Will Hunting'' is a film that only gets better every time you watch it. It's a film full of wonderful scenes, great, lovely dialogue that could only have been written by two super-talented kids who didn't know how to do anything else. Scenes that seem to have vanished from multiplexes these days.
[fragment number=0]
Everyone's got their favorite one. Many will say it's the tear-down of that yuppie in the bar. Others will point, rightfully, to that wonderfully-penned monologue on the bench. Or Affleck's hilarious sock-baring job interview posing as Damon. Or Ben's "You Owe it to Me'' speech at the job site (anyone who ever doubted Affleck's talent should have been forced to watch, and rewatch, that scene for all eternity). Or "It's not your fault.'' Or that staggeringly great ending, with Williams' "Son of a bitch, he stole my line'' echoing out as Elliott Smith's "Miss Misery'' begins.
[fragment number=1]
For a lot of Bostonians and New Englanders, though, I'm sure their favorite scene comes much earlier, as Will and Sean have their first big breakthrough while bonding over the latter's experience before Game Six of the 1975 World Series. Every beer-fueled Bostonian's had this type of encounter, using those kind of deliriously happy sporting triumphs to bond with fathers and sons or mothers or daughters or friends or complete strangers. It always means something deeper, you know.
[fragment number=2]
Damon and Affleck realized that these shared bits of athletic joy are how many New Englanders communicate how much we really care for each other, and Williams — jumping around like a madman, joyously waving his arms in the air in a Fisk impression — knows exactly what they meant to do. Maguire spins his Game Six experience into a game-changing life lesson for his patient. As the story progresses, Williams' character turns to Damon, grinning and reveals he skipped attending the historic game to talk to his future wife, "I had to go see about a girl.'' He expands on the anecdote, delivering some hard truth to the lovelorn Will. "You're not perfect, sport, and let me save you the suspense: this girl you've met, she's not perfect either,'' he says. "But the question is whether or not you're perfect for each other.''
Then, of course, Damon grins. "Would have been nice to see that game, though?'' he says, and Williams gives him another smile. "I didn't know Pudge was going to hit a homer,'' he replies, chuckling.
Exactly what any Bostonian would say.
Rest easy, Robin. We'll miss you.