Celebs
'Mrs. Doubtfire' House Becomes Robin Williams Memorial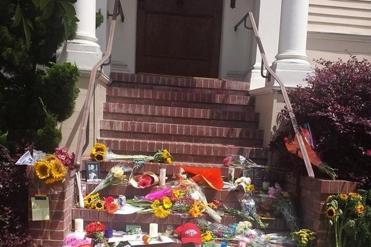 Late Monday night, as word spread that Robin Williams had died, Bostonians began turning up and paying their respects at the bench in the Boston Public Garden where Williams delivered one of the most memorable performances in his career in "Good Will Hunting.'' On the west coast, another makeshift memorial to the legendary actor sprang up on Tuesday, this one paying homage to his heartwarming, cross-dressing role in the 1993 film ''Mrs. Doubtfire.''
SFGate reports:
On Tuesday, the San Francisco house where the 1993 classic "Mrs. Doubtfire'' came to life became another kind of touch point – a place for fans to connect, one last time, with the movie's late star, Robin Williams, who died Monday in an apparent suicide. Hundreds flocked to the Pacific Heights Victorian to light candles, place flowers on the front stoop or just pause and remember the Bay Area comedian and actor.
Here are a few images of the memorial shared by Twitter users:
[fragment number=0]
[fragment number=1]
[fragment number=2]
In "Doubtfire,'' Williams plays a divorced father who cross-dresses as an elderly British nanny in order to be closer to his children.
[fragment number=3]
NBC Bay Area reported that the plastic surgeon who owns the house specializes in cranofacial surgery:
"I turn boys' faces into girls' faces,'' Ousterhout said on Tuesday morning, outside the Steiner Street home in Pacific Heights. "It seemed only natural.''