Celebs
Remember That Time Marlon Wayans Almost Played Robin in a Batman Movie?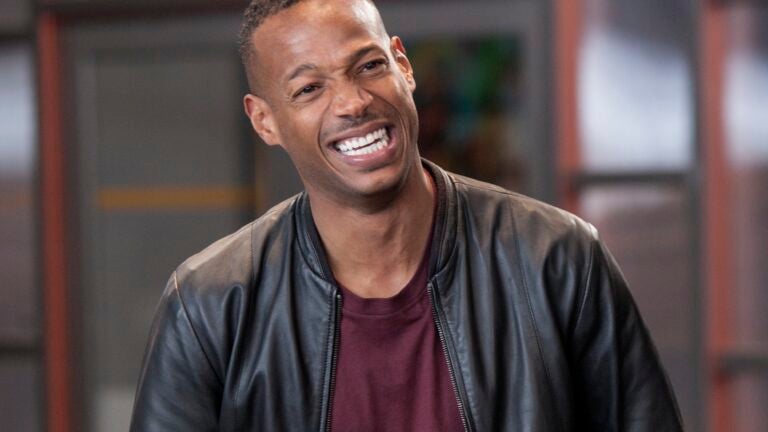 In the early '90s, long before Ben Affleck took up the mantle of the Dark Knight, the people behind the Batman franchise had quite a few brainstorms. For example: Imagine Marlon Wayans playing Robin to Michael Keaton's Batman in 1992's "Batman Returns.''
The "Scary Movie'' actor was quite close to suiting up, but the people behind the superhero flick opted to wait until 1995's "Batman Forever'' to introduce the Boy Wonder. And the role eventually slipped through Wayans's fingers after director Tim Burton's departure prompted a complete overhaul for the franchise.
Losing the part to Chris O'Donnell may have been a hard pill to swallow, but there's a silver lining for the comedian—he still gets paid residuals, despite never having filmed a single scene.
Wayans, who performs in Boston and Chicopee this weekend, tells Boston.com that it was probably a good thing that he never got to play Batman's sidekick all those years ago.
"I don't think I was ready to do Robin back then,'' Wayans says. "I wasn't ready for that kind of fame.''
The actor admits that he'd love another shot at playing an iconic hero, but he doesn't expect the roles to just fall into his lap.
Wayans knows that he'd likely have to create his own vehicle if he ever wanted to don a cape and cowl, considering the lack of superhero roles for African-American actors.
"It's not just superheroes—there's never been a lot of roles for brothers. You just have to create your own,'' Wayans says. "I'm not going to sit around bitter like, 'Hey white man, hire me!' I'm too busy writing scripts and worrying about how to make it better.
"The time I spend complaining, I could spend working and creating. Then I'll hire people, or people will hire me.''
Recently, Wayans has been focusing his efforts on his comedy work. The horror-comedy "A Haunted House 2,'' which he co-produced, co-wrote, and starred in, came out in April, and this summer TBS aired the first season of "Funniest Wins,'' which he created and hosted.
Being involved with the comedy competition was particularly rewarding for Wayans, as he got the chance to help up-and-coming comics, including Boston-area jokesters Jason Nash and Jenny Zigrino, hone their craft.
Wayans believes that his veteran status means he has a responsibility to mentor new comedians.
"I feel like it's my duty to also help teach that next generation,'' Wayans says. "My brother Keenan literally built so many great comedic stars on 'In Living Color,' it's unbelievable, and so I was infected with that same will to try teach and grow [others].''
He may be considered a veteran these days, but that hasn't stopped Wayans from trying to grow as an artist himself.
The comedian is currently working on building WhatTheFunny.com, a comedy site focused on the urban demographic that he started with Funny or Die co-founder Randy Adams, and he also has a few movie projects in the works. This weekend's shows are part of Wayans's first stand-up tour as a solo performer.
It's all part of laying the groundwork for what Wayans hopes is a lasting impact on comedy fans for years to come.
"I don't think it's an intention to leave a legacy—we just love what we do and we work very hard at it,'' Wayans says. "Hopefully, at the end of the day, we leave a great legacy behind where people go, 'Those were just some funny-ass motherf—–s.'''