Celebs
Kevin Hart invited all of Boston to run a 'spontaneous 5K' with him. So we did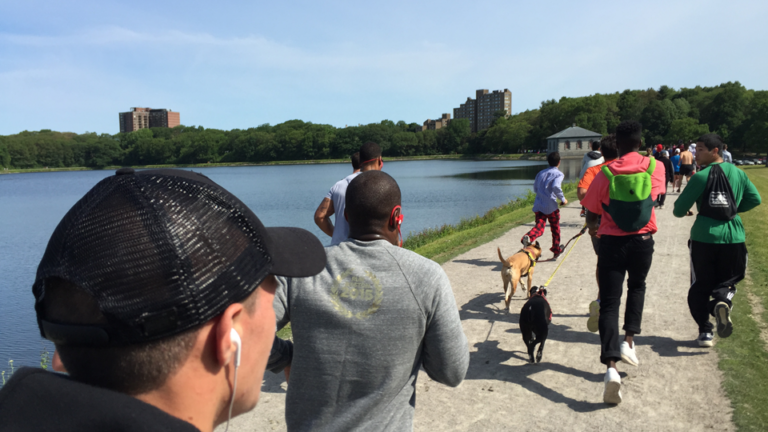 COMMENTARY
Last night comedian Kevin Hart tweeted that, ahead of two Sunday night shows at the TD Garden, he would run a "spontaneous'' 5K at the Chestnut Hill Reservoir at 8:45 a.m. So I went.
I arrive at the reservoir around 8:30 a.m.. A few dozen people in running clothes are already here. A handful of guys not in running clothes take pictures of the gathering crowd. Photo angles confirm at least one of those guys is in charge of Kevin Hart's Twitter account.
[fragment number=0]
There's a cop car in the parking lot, too. I wonder if that's a "spontaneous'' police presence.
We wait.
Kevin Hart tweets that he will be live on Periscope in 30 minutes. Thirty minutes? It's already 8:36 a.m.
At 8:55 a.m. Kevin Hart tweets out an Instagram video of his face in which he tells us he's five minutes away from the reservoir. This video gets 134,00 likes.
[fragment number=1]
I now understand what it means to be fashionably late and realize that any time I ever thought I was being fashionably late, I was just being regular late.
A shiny black SUV whips into the parking lot and parks in front of the crowd.
"Kevin Hart!'' the crowd thinks.
No.
The handful of guys not in running clothes start unloading bikes from the back of the car. I wonder if those are "spontaneous'' bikes.
At 9:08 a.m. another shiny black SUV pulls into the parking lot. Kevin Hart opens the driver's door and leans out as a spandex-clad mob surrounds him, phone-arms stretching high for optimal photo taking. Was he doing all that tweeting and Instagramming while driving?
(Warning: If you know Kevin Hart, you know he swears. A lot. If that bothers you, maybe you should skip this video.)
[fragment number=2]
Kevin Hart thanks us for coming out and heads up to the top of a hill to stretch.
Hundreds of people are now standing in a scrum watching Kevin Hart stretch. I'm on the outside so I can't see or hear anything.
Fortunately, a bodyguard/video producer has a phone directly in Kevin Hart's face. So now I'm standing maybe 15 feet from Kevin Hart, but watching on Periscope as he stretches and chooses music from his iPhone. He's also sort of chatting with the crowd, saying things like "hashtag run with Kevin,'' and "hashtag haul ass with Kevin.''
People immediately start commenting on the Periscope feed #RunWithKevin and #HaulAssWithKevin.
[fragment number=3]
At some point I look up from Periscope and realize the crowd has dispersed. Kevin Hart has started running and I'm already several hundred yards behind. Thanks a lot, Periscope's slight delay.
It is not easy to make up ground on Kevin Hart. As we take a lap around the reservoir, I pass a lot of runners, but the dozen or so people in the lead pack never get any closer.
[fragment number=4]
A girl in a neon green top sprints past me. She must get close to Kevin Hart.
A woman in a Wonder Woman costume jogs past in the opposite direction. Why is she going the wrong way? Maybe she's not here to #RunWithKevin? Maybe she's just a normal jogger and that's her normal jogging outfit?
A lanky redheaded kid barrels past me even though all the keys, phones and water bottles he has stuffed into his pockets probably weigh more than he does. I used to be in shape.
About a quarter of the way into a second lap, I realize I'm not going to catch Kevin Hart. But if I walk around in the opposite direction I can meet up with him in time for the last leg. That seems like it would be better, for journalism. So I stop running, but only for journalism.
On my walk back in the wrong direction, I see a drone floating above the path, filming people. That is so cool. Suddenly, I have intense FOMO.
Has Periscope been showing drone video this whole time? I haven't checked Periscope since we started running! Did I miss it? How can I be afraid of missing out on an event that I am currently attending? AAAHHH, SOCIAL MEDIA.
But there's no time to ruminate on whether the manufactured intimacy of social media distances us from our own authentic experience, because here comes Kevin Hart.
He looks like he's working pretty hard and isn't talking to anyone around him. Though that may be because the people around him appear to all be middle-school cross country runners.
We finish! Kevin Hart sits on a grassy hill and tells everyone to squeeze around him so we can take a group picture.
"This is what I'm about. I want to see how many people I can challenge to make better, to do things that they don't normally do,'' Hart says. "It's about the healthy lifestyle. It's about the running.''
Because, remember, this was a spontaneous run and not an extremely well-engineered social media publicity campaign.
[fragment number=5]
Famous Boston Comedians
[bdc-gallery id="146592″]