Celebs
40 of the New Kids-iest things that New Kids on the Block has ever said
Happy New Kids on the Block Day, Massachusetts!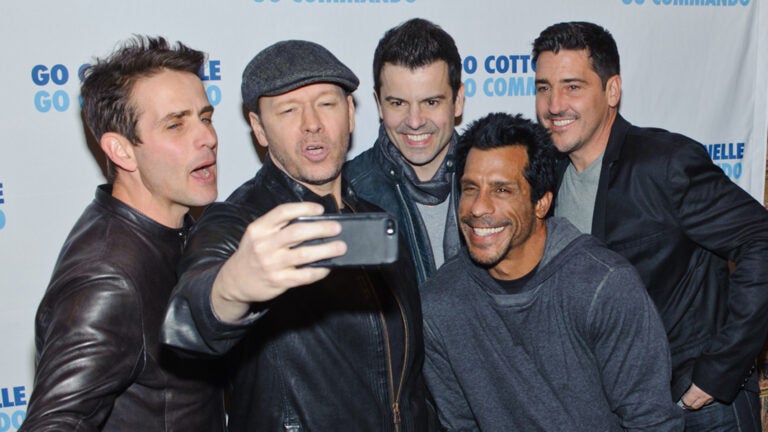 1989 was an important year, and not just for Taylor Swift. In that year, the Commonwealth of Massachusetts declared April 24 as New Kids on the Block Day, a day that honored the band you know and love.
To continue to celebrate this treasured day, here's a collection of some awesome things the New Kids have said throughout the years. Enjoy.
1. Donnie on his rattail: "Mine was like a mullet that I just tied up sometimes. Now for the sake of reputation, I call it a rattail. It was in fact a mullet. We just did it. We did it long before we ever became famous. It was sort of trendy in the breakdancing community." — on Watch What Happens Live in 2012
2. Jordan on growing up with fans: "We've seen the transformation of our fans from seeing them as teenagers or preteens, and growing up and now being confident, sexy women." — in an MSN Exclusive in 2014
3. Donnie on New Englanders: "This is New England, where people tell it straight. No phonies, no fakers, no shortcuts." — in a Verizon commercial from 2013
4. Jordan on NKOTB's Christmas album cover: "I think it's worse than a Wham! cover." — to BuzzFeed in 2015
5. Joey on dad bod: "My perspective on the dad bod. … To be that guy that's not necessarily in shape. I've been there. We're performing for 10,000 people, so that kind of gives you the [motivation]." — to Boston magazine in 2015
6. Danny on Joey and Jordan's pre-show warmups: "I can't even explain to you the amount of times there was a quiet room and the amount of times Joe was doing his thing and never just said, 'Oh, quiet room.' We're in this big giant arena. Quiet room. What the f—, man. That's what the quiet room's for. Go be loud in the quiet room, man. Away from me." — in New Kids on the Block: Coming Home from 2009
7. Jordan on leaving for NKOTB's first-ever tour: "I was crying. … I think it was mainly over my girlfriend. All our friends were there, and they were hugging us. We were going off on tour. There were three girls waving us off — they were fans-slash-friends-slash-neighborhood girls." — to The Boston Globe in 2012
8. Jon on forming a NKOTB collaboration with the Backstreet Boys: "It's cool when you get two groups together that, you know, we've all been through similar situations and stuff, and it was really cool hearing all the different stories. You know they were different, but some of them were very similar." — on On Air with Ryan Seacrest in 2010.
9. Donnie to a disgruntled dude in the crowd: "He just said, 'Wow, I hated those guys 25 years ago.' But your girlfriend loved us and now your wife does. Thank you." — at the Boston Strong concert in 2013
10. Joey on the 2013 Boston Marathon bombings: "I don't care where you were that day. Because it happened to all of us that day. We're one city. And it sounds like a cliche, but love conquers all. Love crushes hate." — at the Boston Strong concert in 2013
11. Teenaged Jon on being together all the time: "We're like a family. You get in a fight with your brother one day, and the next day, you make up and you're all happy again." — to Terry Wogan
12. Danny on touring in 2015: "During the 15 years we were apart, I never thought my kids would get to see me on stage again. Since 2008, they've been along for the ride, too." — to ABC News in 2015
13. Teenaged Donnie on their female fans: "All the girl fans can say they're our girlfriends if they want because that's OK with us." — to Terry Wogan
14. Jordan on the annual NKOTB cruise: "Some people may think the cruise is like, 'Oh, they're retiring, they're doing shuffleboard with their fans, reading books on the deck.' No. It's an insane five-day party.'' — to Boston.com in 2016
15. Joey on the annual NKOTB cruise: "At first we were like, 'This is crazy. What are we doing? We're going to be trapped on a boat.' That whole thing. The minute we got on the leito deck that first time, it was like spring break. It was unbelievable. We were all kids again." — to CBS News in 2014
16. Jordan on NKTOB's lead vocals: "Joe has the big voice if you need something to put it over the top. He comes in, he takes the chorus home. Stuff like that. If it's something smooth and you just want to ride, give it to me. If it's something with swagger, give it to Donnie. He just kills it." — in New Kids on the Block: Coming Home from 2009
17. Joey on being boy-band influencers: "We might have been the first, but there was also the Jackson 5, and New Edition, and the Osmonds, and the Temptations. You know, you put your stamp on it, and we certainly did. It's really good to be a part of that history." — to Boston magazine in 2015
18. Teenaged Donnie on NKOTB's music: "Our music isn't about color or trying to be any particular thing. Our music is just us. It comes from our heart, it comes from our soul. We're just doing music that we enjoy and we want everyone to enjoy." — on Good Morning America
19. Danny on NKOTB being catapulted back into fame: "I always view this as, it's a gift for us to do this, especially again. But it's not really the real world. The real world is when you go back home, and you got to wake your kids up and get 'em to school. That's the real world. And this is a privilege to do this." — in an MSN Exclusive in 2014
20. Jordan on auditioning in front of Donnie for a spot in New Kids: "He played a tape of a line that he sang that he wanted me to sing. So I sang it, I sang it a few times, and he said, 'Yeah, alright. I think you got it, I think you got it.' And I said, 'Cool. Don't you want to see me dance?' He was like, 'Oh, nah, I'm good.'" — on The Marilyn Denis Show in 2011
21. Joey on aging: "The New Kids age like fine wine." — on VH1 in 2013
22. Jordan on aging: "This is our midlife crisis! We're living it. We didn't buy a red sports car. We just reunited." — to Fuse News in 2013
23. Donnie on members leaving the boy band: "Other than Menudo, which replaced members with another person by design, it's really heartbreaking when guys leave boy bands. Like when Bobby Brown left New Edition. Or when Jon Knight left New Kids — but only to return more triumphant. Don't fret, One Direction fans. Zayn may return one day." — to Yahoo! in 2015
24. Joey on his favorite article of clothing in the '80s and now: "That would have to be my hat with the hole on the top. That would be wrong to say anything other than that. And now … I've worn the same underwear since we've got back for every show since 2008. And that's a fact. They're clean, but they've got some holes in it." — to AOL.com in 2015
25. Jon on NKOTB's reunion tour in 2008: "I really thought that last night, I could keep it all together and it would just be a regular show. Halfway through the show, all the emotions and everything of the year came back. … It brought five grown men to tears." — in New Kids on the Block: Coming Home from 2009.
26. Teenaged Jordan on flirting: "Everywhere we go, I mean, our fans are so good-looking we can't help but tell them that." — as seen in New Kids: Then and Now
27. Joey on pranking: "I think everyone is afraid of pranking because if you prank, you're gonna get pranked back. I don't think anyone wants to make that first move." — to People in 2015
28. Donnie on pre-NKOTB costumes: "One time my brother Paul was in culinary school. I saw his white double-breasted jacket and was like, 'Yo! Can me and Danny borrow one of those each?' And we made outfits. We had white gloves and the white culinary jackets." — to The Boston Globe in 2012
29. Danny on seeing new up-and-coming boy bands: "We grew up idolizing New Edition. We don't really feel like we pioneered anything. There was the Jackson 5 and the Osmonds before that. We see it and it's just another group." — to the AP
30. Jordan on social media: "Back in the day, it was kind of like our fans were like a wall of people. Just flashbulbs and that kind of thing. Now we actually know our fans, we know their personalities, we know their names, and we just feel a lot closer to our fans." — on The View in 2013
31. Joey on who was the "bad boy" of the group: "Jordan, Donnie, and Danny, you know, had some good times. Sure. Yes. They were teenage boys in the biggest group in the world at the time." — to HuffPost Live in 2014
32. Donnie with advice for young pop stars: "Be good to your fans. That's it. Because it doesn't last forever, and if you sh– on your fans…" — to Boston magazine in 2014
33. Jon on NKOTB's first performance of "Please Don't Go Girl" and "The Right Stuff": "I think that was the scariest show I ever did. It was just nerve-racking. … [The audience] started shouting, 'Go, white boys! Go, white boys!' It was just like 'What the hell is happening?'" — to The Boston Globe in 2012
34. Joey on NKOTB's first headlining tour: "We got to have our own band and that first night was like — it was like going down a highway in a tractor-trailer and stuff isn't really strapped down and sh–'s flying around in the back and the doors are opening up and people are flying off. It was nuts." — to The Morning Call in 2015
35. Jordan on how fame has changed: "I could go on the Internet and record myself picking my nose and put it on YouTube and everyone would say, 'Oh, that's funny, that's cute.' Everyone sees each other's blogs and it seems like it's all out there. No one really cares. Back in the day, if someone got a picture of me picking my nose, it'd be in the National Enquirer." — on Florida's Mix1051 in 2013
36. Danny on Boston sports: "Boston is a great city, man. It's come a long way. People get behind the sports teams like nowhere I've ever seen. The only thing similar is probably Philly and New York and maybe St. Louis with the baseball team. But we get behind our teams and the fans get behind them." — on NBA's After Dark in 2014
37. Joey on staying grounded: "Thank God we came from the families that we did. Where we come from, you really can't get too big for your britches. That working-class thing is just ingrained in you." — in The Globe and Mail in 2015
38. Jordan on the craziest thing a fan asked him to sign: "A fan asked me to sign her toenail at one time. I was like, 'Yeah, but it's going to grow and you're going to have to snip it off.'" — in a SWRV Takeover video from 2012
39. Donnie on the Celtics: "I spend a thousand dollars for one courtside Celtics ticket. And people call our fans crazy — crazy screaming ladies and blah blah blah. I say I pay a thousand dollars, which is 10 times what they're paying for New Kids tickets. I do the same thing that our fans do for us for the people that I'm fans of. I'm a fan of the Celtics." — on NBA's After Dark with Rick Fox in 2014
40. Joey on Donnie getting very friendly with fans: "For a while, Donnie was literally making out with girls the last tour, and it was right before he met Jenny and got married, so I don't think he's doing that. And, as a fellow dude I'm like, 'Thank God,' because he would just be swapping spit with these girls in the middle of a song, you know, but that's love, right? That's love." — to HuffPost Live in 2014