Celebs
Patrick Dempsey will be at Fenway Park this weekend to support a New Hampshire nonprofit
The actor has worked with Positive Tracks to give back to the community.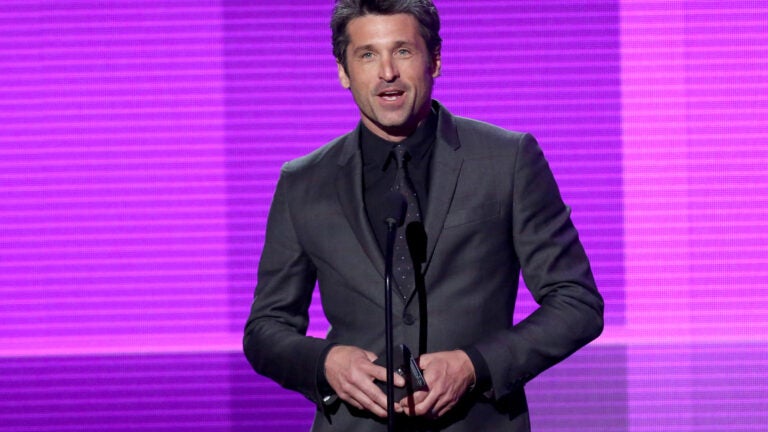 Patrick Dempsey will be at Fenway Park this Friday, but he won't be there to see a Red Sox Game.
The Grey's Anatomy star is speaking at Positive Tracks's Sweat for Good Summit. Positive Tracks is a New Hampshire-based nonprofit that aims to help young people get active while giving back to the community.
Dempsey has worked with Positive Tracks before, specifically through his organization, The Patrick Dempsey Center for Cancer Hope and Healing. He founded The Dempsey Center, which provides free support, education, and wellness services to anyone impacted by cancer, in 2008 in his hometown of Lewiston, Maine. His mom long dealt with the disease, ultimately dying from cancer in 2014, according to the center's website.
Dempsey also created what he's dubbed The Dempsey Challenge, a run, walk, and cycle fundraiser for The Dempsey Center. According to Positive Tracks, Dempsey is hands-on and very supportive of the nonprofit's youth call to action.
"The Dempsey Challenge encourages you to go the distance on behalf of those who need it most. And now, Positive Tracks allows young people to make a difference to their communities – it's amazing," Dempsey said, according to the Positive Tracks website. "I believe in the Positive Tracks program because it's about so much more than just fundraising – it's about kids connecting to and giving back to the world in a healthy, creative, and productive way."
The actor will be joined by other physically-active philanthropists, like Josh Kraft, the president and CEO of the Boys and Girls Clubs of Boston; Allison Bauer, the senior director of health and wellness at The Boston Foundation; youth ambassadors; and others. They'll participate in a roundtable about next-generation civic activism.
On Friday evening, Dempsey will also be at Fenway for the Sweatys Awards, which celebrate the accomplishments of Sweat For Good participants 23 and under. Dempsey has promised to "put on his Sweat For Good Boogie shoes," according to the organization, for a closing show with emcee and Olympian Doug Lewis.
The Sweat For Good Summit is invite only, but anyone interested is encouraged to contact Liz Gray for information. An event schedule and FAQ can be found here.
Updated 5/5/2016 7:30 a.m.: This post has been updated to more accurately reflect the Sweat For Good Summit schedule.