Celebs
Captain America and Falcon paid a visit to the kids at Mass General today
Aww.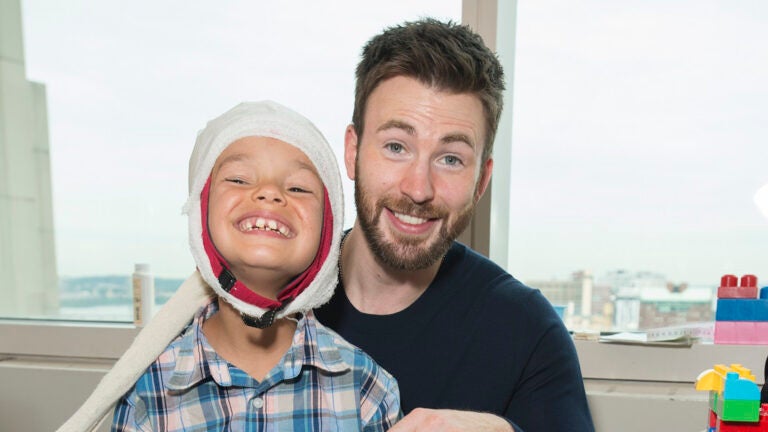 Anthony Mackie and Chris Evans are just a couple of superheroes making lives a little happier for the kiddos, both on and off the big screen.
Sudbury-bred actor Evans, aka Captain America, and fellow Marvel star Mackie, aka Falcon, visited patients in the pediatric unit at Massachusetts General Hospital on Tuesday morning. This was each of the actor's first time visiting Mass General, and the two greeted dozens of patients for more than two hours, posing for photos and signing autographs for the little ones, according to a spokesperson for the hospital.
In the first photo above, Evans poses with 7-year-old Jude Langstaff. Mackie and Evans hold 9-month-old Carson Stenson, a MassGeneral Hospital for Children patient, in the two photos below.
Evans has paid visits to young patients here in his home state before. In 2014, he surprised a fan named Kenny Botting, battling cancer at Boston nonprofit Christopher's Haven. In 2015, Evans and fellow actor Chris Pratt both made a visit to Christopher's Haven as part of a settled bet when the Seattle Seahawks lost the Super Bowl to the Patriots. (And because they're great, Evans and Pratt also went to visit patients at Seattle Hospital, which they were supposed to do only if Pratt lost the bet.)
Since Mackie's son was born with a congenital heart defect, the actor has become a supporter of children's healthcare organizations, one of which is the David Ortiz Children's Fund. Ortiz's organization provides heart surgeries to children in New England and the Dominican Republic through their partnerships with MassGeneral Hospital for Children and the World Pediatric Project.