Celebs
Danny Amendola and Olivia Culpo have broken up. Here's what we know.
The rumors started after Amendola unfollowed Culpo on Instagram.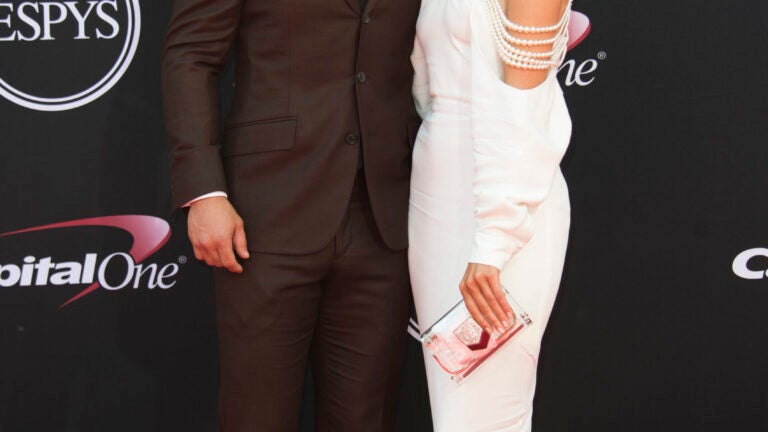 Danny Amendola and Olivia Culpo have gone their separate ways.
According to multiple reports, the former Patriots wide receiver and 2012 Miss Universe pageant winner decided to call it quits just days after their tropical vacation to the Bahamas.
Here's what we know about their split.
What happened?
Amendola raised eyebrows when he made some changes to his Instagram account last Friday. The 32-year-old's decision to unfollow Culpo — and delete all of their pictures together  — sparked initial conversations that the pair had possibly split.
Culpo, however, still follows Amendola. Multiple photos of the couple, including the one from Culpo's romantic Valentine's Day post dedicated to Amendola, remain on her account.
Culpo confirmed the breakup to Access Live's Natalie Morales and guest co-host Scott Evans in a Wednesday segment.
"We are broken up," she told Morales and Evans. "It's just so fresh for me, I really don't feel comfortable talking about it."
When Evans asked if the pair had been in contact, Culpo deflected.
"Everybody goes through breakups in life," she said. "It is sort of just — everybody has their own way of handling it. It's something that I'm definitely not going to get into at this moment, but I'm sure everybody can relate to heartbreak."
Why did they break up?
There was speculation surrounding Amendola and Culpo's change in relationship status throughout this past weekend. On Saturday, US Weekly reported that their split "had to do with the distance and them barely seeing each other."
Culpo, who grew up in Cranston, Rhode Island, primarily resides in Los Angeles. The 25-year-old would return to the East Coast to visit Amendola — who lived in Providence while he played for the Patriots — during their relationship. The coast-to-coast correspondence proved to be too difficult, and Amendola's new two-year deal with the Miami Dolphins apparently didn't help.
"Olivia wasn't going to move there," US reported.
US also wrote that Amendola wasn't happy with Culpo's recent photo shoot for Sports Illustrated's Swimsuit Issue. While Culpo said she was "excited and thrilled" to be one of the 12 rookies to participate in the special edition of the magazine, Amendola reportedly took issue with her nude poses.
On Monday, E! News corroborated US's report, citing distance as a contributing factor in the breakup.
"Danny couldn't handle Olivia's demanding lifestyle and wasn't pleased with certain choices she was making," E! News reported. "The constant travel was also causing a rift."
As far as how permanent the breakup could be, E! News wrote: "There could be a chance of reconciliation in the future, but as of now they are split."
What have they been up to since?
E! News reported that Culpo is "upset" about the breakup, but the model is trying to stay busy with her professional obligations, including the Wednesday launch of her capsule collection with Marled by Reunited Clothing. She also has been spending time with her older sister, Aurora, who is seven months pregnant. The pair recently took a girls' trip to Las Vegas with Culpo's friend, actress Cara Santana.
"Olivia is leaning on her sister a lot for support and has many projects coming up that are keeping her mind off of the heartbreak," E! News reported.
Amendola has been doing some traveling of his own. He was spotted with former Patriots teammate Julian Edelman in Austin, Texas, over the weekend. The two-time Super Bowl champion posted a photo of himself and Edelman sharing a laugh at a bar on Rainey Street.
Representatives for Amendola and Culpo did not respond to requests for comment.