Celebs
Alan Dershowitz concedes: He didn't realize "how emotionally people are invested in opposing Trump"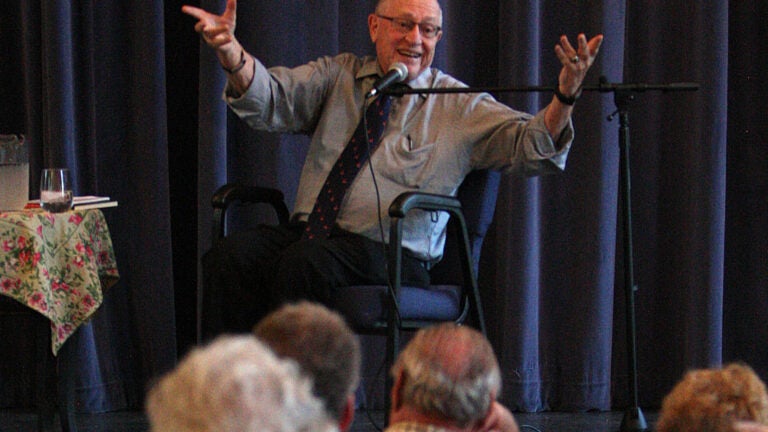 VINEYARD HAVEN — Alan Dershowitz picked a bad week to defend President Trump.
Nonetheless there was the famed former Harvard Law professor Wednesday night, sitting on the stage at the Katharine Cornell Theater on Martha's Vineyard, arguing that a special counsel should not have been appointed to investigate Trump's ties to Russia.
A polite, somewhat subdued, crowd turned out to hear Dershowitz, who is a longtime summer resident, tell the gathering why he defends the man so despised by many on the island.
"Look, I was born provocative. That's why I was a successful teacher. My job is to provoke conversation,'' he said, commenting on the backlash to his defense of Trump. "Maybe I didn't realize enough how emotionally people are invested in opposing Trump.
"I was talking to their minds and I probably wasn't sufficiently in tune to their heart and soul and emotions,'' he said. "I've lived a contentious life all of my life and this is the first time that this kind of contentious approach has had such a profound impact on friendships and personal relationships.''
It was a bold move to defend Trump, especially this week, considering the president's baffling utterances in Helsinki, where he appeared to pledge allegiance to Russian President Vladimir Putin over US intelligence agencies, prompting some Americans to label Trump a traitor. The president's clumsy attempts to clarify his remark have only raised more questions.
But Dershowitz has been steadfast in his belief that Trump did not obstruct justice when he fired FBI Director James Comey — he was "merely exercising his authority'' — and shouldn't be impeached. Predictably, that assessment has upset some of the legal scholar's longtime friends on the Vineyard — a liberal enclave far friendlier to Trump's predecessor — and Dershowitz has lamented that a few of his left-leaning pals had shunned him for his views on Trump.
Dershowitz arranged Wednesday's event with the idea that his frenemies — friends who've become enemies, at least for now — might show up and debate him. But no one knew quite what, or who, to expect, so a police officer was conspicuous at the theater named for a long-ago stage actress who's buried in Tisbury.
Security proved unnecessary. Even if few agreed with Dershowitz — and it was clear from their questions that some in the audience did not — everyone was civil as the former law professor explained his defense of a president even he abhors. Dershowitz, who said he voted for Hillary Clinton and contributed, along with his wife, over $10,000 to her campaign, said he opposes pretty much everything Trump has done so far.
"So it's a great challenge for me to make constitutional arguments that have the effect of helping somebody with whom I so strongly disagree,'' said Dershowitz, adding that he's never voted for a Republican in a national election and only one — William Weld for Massachusetts governor — in a state election.
Dershowitz has been a prolific writer throughout his career, and is still at it, even at 79. His latest book — his 37th — is titled "The Case Against Impeaching Trump,'' and it was on sale Wednesday night for $20. (The book is blurbed by Trump's good buddy Sean Hannity, the conservative Fox News host, who gushes: "This brand new book by Professor Dershowitz is absolutely amazing.'')
Dershowitz insisted he'd be making the same arguments if the shoe was instead on Clinton's foot.
"I'm there not only defending the rights of our incumbent president, but the rights, I hope, of all Americans,'' he said.
The depth of the rift between Dershowitz and some in his Vineyard social circle became public a few weeks ago when an angry e-mail exchange made its way to the media. Dershowitz's critics, who included prominent LA entertainment lawyer Walter Teller and MIT professor Nicholas Negroponte, accused Dershowitz of a quenchless appetite "to be in the public eye, to have a seat at the table, even if the table is at Fox News, Mar-a-Lago, the White House.''
Dershowitz has indeed been in the public eye a lot over the past 50 years, having represented such high-profile characters as televangelist Jim Bakker, socialite Claus von Bulow, Mike Tyson, and O.J. Simpson. He admitted he didn't like all of them, but he defended them nonetheless.