Celebs
5 personal things Gisele Bundchen revealed in her new book
The supermodel wrote about some deeply intimate issues in "Lessons: My Path to a Meaningful Life."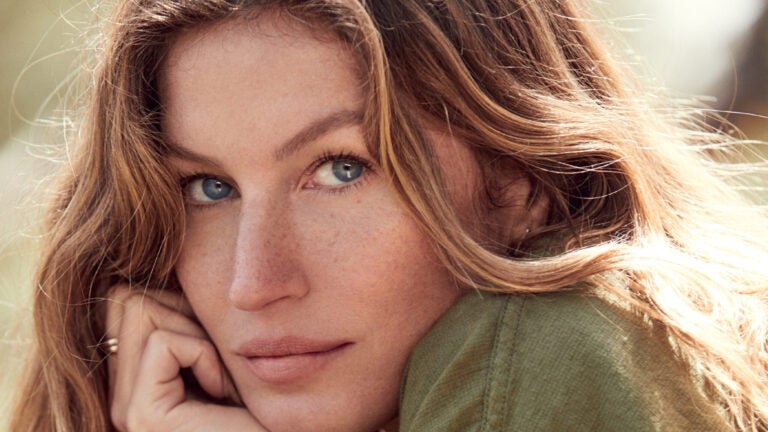 She may be one of the most successful supermodels in the world, but growing up, Gisele Bundchen was teased for her appearance.
According to her new book, "Lessons: My Path to a Meaningful Life" (Avery), Bundchen was "a foot taller" than everyone else in her grade when she was 12 or 13, including the boys, and rarely got asked to slow dance at parties. She got called a variety of hurtful nicknames, including "Olly," in reference to Olive Oyl, the wisp-thin character from "Popeye."
"I remember once walking into my classroom and seeing a poster that featured a drawing of a skeleton and underneath it someone had written, 'Has anybody seen Olly?'" Bundchen wrote in her memoir, out Tuesday. "I felt humiliated."
In "Lessons," Bundchen also gets personal about her struggles in the modeling world, how she and her husband, quarterback Tom Brady, got married (and then got married again, about two months later), and much more.
Here are five things we learned about Bundchen's life from reading her new book.
Bundchen suffered from panic attacks and suicidal thoughts
Bundchen wrote that, in her 20s, she was leading an unhealthy life that she compared to living on a hamster wheel. She was working 350 days a year, smoking a pack of cigarettes a day, drinking coffee to stay awake, and drinking wine to help herself sleep. She began to suffer from panic attacks in 2003, after a bumpy flight to Costa Rica. Soon, the panic attacks and anxiety affected her in tunnels, in elevators, and in her own home. One evening, she found herself on the deck of her ninth-floor apartment, panicked and trying to catch her breath.
"Everything had become a cage, and I was the animal trapped inside, panting for air," Bundchen wrote. "I couldn't see a way out, and I couldn't stand another day of feeling this way. The idea swept over me then: Maybe it will be easier if I just jump. It will be all over. There's a solution. I can get out of this."
A doctor later prescribed her Xanax, but Bundchen preferred natural solutions, diving headlong into yoga, breathing exercises, and meditation. She also drastically changed her diet.
"It's easy to say in hindsight, but if you don't take care of your body when you're young, I guarantee that you'll pay the price someday," Bundchen wrote, "if not in your early twenties, as I did, then in your forties or fifties."
Bundchen and Brady got married twice
The couple had two wedding ceremonies, both small and intimate. The first was on Feb. 26, 2009 in Santa Monica, Calif., and was attended only by their parents, a few close friends, and Brady's son, Jack. Bundchen's friend took photos of the ceremony, but was so emotional that all of the pictures came out unfocused. After the ceremony, the group celebrated at home with salad, cake, and steaks that Brady tossed on the grill.
The second ceremony was in Costa Rica that April. Still small and without the frills associated with a traditional wedding, it was the ceremony Bundchen had dreamed about.
"If I got married, it would be in nature, which is my real church, and the ceremony would be fun, beautiful, and informal," Bundchen wrote. "I would go barefoot. I would say my vows right as the sun was going down."
Bundchen uses unconventional home remedies for illnesses
Bundchen strongly prefers natural remedies to pharmaceutical ones when it comes to illnesses. In her book, Bundchen wrote about using natural oils throughout her life, including swishing coconut oil in her mouth when she wakes up every morning, massaging her children's feet with aromatherapy oil before bed, and using peppermint oil aromatherapy to cure headaches. Bundchen also cuts a lemon in two and places it face-up next to her bed if anyone in the house is sick, and puts slices of onion in her childrens' rooms (or even on their pajamas) if they have a fever.
Perhaps Bundchen's most unorthodox remedy is her cure for a sore throat, one she learned from her mother.
"I pour really cold milk onto a cloth, cover the outside of the cloth in plastic wrap, and arrange it around her throat," Bundchen wrote. "It's a little stinky the next morning, but Vivi's sore throats are usually gone—I have no idea why."
Bundchen has suffered numerous injuries, both during and after her modeling career
Bundchen tore her ACL in 2017 while skiing and has dislocated her shoulder nine times by her estimation. She attributed several of her past medical issues to the work she did while modeling.
"I'll bet every model out there has some kind of back problem," Bundchen wrote. "I know I do. Aside from my chronically dislocated shoulder, I have scoliosis and major issues with my knees that became worse after spending hours not only walking back and forth trying my best to balance in impossibly high heels but also contorting my body during endless photo shoots, barely breathing while holding one unnatural position after the next and trying to look at ease."
Bundchen also wrote that spending 10 hours a day twisting and curving her body and wearing 8-inch heels, combined with her unhealthy caffeine, alcohol, and nicotine intake, contributed to her panic attacks.
Bundchen got breast enhancements, and immediately regretted it
When Bundchen burst onto the modeling scene in the late '90s, she was alternately dubbed the "Boobs from Brazil" and "The Body," and was heralded by Vogue magazine for ushering in a new era of curvy models after the rail-thin, "heroin chic" years. So when Bundchen's breasts changed after she gave birth to two children and breastfed each of them for almost two years (she said that her breasts became not only "much smaller," but also "slightly lopsided"), she felt self-conscious. She wrote that people began to make comments at shoots, and even suggested she add padding — known as "chicken cutlets" — to her bra for photos.
Bundchen ended up undergoing plastic surgery for her breasts, a choice she called "one of the most upsetting decisions" of her life.
"When the surgery was over, I no longer recognized my body," Bundchen wrote. "I became uncomfortable with the size of my breasts. I felt angry and depressed. Why did I do this to myself?"
Bundchen's experience taught her something important.
"I'd done something, for myself, but mostly to try to please others," Bundchen wrote. "The lesson here is to listen to yourself first, to be clear about what you want, before making important decisions. After all, you will be the one living with the results."