Celebs
Exclusive: Gisele Bundchen describes her wedding to Tom Brady in a book excerpt
"We are still dancing, and growing through the ups and downs of life."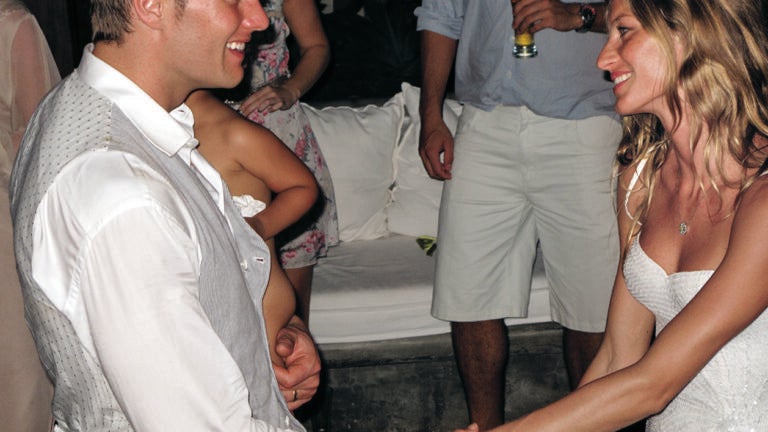 In Gisele Bundchen's new book, "Lessons: My Path to a Meaningful Life," the supermodel discusses many lesser-known aspects of her life, from her childhood growing up in Brazil to her past struggles with panic attacks and suicidal thoughts. Bundchen's journal of sorts also features plenty of tidbits about her husband, Patriots quarterback Tom Brady, including a description of their intimate wedding.
Below is an excerpt from "Lessons," provided exclusively to Boston.com, recounting the day Bundchen and Brady tied the knot.
•••
Our wedding took place at sunset on a warm day in early April. Before the ceremony, my sister Fafi helped me do my hair. I wore waterproof mascara since I knew I was going to cry — because I always cry! — and it wouldn't have been a pretty sight having raccoon eyes at my own wedding. Around forty people gathered in our open living room: Tom's and my entire extended family — including nieces — and three good friends apiece. On a nearby table strewn with candles and assorted crystals sat two bowls, one containing honey and the other rice. The honey, it is said, would sweeten our future, and the rice anticipates prosperity. Jack was two, and still our ring bearer! I wore a simple white slip dress. My feet were bare. The ceremony was brief, and the last words anyone heard were:
For the pillars of the temple stand apart
And the oak tree and the cypress grow not in each other's shadow
There was no formal wedding reception afterward. It was more like a free- for- all, a joyful, relaxed party, just the way I'd always imagined it would be. People ate Mexican food and drank margaritas. They sat or stood in the kitchen, or on the lawn, or by the side of the pool. My sister Pati and Tom's sister Julie each read a beautiful poem, and everyone had a slice of the chocolate wedding cake. Tom had made playlists — his had songs by Ray LaMontagne, Amos Lee, James Taylor, and others — and at some point my friend Nino, whom I've known since my earliest days in New York and who's like a brother to me, plugged in his iPod. The kids went swimming in the pool, while guests danced around in their bathing suits. I remember drinking two margaritas, and after two margaritas you don't remember or care about very much.
But I do remember looking for, and finding, Tom, and though I can't remember who led and who followed — does it matter?— we started to dance. We are still dancing, and growing through the ups and downs of life.
So here's a thought experiment: Imagine what would happen if each one of us knew ourselves as fully and deeply as possible. And that we led each day of our lives consciously and compassionately, without projecting our emotions onto others, or allowing our egos to distort reality. If everyone did whatever work was necessary to get to know themselves better, and took responsibility for being the best self he or she could be, I believe the world would be a different place, a better place.
Reprinted from Lessons: My Path to a Meaningful Life by arrangement with Avery, an imprint of Penguin Publishing Group, a division of Penguin Random House LLC. Copyright © 2018, Gisele Bündchen.