Celebs
Rob Gronkowski and the Patriots respond to Franklin boy teased for painting his nails
"I just want to say, stay strong and do what makes you the happiest, and keep being yourself."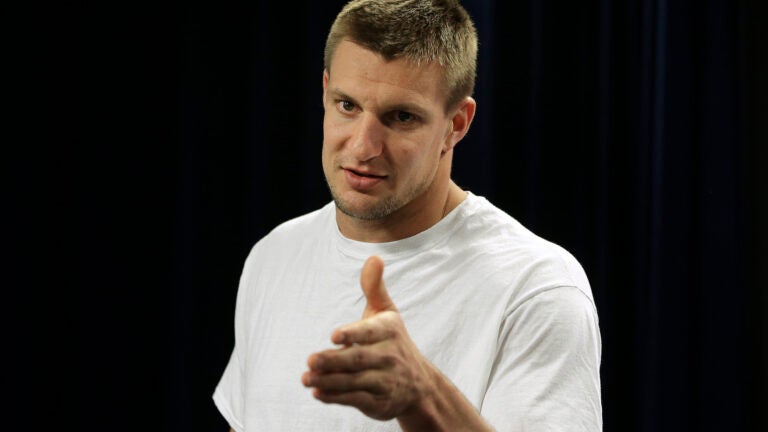 After Aaron Gouveia posted a series of tweets last week about his 5-year-old son, Sam, getting teased by classmates for painting his nails red, his family received an influx of encouraging messages from people around the country, many of whom performed acts of solidarity to show their support.
Debra Messing shared Gouveia's story with her Twitter followers, flagging it as a must-read thread; Former New England Patriots tight end Martellus Bennett sent words of encouragement to Sam; and Tara Strong, who voices characters in popular children's cartoons, reached out directly.
Gouveia, who lives in Franklin with his wife and three sons, was floored by the response.
"I can't even keep up, honestly,'' he said of all the feedback his son received.
But then, on Saturday, almost a week after Gouveia first shared on social media what had happened to Sam at school, a response arrived on Twitter that caused him to do a double-take: New England Patriots star Rob Gronkowski sent a personalized video to Sam from the team's official Twitter account.
"Hey Sam, what's up? It's Rob Gronkowski here,'' Gronkowski says at the start of the short clip. "I heard some kids at school were giving you a hard time for wearing some nail polish. I just want to say, stay strong and do what makes you the happiest, and keep being yourself.''
On Monday, Oct. 22, Sam had come home in tears, his father said, after a group of classmates made negative comments about Sam's nail polish.
Gouveia, who runs a Twitter account about parenting called "DaddyFiles,'' saw it as a teachable moment, and composed a long thread of fiery tweets in response to his son being bullied.
In one tweet, Gouveia said that Sam had asked him if Gronkowski — his favorite football player — wore nail polish.
Gouveia wasn't sure, but told his son "yes,'' hoping it would help Sam stay confident. He then listed some male celebrities who he knew for certain painted their nails, and encouraged his son to be himself, no matter what, according to his tweets.
The pointed messages about Sam's experience went viral, and within in days were shared tens of thousands of times, as the community rallied around Sam. Eventually, the incident landed on Gronkowski's radar.
In a tweet accompanying Gronkowski's video over the weekend, the Patriots told Sam they "love the color choice'' of his nails — a bright red the kindergartner picked because he's a big Patriots fan, his father said.
Gouveia said receiving the message from Gronkowski was a "huge thrill'' for the entire family. But it was especially meaningful for Sam, who considers Gronkowski a hero.
"Sam, he didn't even quite grasp it at first. We had to play it a few times before it sunk in that Gronk was sending a message specifically to him,'' said Gouveia in a telephone interview Monday. "For him to take the time to do that, with a game coming up against the Bills [Monday], it meant a lot to me and my family.''
After the dust settled, Sam sent a message back to the athlete.
"It made me feel really good when you sent me this message," Sam said in a video response.
He also told the team to beat the Buffalo Bills.
https://twitter.com/Patriots/status/1056272254156316672?ref_src=twsrc%5Etfw%7Ctwcamp%5Etweetembed%7Ctwterm%5E1056272254156316672&ref_url=https%3A%2F%2Fwww.bostonglobe.com%2Flifestyle%2Fnames%2F2018%2F10%2F29%2Frob-gronkowski-and-patriots-respond-franklin-boy-teased-for-painting-his-nails%2FuN1hOE31dNMnFVXB96zJ2L%2Fstory.html