Celebs
People are unhappy about Danny Amendola being photographed with a woman who isn't Olivia Culpo
Are the former Patriots wideout and former Miss Universe done as a couple?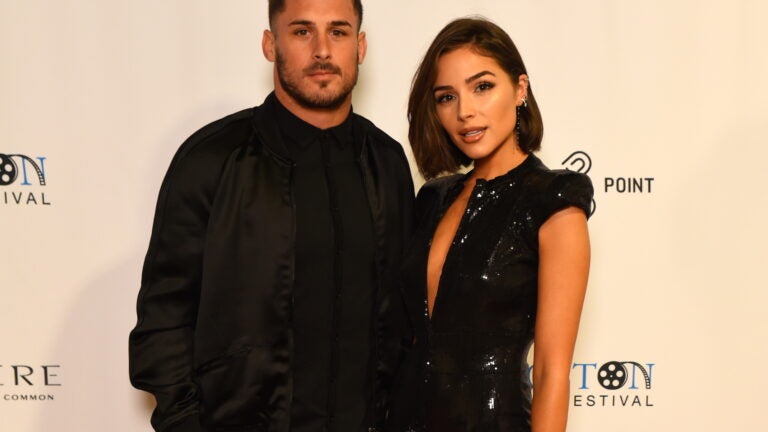 Is the off-again, on-again relationship between former Miss Universe Olivia Culpo and ex-Patriots receiver Danny Amendola on the rocks?
All was seemingly good on Oct. 22, when Culpo, a Rhode Island native, posted a photo of herself resting her head on Amendola's abs with the caption, "New and exclusive rock hard 6 pack temperpedic ab pillow, boyfriend not included."
https://www.instagram.com/p/BpP7pWngxBk/?taken-by=oliviaculpo
But less than a week later, on Sunday, Oct. 28, TMZ published photos and video of Amendola, currently a Miami Dolphins wideout, during his bye week alongside a woman identified by multiple outlets as Bianca Peters, an anchor at CBS4 Miami who covers traffic and sports, according to her Twitter bio. The photos and video show the two beside each other on beach chaises and swimming together in the ocean. In multiple photos, Amendola touches Peters' hair.
On Sunday night, Culpo tweeted, simply, "Wow."
Wow

— Olivia Culpo (@oliviaculpo) October 29, 2018
Soon after, Culpo, who is currently in Australia for a Sports Illustrated Swimsuit photoshoot, posted a photo that she dedicated "to all the snakes," while posing with a snake wrapped around her torso. She featured several emojis in her caption, including the green snake. She also posted a video to her Instagram captioned, "To a new day and new beginnings."
Social media users were considerably less oblique in their responses to Culpo's posts and in the comments section of Amendola's Instagram, flooding the former with support and the latter with green snake emojis and accusations of cheating.
"Used to be a fan…i watched you in college and have met you, you were such a humble guy and while I am not a fan of Olivia…you don't cheat and try to humiliate your lady like that…." one user wrote to Amendola. "hope youre ready for whats coming for you karma is a b****!"
Peters and representatives for Amendola and Culpo did not immediately respond to a request for comment.