Celebs
JFK Twitter account aims to show president's words 'count'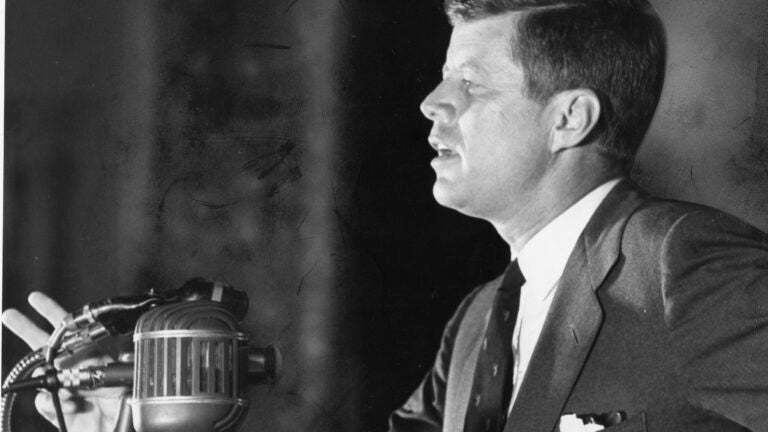 BOSTON (AP) — Former President John F. Kennedy helped inspire a nation to land a man on the moon — but he never got the chance to tweet about it.
That's changing.
The JFK Library Foundation has launched a new project they're calling "Words Count" that takes quotes from the nation's 35th president and tweets them out using the @JohnFKennedy Twitter handle. The account features exact quotations said or written by Kennedy as president.
The goal is to use a 21st-century tool to pass the baton of Kennedy's soaring oratory to a new generation who only know him from history books and news clips.
"There are many things that President Kennedy said on a variety of issues that effected domestic and international concerns that are as relevant in today's world as they were in the early '60s," Steven Rothstein, executive director at the John F. Kennedy Library Foundation, said Wednesday.
Is the project also a subtle swipe at the President Donald Trump's more bombastic use of social media? Rothstein won't say, although an online promo for the project pointedly notes, "The words of a president count."
"We're really letting people draw their own conclusion of what they think," Rothstein said. "We want them to be inspired by the big ideas that John Kennedy said."
Many of the tweets echo contemporary political debates, from immigration — "Everywhere immigrants have enriched and strengthened the fabric of American life" — to poverty — "If a free society cannot help the many who are poor, it cannot save the few who are rich."
There's even a quote on the importance of a free press.
"And so it is to the printing press — to the recorder of man's deeds, the keeper of his conscience, the courier of his news — that we look for strength and assistance, confident that with your help man will be what he was born to be: free and independent."
Reaction online has ranged from the supportive to the unkind, with many referencing Kennedy's assassination in 1963 or questioning how a dead person can tweet. Others were quick to compare the Democrat from Massachusetts to the current occupant of the White House.
Another suggested a possible future tweet — "Ask not what your country can do for you. But what YOU can do for your COUNTRY" — echoing one of Kennedy's most memorable lines from his 1961 inaugural address.
The practice of taking the words of a historical figure to create a Twitter account isn't new. Similar accounts have been set up, including one that ships out diary entries of former President John Quincy Adams and others that release quotes from President Abraham Lincoln, Martin Luther King Jr. and former President Ronald Reagan.
The library foundation had been tweeting out Kennedy comments previously under the @JFKsaid account. The new campaign replaced that with an updated, verified account.
Rothstein said the project will continue at least through the winter of 2019 and possible longer. He said he's not worried about running out of material.
"Our problem won't be not enough — it's that there are so many inspirational things the president said. It's choosing which inspirational element to use," he said.