Celebs
James Corden joined Mark Wahlberg for a 4 a.m. workout
"The Late Late Show" host hit the gym with the Dorchester native.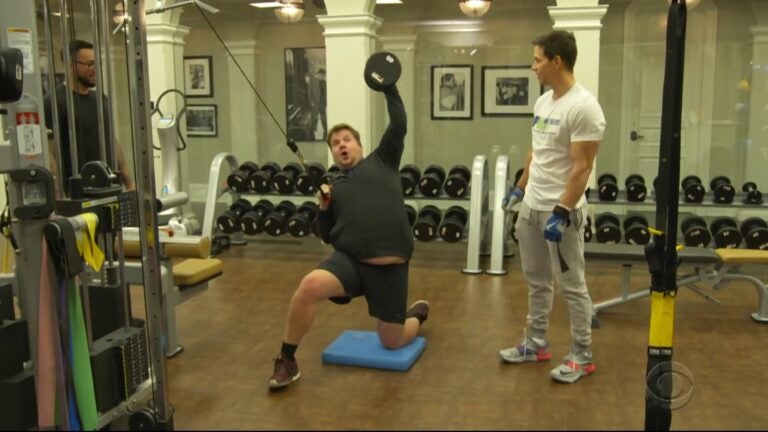 Mark Wahlberg's 4 a.m. workout is intense — just ask James Corden.
Corden joined the Dorchester native for one of the "Instant Family" star's pre-dawn workouts included in his widely discussed daily routine in a segment that aired Wednesday on "The Late Late Show with James Corden"
"It is 10 to 3 in the morning. According to Mark Wahlberg's Instagram schedule, he's praying right now and so am I," Corden said. "I'm praying that he cancels."
No such luck.
"Isn't it nice and peaceful, though, when you get up [early]?" Wahlberg asked Corden.
"Yeah, I was more peaceful when I was flat-out asleep," Corden quipped. "I was completely peaceful."
Wahlberg said he gets motivation for his fitness regimen from his family, warning Corden, "when the girls get older and the boys start coming over ringing the bell, you gotta be ready," Wahlberg said. "There's a whole other fight in front of you."
"I'll just say 'I know Mark Wahlberg so don't mess with me because I'll call him, he'll come over' — provided it's before 5 p.m., otherwise he'd be asleep," Corden responded.
Wahlberg shared a photo from the early morning gym session. "@j_corden is the newest member of the #4amclub," he wrote on Instagram.
Corden didn't make it to the end. He was "out" after Wahlberg announced they'd finished the warm-up.
https://www.youtube.com/watch?v=lzQyH-nX0u0