Celebs
John Cena announces return to WWE
"I truly return home @WWE @TheGarden 12/26''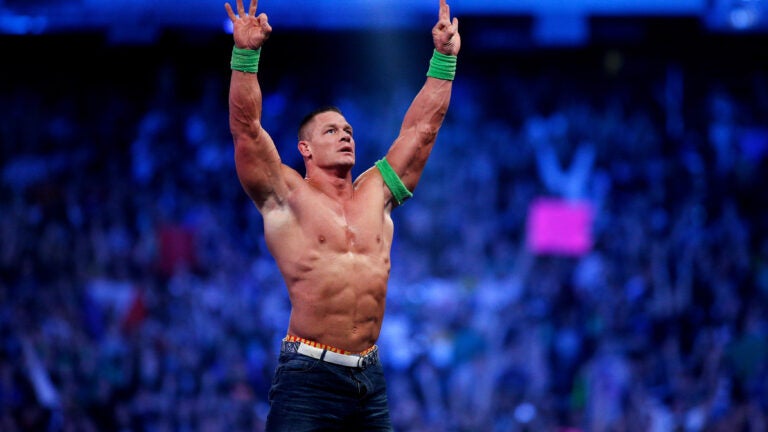 John Cena is slated to "truly return home'' next month.
The 16-time wrestling world champion announced his plans to return to WWE with an emoji-laden tweet over the weekend.
160 days ago I landed in ?? to film w @EyeOfJackieChan today is the final day of that project. An experience I'll never forget. I'll have 1 day home then ⏰ to promote @bumblebeemovie until it's release 12/21 then, I truly return home @WWE @TheGarden 12/26 #HLR #NeverGiveUp ⚡️?

— John Cena (@JohnCena) November 24, 2018
Cena shared that he's been working on a film with Jackie Chan in China for the past 160 days, and that Saturday was "the final day of that project.'' Cena called filming the movie, currently titled "Project X-traction,'' "an experience I'll never forget.'' He said that he has to do promotion for his most recent film, "Bumblebee,'' a "Transformers'' origin story, until Dec. 21.
"Then,'' Cena added, "I truly return home.'' He tagged the official WWE and Madison Square Garden Twitter accounts, along with "12/26,'' the date of his scheduled return to the ring.
WWE has confirmed the return. Cena's Madison Square Garden event is the first of his 13 live appearances from late December to early January.
While still appearing at the occasional WWE event, the Massachusetts native has taken a break from the typical, all-consuming wrestling schedule over the past few years. He was scheduled to participate in the November WWE Crown Jewel promotion in Saudi Arabia, but backed out. While Cena never stated a reason for dropping out from the event, his decision came in the wake of widespread criticism of the WWE for continuing to hold the Crown Jewel promotion in Saudi Arabia after journalist Jamal Khashoggi, a critic of Saudi Crown Prince Mohammed bin Salman, was assassinated inside the Saudi consulate in Istanbul.
Instead, Cena has been focusing on his other projects, including a children's book (he recently authored "Elbow Grease'') and acting career (with prominent roles in 2015's "Trainwreck,'' 2017's "Ferdinand,'' and 2018's "Blockers,'' among other films).