Celebs
Adam Sandler joins bride and groom for their wedding photos
The 'Wedding Singer' star and longtime New Hampshire resident made one couple's special day even more memorable.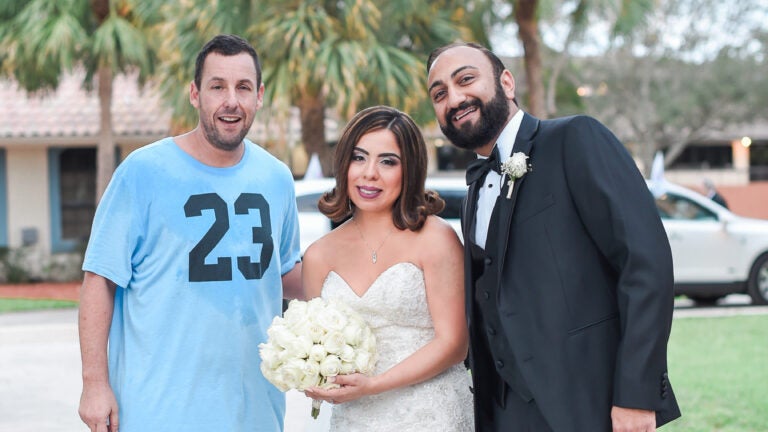 Tonya Laker has seen a lot of crazy things in her 15 years as a wedding photographer, but she's never had a celebrity hop into a bride and groom's photo shoot — until last weekend, that is.
Actor Adam Sandler, who grew up in Manchester, N.H., joined Karan and Tatiana Shah for a picture shortly before their wedding reception in Boca Raton, Fla. on Saturday.
Laker said that because the wedding day's schedule had been running behind, she had suggested changing venues for the Shahs' photos at the last minute in order to get the best light. As Laker took photos of the couple at a park near the Pavilion Grille, their reception venue, Karan did a double take and shouted, "Adam Sandler?" as he spotted the actor getting into an SUV.
It's been 20 years since Sandler's mullet-rocking turn in "The Wedding Singer," but the actor still knows how to liven up a wedding day. Without being asked, Sandler hopped out of the car, still sweaty from the game of basketball he had just finished, and took photos with the Shahs, Laker, and Laker's videographer.
"He was just the most genuine, nicest, down-to-earth guy," Laker said. "I'm so glad that I met him."
When Laker posted the photo of Sandler and the Shahs on her business's Facebook page, it caught the notice of TMZ as well as of local news channels, which reached out to the Shahs about their unexpected celebrity encounter.
"The guy is so humble and so gentle," Karan Shah told WPTV. "If he sees us, we just want to say thank you from the bottom of our hearts for just making this wonderful memory for us."
https://www.facebook.com/palmbeachphoto/posts/10156871297833566:0