Entertainment
All the Hollywood movies filmed in Massachusetts this fall
From "Little Women" to "Wonderland," Massachusetts has seemed like one big film set recently.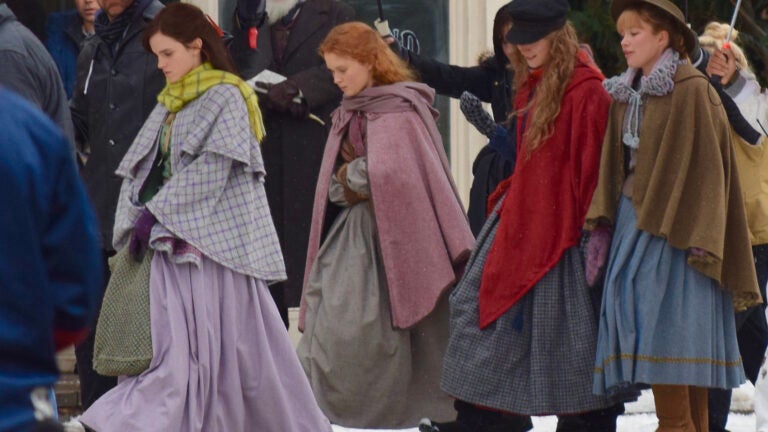 Just call it Hub-ywood.
Everywhere you look this fall, it seems like a movie is filming in Massachusetts. The most obvious has been "Little Women," if only because of the authentic 19th-century wardrobes and horse-drawn carriages. But the state has had at least 10 movies in production this calendar year, with more popping up in the news on a seemingly monthly basis.
In remarks at the Mass Media Expo last month, Massachusetts Film Office director Lisa Strout credited a number of factors as contributing to the film industry's "growth spurt" in the state, including the local filming of television shows like "Castle Rock" and "SMILF."
"Overall, I believe there are two words that describe our current production environment: stability and growth," Strout said. "We have been extremely fortunate to have worked off of a stable platform for a couple of years now. And that stability has brought confidence, and the confidence has brought long-form content as well as small-to-large features, which in turn has led us to a growth spurt."
Here's a list of all of the movies (and one series) we know about that have filmed in the state recently, including a number that are still in production right now.
"Eve"
In her Mass Media Expo speech, Strout highlighted the number of movies shot in Massachusetts featuring women filmmakers or in major roles. That includes "Eve," an action thriller starring Jessica Chastain ("Zero Dark Thirty") as "a black ops assassin who is forced to fight for her own survival after a job goes dangerously wrong," according to Voltage Pictures.
The movie, which also features Colin Farrell ("Fantastic Beasts and Where to Find Them"), Common ("Suicide Squad"), John Malkovich ("Being John Malkovich"), and Wareham native Geena Davis ("A League of Their Own"), had a bit of a bumpy start when it cast off its original director, Matthew Newton, due to prior arrests for domestic violence. Tate Taylor ("The Help") replaced him, and "Eve" began shooting in the Boston area in September, wrapping initial production in November.
"Honest Thief"
We haven't received any reports of Liam Neeson sightings around Boston proper yet, but the veteran actor has been all over Worcester while filming "Honest Thief," which started production in November. In the film, Neeson portrays a bank robber who falls in love with a woman (Kate Walsh, "Grey's Anatomy") who works at a storage facility where he's stashed money, according to Variety.
Last month, onlookers got to see stunt actors fall out of an upper-story window at the AC Hotel Marriott near Worcester City Hall, and earlier this week, Neeson visited patients and staff at the Saint Vincent Cancer and Wellness Center.
"Jungleland"
Not only did Charlie Hunnam ("Sons of Anarchy") film "Triple Frontier" with Cambridge native Ben Affleck this year, he shot a movie in Massachusetts. "Jungleland" stars Hunnam as a "reluctant bare-knuckle boxer" who is traveling across the country for "one last fight," according to a synopsis from the studio. In August, Deadline reported that, along with Fall River and New Bedford, filming was set to take place in Buffalo, Gary, Ind., Reno, Nev., and San Francisco. Production wrapped in November, and no release date has been announced yet.
"Knives Out"
Rian Johnson is known by most for his work directing "Star Wars: The Last Jedi," but he made a name for himself directing a pair of plot-twisters in the contemporary noir "Brick" and the time-traveling sci-fi thriller "Looper." That's why film fans were excited to hear that Johnson was heading back to his roots for "Knives Out," which will be a "modern-day murder mystery in the classic whodunit style," according to Variety.
The film's A-list cast includes Sudbury native Chris Evans, Daniel Craig (James Bond in the four most recent Bond films), Toni Collette ("Hereditary"), Jamie Lee Curtis ("Halloween"), Lakeith Stanfield ("Sorry to Bother You"), and Michael Shannon ("The Shape of Water"). Evans, Craig, and Shannon have been spotted by paparazzi and fans alike in Waltham, Milton, and Boston, and Wicked Local Maynard spotted crews building a set in town shortly before shooting started. According to Johnson, "Knives Out" began production on Oct. 30 and is scheduled to finish shooting by Christmas.
"Little Women"
"Little Women" has been big news around the state this fall, with actors in period-appropriate attire popping up across Massachusetts for "Lady Bird" director Greta Gerwig's film adaptation of Louisa May Alcott's 150-year-old novel.
"Little Women" boasts an impressive ensemble, including Emma Watson ("Harry Potter"), Meryl Streep, Saoirse Ronan ("Lady Bird"), Laura Dern ("Star Wars: The Last Jedi"), Timothee Chalamet ("Call Me by Your Name"), Eliza Scanlen ("Sharp Objects"), Florence Pugh ("Lady Macbeth"), Bob Odenkirk ("Better Call Saul"), and Chris Cooper ("Adaptation"), many of whom have been spied on set this fall. The film is scheduled to shoot from October through December in Boston, Canton, Concord, Harvard, Ipswich, Lawrence, Stoughton, and the Lexington/Burlington area, and is slated to hit theaters on Dec. 25, 2019.
"The Society"
When Christopher Keyser, creator of "Party of Five," took the stage at the Mass Media Expo last month, he was pretty tight-lipped about his new Netflix show currently filming in Massachusetts, other than to call it a modern-day "Lord of the Flies." While the title hasn't officially been announced by the streaming giant, Deadline reported that the show will be called "The Society" and will follow a group of teens who are "transported to a facsimile of their wealthy New England town, left without any trace of their parents."
Unlike the all-male "Lord of the Flies," the show will have youngsters of both genders, with a cast led by Kathryn Newton ("Big Little Lies") and featuring Rachel Keller ("Legion"), Gideon Adlon ("Blockers"), and a number of other up-and-coming young actors. Deadline reported that the first season will be 10 episodes long, but no release date has been announced.
"Wonderland"
Mark Wahlberg rarely goes very long without making an appearance in his hometown. But the Dorchester native has been especially present in recent months thanks to "Wonderland," an upcoming movie for Netflix in which the Dorchester native plays Spenser, the wisecracking Boston detective made famous in author Robert B. Parker's series of novels, the 1980s ABC show "Spenser: For Hire," and several TV movies.
Wahlberg shot scenes for the film in several Boston-area locations, including near his childhood home on Peverell Street in Dorchester. Directed by frequent Wahlberg collaborator Peter Berg, "Wonderland" will co-star Alan Arkin ("Argo"), Winston Duke ("Black Panther"), Iliza Shlesinger ("Instant Family"), and rapper Post Malone.