Celebs
Brazilian government official blasts Gisele Bundchen for her environmental activism
"You should be an ambassador...and not go around criticizing Brazil without knowing the facts."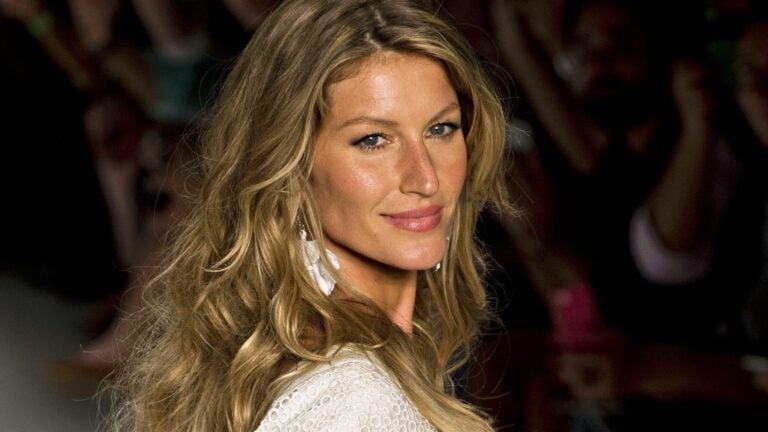 Gisele Bundchen is facing pushback from a Brazilian government official for her environmental activism.
According to the Guardian, Brazil's agriculture minister, Tereza Cristina Dias, was asked during a Monday interview on a conservative Brazilian radio station about "PR problems" the supermodel allegedly has caused for the country.
"Sorry, Gisele Bündchen," Diaz said, per multiple reports, in the interview, which was conducted in Portuguese. "You should be an ambassador and say that your country conserves, that your country is on the global vanguard of conservation, and not go around criticizing Brazil without knowing the facts."
Bundchen has long been outspoken about environmental issues, both in her personal charitable work and by advocating to the Brazilian government. In 2017 she tweeted at Brazil's then-President Michel Temer to veto proposals she said would threaten 1.5 million acres of the Amazon rainforest in Brazil. Temer later replied to Bundchen on Twitter to say that he had vetoed the proposals.
.@MichelTemer, please veto the proposals that would threaten 1.5M acres of protected area in the Brazilian Amazon! https://t.co/KkKF4MrhGg

— Gisele Bündchen (@giseleofficial) June 12, 2017
More recently, this past November Bundchen tweeted her criticism of a proposal from recently elected Brazilian President Jair Bolsonaro to merge the environmental ministry with the agricultural ministry, saying it would be "potentially disastrous and a path with no return," according to the Guardian. (The proposal has not been enacted thus far.)
Diaz was appointed to her role by Bolsonaro, a far-right populist who has been compared to President Donald Trump and was praised by Trump following his election victory. Following her interview on Monday, Diaz tweeted an invitation for Bundchen to become an ambassador for the country.
"I said that Gisele Bündchen could be an ambassador for Brazil to show that we produce agriculture for the world while preserving the environment," Diaz tweeted in Portuguese, according to a translation from the Guardian. "The model will soon receive our invitation."
On Wednesday, Gisele posted a statement in Portuguese to Twitter, saying she was "surprised" that she was receiving criticism for "defending and expressing" herself "in favor of the environment."
— Gisele Bündchen (@giseleofficial) January 16, 2019
Read the full translated statement below:
"It surprised me to see my name mentioned in a negative way for defending and expressing myself in favor of the environment, since as of 2006 I have been supporting the project and getting involved with socio-environmental causes, which I have always done with a lot of responsibility.

I am always seeking knowledge through readings and contact with scientists, researchers, farmers, organizations, cooperatives, and the environment so that, in this journey of mine, I have been able to learn a lot and continue to learn every day.


I believe that agricultural production and environmental conservation must go hand in hand. Our development, prosperity and well-being depend on this balance and agriculture, so important for our country, also depends on the climatic conditions suitable for its growth.

Brazil has everything to lead the movement towards a more sustainable development, capable of meeting the needs of the current generation without compromising future generations. I hope to be able to share positive actions in this regard. We need to remember that natural resources are finite and jungles play a fundamental role in balancing the climate on earth and consequently in our lives. Preserving nature, therefore, means preserving life."