Celebs
Taylor Swift showed up to this Emerson grad's engagement party and serenaded the couple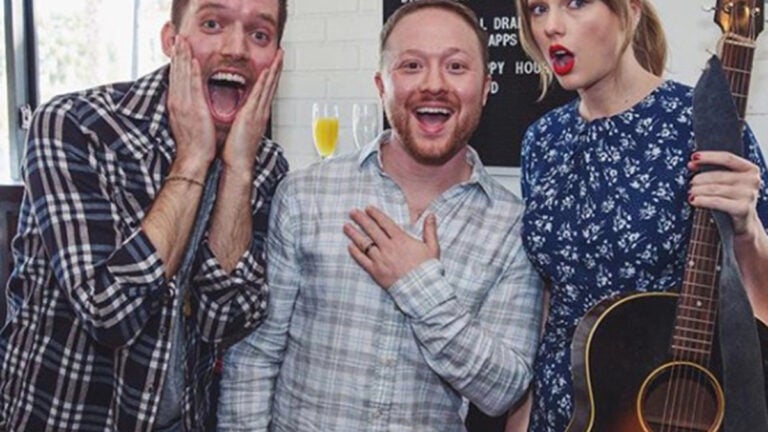 An Emerson College alum's fiance surprised him with an engagement party this week that included a very special guest: Taylor Swift.
Ross Girard, an East Cost native living in Los Angeles, said his "incredible'' fiance, Alex Goldschmidt, hosted a party with friends and family over the weekend after proposing to him during a hike. Then, a little while later, Goldschmidt revealed that the Grammy-winning singer was there to celebrate the special day alongside them.
"My incredible man . . . asked me to marry him, surprised me with an engagement party with friends and my family who flew in to be there, and then [Taylor Swift] surprised me with an incredible serenade,'' Girard said on Twitter on Tuesday, a few days after the soiree. "I'm on cloud 9.''
Girard posted a five-minute video showing his fiance giving a speech at the celebration before Swift entered the room to greet the surprised crowd. As of Wednesday, the video had been viewed more than 79,000 times.
In the video, Goldschmidt is seen standing with his arm around Girard as he tells the group that he has something to share with them.
"There is one secret that I didn't trust any of you with,'' he says.
Goldschmidt, a Boston University graduate, then asks everyone to welcome his "good friend Taylor'' to the party.
At that point in the video Swift appears, guitar in hand, and hugs the couple to congratulate them. Then she starts playing "King of My Heart,'' a song off of her hit album "Reputation.''
Swift says in the video that Goldschmidt had e-mailed her about the momentous occasion, prompting her to show up.
Goldschmidt told the Globe that he met Swift backstage at an Ed Sheeran concert, and she later flew him out to be in her "Shake It Off'' video.
"We have worked together when I was at 'The Voice' but we know each other through social media and a series of insane events,'' he said. "We've kept up through social media through the years.''
Before playing an acoustic version of "King of My Heart,'' which has special meaning for the couple, Swift looks at them and says, "This is from Alex, but sung by me.''
According to Emerson Today, the college's news website, the couple's special day began when Goldschmidt proposed to Girard at the Wisdom Tree on Cahuenga Peak in Los Angeles, a spot where they had shared a date early on in their relationship.
It ended with the surprise engagement party with those closest to them at Los Angeles-based Sycamore Tavern, and Swift's performance.
"I was completely surprised,'' Girard, a film and commercial producer, told his alma mater.
Much like his partner, Goldschmidt was reeling with excitement over the experience, thanking Swift for making the day "so special.''
"I'll never be over this,'' he wrote on Instagram. "Nothing in life feels real and probably never will again.''
[fragment number=0]
[fragment number=1][fragment number=2]
[fragment number=3]
[fragment number=4]
[fragment number=5][fragment number=6]
[fragment number=7]
[fragment number=8]
[fragment number=9][fragment number=10]