Celebs
Here's what Barack and Michelle Obama are up to on their Martha's Vineyard vacation
It's week three, and the former President and First Lady are frequenting favorite spots.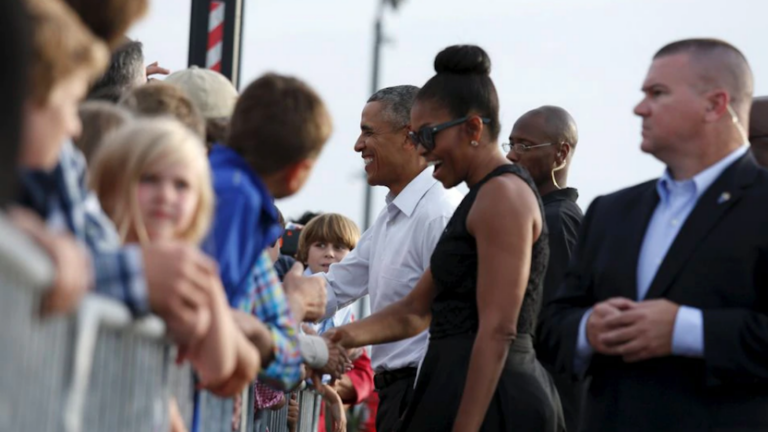 Some shook his hand. Others cooked for him. Secret Service agents were never far away. Despite a quiet first week on Martha's Vineyard, President Barack Obama and First Lady Michelle are hitting the town(s) hard across their annual island getaway. Here's what they've been up to:
Thursday night at Beach Road Restaurant
Last Thursday, Obama dined at Beach Road Restaurant in Vineyard Haven. He arrived at the popular seafood and New American fare dining destination at around 8 p.m and sat on the porch, sources told Boston.com. The restaurant overlooks Lagoon Pond, offering scenic views, upscale cuisine, and a locally sourced menu. The Obamas have dined at Beach Road Restaurant in the past, as well as at sister restaurant State Road in West Tisbury. 
Friday fireworks
The next night, the former president joined over 5,000 others for the annual fireworks display in Oak Bluffs. While many scattered blankets and chairs across Ocean Park, Barack and Michelle watched the display from a private residence on Seaview Avenue, next to the Lookout Tavern. 
Saturday at the bowling alley
Obama is known to bowl a "pretty good game," according to a 2017 article in the Martha's Vineyard Times. He was back at it last Saturday at the Barn Bowl & Bistro, the island's only bowling alley. 
Thursday dinner party at Garde East
Barack and Michelle attended a large party Thursday night at Garde East in Vineyard Haven, just across the street from Beach Road Restaurant. Barack ordered a steak, cooked medium, and Michelle opted for scallops, a source told Boston.com. The party occupied the upstairs private deck and dine space overlooking Vineyard Haven Harbor until around 11 p.m. 
Friday links at Farm Neck
The former president was seen with a foursome Friday at Farm Neck in Oak Bluffs, according to the Martha's Vineyard Times. He's hit the links several times, including the Monday after his island arrival with Golden State Warriors star Steph Curry, and former Celtic Ray Allen. 
Paddleboarding on Edgartown Great Pond 
Turkeyland Cove is a secluded Edgartown neighborhood that abuts Edgartown Great Pond, where Obama's gone paddleboarding, sources told Boston.com. It's where the Obamas are reportedly renting – and considering buying, or so say rumors that remain unconfirmed – a 30-acre estate. The property in question has been on the market since 2015 and belongs to Boston Celtics co-owner Wyc Grousbeck.