Celebs
Downtown Boston is transformed into New York City as Leonardo DiCaprio, Jennifer Lawrence film 'Don't Look Up'
Netflix crews turned a stretch of Devonshire Street into the Big Apple on Monday morning.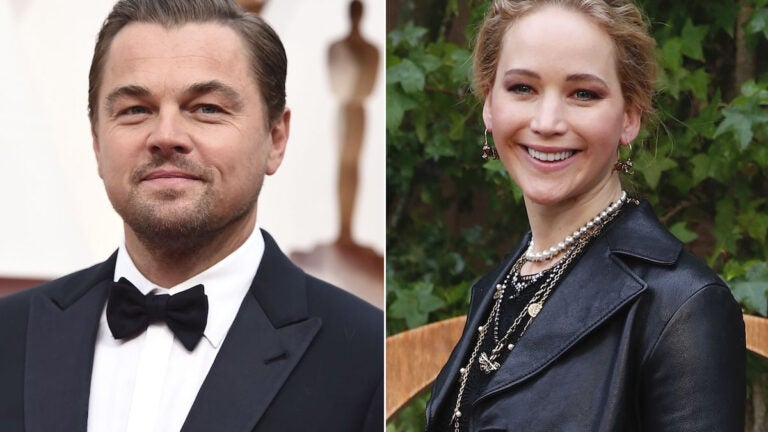 Leonardo DiCaprio and Jennifer Lawrence were back at work on Monday, filming scenes for the Netflix comedy "Don't Look Up" in Boston's Financial District.
Police and film crews closed off a section of Devonshire Street between Franklin and Milk streets as the two stars filmed scenes around lunchtime on Monday, with crews finally breaking down equipment shortly after 1 p.m.
DiCaprio and Lawrence were dressed in the same clothes they wore while filming at South Station back in December: DiCaprio wore a pair of professorial glasses with a button-down and brown jacket, and Lawrence rocked reddish-orange hair and a green jacket.
In the film directed by Adam McKay ("The Big Short"), DiCaprio and Lawrence play a pair of astronomers who discover that an asteroid is on a collision course for Earth. When they begin to speak publicly about the imminent danger, they find that no one will take their dire warnings of impending doom seriously.
On Monday, crews filmed a scene in which DiCaprio anxiously talks into a cell phone while glancing at the sky, and another where several people stare at the sky.
The scenes being filmed were set in New York City rather than in Boston, as evidenced by the dozens of yellow NYC cabs circling the block throughout filming and the NYC bus parked on the corner of Milk and Devonshire.
Most of the storefronts on Devonshire remained the same, with the lone exception being Boston Wine Exchange, whose signage was swapped out to read "Bert's Wine Exchange."
While there were noticeably fewer fans than when dozens of college students descended on South Station to watch "Don't Look Up" filming in December, the production still caught the attention of many passersby.
Throughout the lunchtime hour, Bostonians strolling to and from work stopped to catch a glimpse of the stars, while local news crews took turns filming down the street. Later, a pair of Kane's Donuts employees tried unsuccessfully to bring boxes of goodies to set.
Businesses on Devonshire were allowed to remain open during filming, but foot traffic was limited as crew members shooed away passerby at every turn.
During what appeared to be a break in filming, a Boston police officer directing traffic gave a hungry Boston.com reporter the go-ahead to visit the Potbelly Sandwich location on Devonshire. Moments later, the reporter realized he was walking directly toward an unmasked Lawrence and DiCaprio as they prepared to shoot a scene outside the sandwich shop, and was politely asked to move out of the shot by a crew member.
After filming ended, a Potbelly employee told Boston.com that her brief glimpse into Hollywood was an exciting way to spend a Monday.
"We got to watch them right out the window," one employee said. "But they told us no photos or videos."
Even after action ended for the afternoon, there were indications that filming was set to continue elsewhere. Film trucks were parked all over the Financial District, and parking signs throughout the neighborhood indicated that crews would be reserving street space through Friday.
On High Street, members of the film crew were hard at work on the interior and exterior of Howl at the Moon, which is temporarily closed due to the coronavirus pandemic. Filming is also expected to take place in South Boston on Monday and Tuesday, with crews using the Artists for Humanity building at 100 2nd St.
Besides Boston, "Don't Look Up" has filmed Wheaton College in Norton, at Salisbury Beach, the DCU Center in Worcester, Battleship Cove in Fall River, Union Point in Weymouth, and a residential neighborhood in Framingham. Filming is expected to continue through at least mid-February.
Along with Lawrence and DiCaprio, "Don't Look Up" features Cate Blanchett ("Carol"), Rob Morgan ("Mudbound"), Meryl Streep ("The Iron Lady"), Jonah Hill ("The Wolf of Wall Street"), Chris Evans ("The Avengers"), Himesh Patel ("Yesterday"), Timothée Chalamet ("Little Women"), Matthew Perry ("Friends"), Tyler Perry ("Gone Girl"), Melanie Lynskey ("Togetherness"), Ron Perlman ("Sons of Anarchy") Tomer Sisley ("We're the Millers"), singer Ariana Grande, and rapper Kid Cudi.
Get Boston.com's browser alerts:
Enable breaking news notifications straight to your internet browser.