Celebs
Matt Damon used to escape controversy, while Ben Affleck used to be the punchline. What changed?
Affleck draws public empathy by speaking candidly about his personal demons, while Damon has developed an unfortunate knack for summoning Internet anger.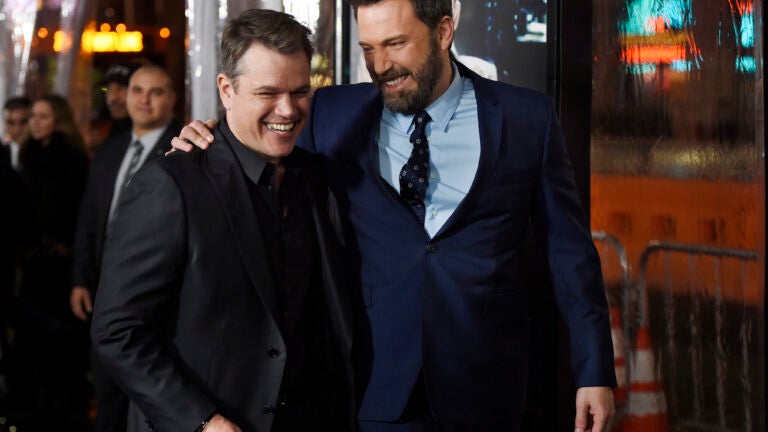 From the "Weekend Update" desk on "Saturday Night Live" in 2004, co-anchor Amy Poehler informed the audience that Matt Damon had criticized Hollywood actors who want roles only in big blockbuster movies. "Here with a response to those statements: A Hollywood actor," Poehler said.
The camera panned to guest host Ben Affleck, also known as Damon's longtime best friend. Affleck gave his signature sly grin.
"Yeah, Matt. Um, look, bro — we all know who you're talking about, okay?" he said. "It's been kind of a mainstream year. Halfway through watching 'Paycheck,' I went and asked the theater manager for my money back, and then I remembered I was in it."
"I know you're not into stardom," Affleck continued. "But help me out — I can't seem to recall which Chekhov play 'The Bourne Supremacy' was based on."
The delighted crowd gasped as Affleck went on roasting Damon about the upcoming "Ocean's Twelve" (" 'Ocean's Eleven' left so many unanswered questions!") and his own persona ("By the way, Mr. Street Cred, how's Clooney's yacht?").
At the time, the segment captured the public perception of the childhood pals from Boston who shot to stardom when they won the Academy Award for original screenplay for 1997′s "Good Will Hunting." On separate stardom trajectories, Affleck became the boisterous, attention-loving blockbuster actor known for the "Bennifer" tabloid circus of his relationship with Jennifer Lopez. Damon was the more low-key, Harvard-educated Oscar nominee who could seamlessly go from bespoke Oscar bait ("The Talented Mr. Ripley") to action hero (the Jason Bourne movies) while staying out of the paparazzi's lens.
It's always easier to think of celebrities in one solid category or another, as Affleck appeared to realize when he leaned into the "Weekend Update" bit.
Now, what feels like eons later, their roles have reversed in middle age: Affleck draws public empathy by speaking candidly about his personal demons, including his divorce and a trip to rehab in 2018 for his alcohol addiction. He's still a paparazzi magnet, but also became a favorite pandemic meme thanks to his walks and iced coffees with ex-girlfriend Ana de Armas (how can one consume so much Dunkin'?) and caused social media to explode this summer with a nostalgia-filled reunion with Lopez, a rekindled romance that neither are bothering to hide.
At the same time, Damon has an unfortunate knack for summoning Internet anger, frequently, over cultural issues. He got into it again this week after telling the Sunday Times about a joke he cracked at home that resulted in one of his daughters writing a "treatise" to her 50-year-old father on why the "f-slur for a homosexual" is dangerous. In a later statement, Damon said he's never used the slur; he was trying to teach his daughter about the history of the word. "I stand with the LGBTQ+ community," he said. This led to more questions: Why did an actor who has been in Hollywood for three decades and played multiple gay characters think that was something he should share? What does Damon say behind closed doors? Given his lengthy rebuttal, was his first version of the anecdote even accurate?
And another: How did Affleck — the supposed bad boy in this pair — become at 48 the self-aware celebrity who brings joy to the masses, while Damon, with his sterling reputation, keeps making missteps? It could be because narratives and images of celebrities are never actually what they seem.
"The way they were presented back then . . . the knives were sharper for Ben, because they're always sharper for the person who seems thirstier," said Elaine Lui, the "etalk" and "The Social" TV personality who runs the website LaineyGossip.com. Affleck, she notes, has always pushed back against the idea that he seeks attention. "In our minds, we have a default trigger where we always think the quiet introverted one is, for lack of a better word, culturally and morally the 'better' one … But we all know that's not true."
In 2007, People magazine explained Damon's naming as its Sexiest Man Alive because of his "piercing blue eyes, crooked smile and family-guy demeanor." In 2011, Sarah Silverman told GQ that he "has that Meryl Streep thing where he always blows your mind … He doesn't need a fancy accent or a fake tooth to play a 'regular person.' " A recent New York Times Magazine profile by David Marchese, timed to Damon's new movie "Stillwater," notes that "Damon has often embodied idealized Everymen."
After "Good Will Hunting," Marchese writes, Damon "managed to freeze his persona in that moment of, well, good will." After generating headlines for dating Minnie Driver and Winona Ryder, the actor learned to keep his private life private. He has been married to Luciana Barroso since 2005, and they live relatively quietly with their daughters. "If people can see 16 pictures of you drinking coffee or walking your dog, I think it dilutes the desire to see you in a movie," Damon told the New York Times magazine.
That may have once been true — he and Affleck have both talked about how Affleck's overexposure in the early aughts hurt his career. However, in the social media age, fans not only clamor to know more about their favorite stars, they expect celebrities to share details. They want to see Affleck and Lopez kissing on a yacht, and they got it. Damon might have risen to fame by playing "Everyman" roles, even as an astronaut or international spy, and still goofed off enough to seem like a regular person. (See: His long-running "feud" with Jimmy Kimmel.) But being so guarded means that no one feels as if they really know you, which works until you put your foot in your mouth.
"I think we're in a cultural space where we have been interrogating the privilege of White cisgender men … and in many ways, Matt Damon embodies that. Here's a Boston boy who plays the 'everyday American' and can disappear into roles," Lui said. "In the past, that worked for him, because the voice of our culture was the White cisgender male, and they could identify with him. Now, as we have shifted who we want to [give a] platform in terms of voices, we're looking at this 'Everyman' through a different lens and listening closely to the things he says." Particularly the problematic things.
Damon's first controversy erupted in 2015 during the Season 4 premiere of HBO's "Project Greenlight," the reality show he co-produced with Affleck, where they awarded an amateur filmmaker the opportunity to make a movie. During a conversation with the selection committee, Damon repeatedly interrupted producer Effie Brown, the only Black filmmaker in the room, as she raised her concerns about the potential director, telling her, "When we're talking about diversity, you do it in the casting of the film, not in the casting of the show." Social media went wild over Damon explaining diversity to a Black woman. He ultimately issued an apology and acknowledged, in retrospect, that the scene looked really bad.
Later that year, the term "Damonsplaining" took off after he told the Guardian that actors shouldn't disclose their sexuality, so they can remain a mystery; he brought up Rupert Everett as an example, and many interpreted this as him saying gay actors should stay in the closet. On "The Ellen DeGeneres Show," he said that was not what he meant, and the misunderstanding was "painful."
When sexual assault allegations emerged in 2017 against Harvey Weinstein, both Damon and Affleck came under fire for their close association with him in their careers (he executive-produced "Good Will Hunting"). Shortly after, as the #MeToo movement gained momentum, Damon vowed to "close my mouth for a while" after seeing enormous criticism for saying there was a "spectrum" of sexual misconduct and said we "live in a culture of outrage and injury."
"Like everybody, I'm a prisoner of my subjective experience and that leads to having blind spots. Me more than most given the experience that I've had as a white male American movie star. It's a very rarefied air," Damon told Marchese in response to such incidents. "I don't even know where my blind spots begin and end. So, yes, I am and was tone-deaf. I do try my best not to be."
So: Affleck. He is also a White cisgender man from Boston who has made mistakes. Yet, as he became an Oscar-winning director (for 2012′s "Argo") and built his way back up to the Hollywood elite after a string of flops, there's an understanding that he was misjudged in the past.
"Ten years ago, the public image of him could not have been farther apart from who he actually is. It was like he was being cast in a role, that he was a talentless kind of meathead," Damon said to the Hollywood Reporter in 2015. "It was painful to be his friend, because it wasn't fair, you know? To my mind, nobody really got him at all."
In 2017, Affleck's image briefly went south again. Around the same time his public relations team was grappling with how he should respond to the #MeToo movement given his early close ties with Weinstein, a clip went viral that showed Affleck groping actress Hilarie Burton on MTV's "Total Request Live" in the early 2000s. Affleck apologized to Burton and said he was going to donate residuals of his Weinstein-produced movies to RAINN (Rape, Abuse & Incest National Network) and Film Independent.
"I didn't understand what it was like to be groped, to be harassed, to be interrupted, talked over, paid less, pushed around, belittled, all the things that women deal with that, for me as a man, I had the privilege of not having to deal with," he said during a late-night appearance with Stephen Colbert.
In addition, Affleck has opened up about going to Alcoholics Anonymous and his 2018 rehab stint, and told the New York Times that his divorce from Garner is the biggest regret of his life. A vulnerable celebrity admitting his flaws goes a long way with fans. Where Damon's apologies can seem stiff and pro forma, Affleck's remorse can be genuinely moving.
"America loves a redemption story. And no matter what mistakes someone has made, the public reaction to them often depends on how they handle their mistakes," said Leslie Bennetts, an author and journalist who wrote a Vanity Fair cover story about Affleck in 2003. "If a guy comes out and says, 'I did [blank], I screwed up, I'm really sorry, I won't do it again' — people tend to root for them."
Bennetts recalled that in their interview, Affleck had refreshingly nuanced thoughts about the media frenzy surrounding his relationship with Lopez, pointing out the element of racism with language often used to describe the actress/pop star as a "spicy Latina," leading to unfair stereotypes about sexual appetite and desires.
"It was really clear how much he respected Jennifer," Bennetts said. "It's a touching story to see a middle-aged guy whose made a lot of mistakes going back to one of his first loves in a different cultural moment, after they're both older and wiser and have been through a lot of difficult experiences, and are finding love again."
The new photos of Affleck and Lopez light up the Internet each time a new one is published, from J-Lo making the relationship Instagram official on her birthday to the two of them re-creating the famous scene from the "Jenny From the Block" video on a yacht in St. Tropez. Even though nothing about that sentence is remotely relatable to the average person, it's all so steeped in nostalgia that fans love it anyway. Against all odds, Affleck has managed to become endearing instead of overexposed.
The next test will be Affleck and Damon's upcoming project "The Last Duel," a historical drama already raising eyebrows: Damon plays a knight whose wife alleges that his best friend, a squire (Adam Driver), raped her; the knight and squire must duel to the death, and if the knight loses, his wife will also be killed.
It's hard to imagine a premise with more minefield potential. Yet they tromp directly into it, friends for life, counting on the power of their combined celebrity to see them through.