Celebs
Ben Affleck spotted filming at a Dunkin' in Medford
Jennifer Lopez was there, too.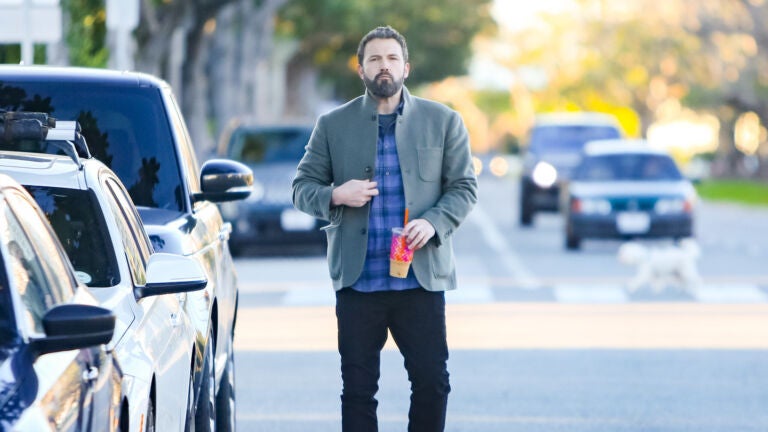 Something was brewing at Dunkin' Tuesday morning, and it involved Ben Affleck.
The actor was spotted by paparazzi working the drive-through window at one of the coffee chain's Medford locations, according to WHDH. TMZ published a video of Affleck sticking his head out of the drive-through window, with the outlet speculating that Affleck might be filming a Super Bowl commercial.
Lisa Mackay, who posted a photo of Affleck handing her a coffee in Medford, said on Instagram that the actor was filming a commercial, and told NBC10 Boston that Affleck was "quick-witted and funny."
According to Boston journalist Megan Johnson, Affleck and wife Jennifer Lopez visited Dunkin' locations in both Medford and Revere for filming on Tuesday.
Video posted on Twitter showed Lopez and Affleck, clad in an "America Runs on Dunkin" T-shirt, thanking Dunkin' workers.
Though Affleck will occasionally stop by Starbucks, he has been an enthusiastic Dunkin' ambassador living in Los Angeles for years. Through multiple relationships, through good weather and bad, Dunkin' has been a constant in paprazzi photos of the Cambridge native.
"I have Dunkin' Donuts every day," Affleck told Collider in 2019. "It's very weird, I have it every day and people are always like, 'Where is that? Is that near here?' So, I feel like I'm spreading the word."
Representatives for Dunkin' and Affleck did not immediately respond to requests for comment.
Newsletter Signup
Stay up to date on all the latest news from Boston.com