Celebs
Twitter loved how 'miserable' Ben Affleck looked at the Grammys
"Ben Affleck is every husband dragged to a work thing by his wife."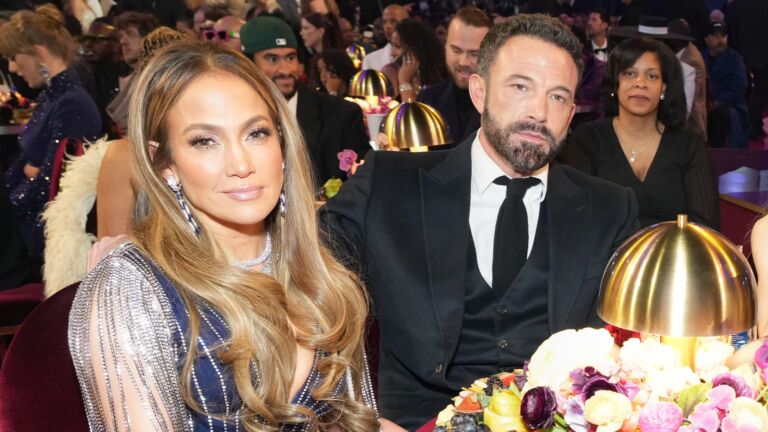 During the 65th Grammy Awards on Sunday, most of the focus inside Crypto.com Arena was on the musical performances, the history-making wins, and the unexpected snubs. For viewers at home live-tweeting their way through the ceremony, however, there was an additional sideshow that provided ample entertainment: Ben Affleck, looking bored, exasperated, and generally miserable.
Grammy producers offered up plenty of crowd shots of Affleck and wife Jennifer Lopez, with the Cambridge native appeared completely uninterested in most of them.
"Whoever keeps cutting to Ben Affleck as he gets more and more exasperated, thank you," wrote one Twitter user.
"Ben Affleck is every husband dragged to a work thing by his wife," wrote another.
Almost a decade's worth of Ben Affleck meme cycles — from "Sad Ben Affleck" to "Smoking Ben Affleck" to "Back Tattoo Affleck" — would seem to suggest that this is simply what Ben Affleck looks like the majority of the time. But the public's fascination with Affleck's "Resting Ben Face" has endured, and it certainly didn't abate Sunday night at the Grammys.
Affleck has acknowledged the memes in the past, telling BBC Radio 1 that in the future he would have to try to avoid on-camera moments where fans could "lay Simon and Garfunkel tracks" over footage of him.
On that front, Affleck unfortunately came up short Sunday night.
Newsletter Signup
Stay up to date on all the latest news from Boston.com