Celebs
Mark Wahlberg presented an award to an almost-all-Asian cast at the SAG Awards. Twitter was having none of it.
"Good for Mark Wahlberg, standing on a stage with all those Asian people without assaulting any of them."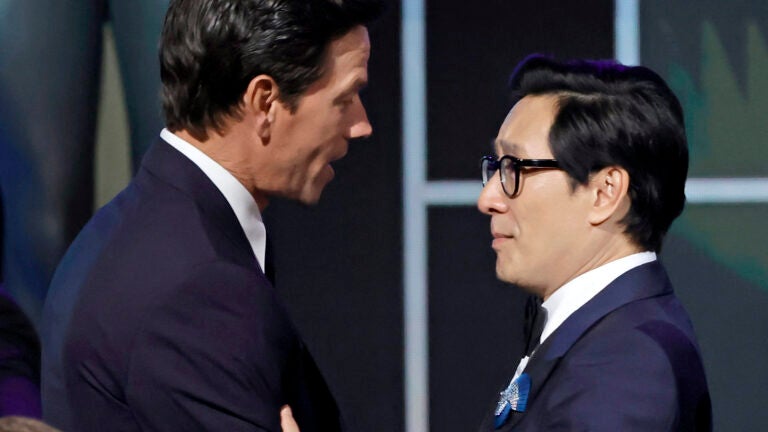 Given that he was convicted of brutally assaulting two Asian men while trying to rob beer from them when he was 16 years old, Mark Wahlberg seemed like an odd choice to present the ensemble cast award to the almost-all-Asian cast of "Everything Everywhere All At Once" at the Screen Actors Guild Awards Sunday night. At least according to Twitter.
"Good for Mark Wahlberg, standing on a stage with all those Asian people without assaulting any of them," tweeted @aguirreryan of the Dorchester native turned Hollywood superstar. "I feel like if Mark Wahlberg (or his management) wanted his checkered racist past to fade into obscurity, presenting the SAG award to EEEAAO would not have been on the list of gigs to take," commented novelist Cecilia Tan.
The controversy was enough to get Wahlberg trending on the social media platform Sunday night, with some users also pointing to his recent appearance on the "Today" show to discuss his Catholic faith.
"This man also hates crime!," winked @jessecassidy0 while sharing a particularly effusive post about the "Today" appearance. "Google 'Mark Wahlberg hate crime' to learn more."
Wahlberg served 45 days of a two-year sentence for the 1988 attack, during which he was alleged to have yelled racial slurs at the two men while punching one and hitting the other with a stick. The actor sought a pardon for the crime in 2015, when he was seeking a concessionaire's license for Wahlburgers, the restaurant chain he owns with his brothers. He eventually dropped the request, but one of his victims, Hoa Trinh, took the opportunity to support the pardon.
"He paid for his crime when he went to prison," Trinh told The Washington Post. "I am not saying that it did not hurt when he punched me in the face, but it was a long time ago."
Wahlberg also drew brickbats for mislabeling the film "Women Talking" about Bolivian rape victims, as "Women Are Talking" when reading the nominees in the category.
Here are some of the Twitter reactions:
Newsletter Signup
Stay up to date on all the latest news from Boston.com