Celebs
Tony Stark, er, Robert Downey Jr. joins board of Boston digital security firm
He'll be at the board meetings, so keep an eye out for him in the Seaport.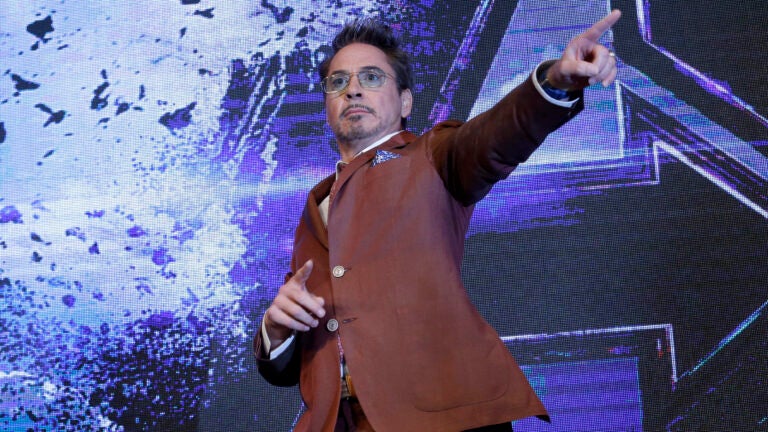 Despite mounting evidence that there's no such thing as death in the Marvel Cinematic Universe, it's looking pretty unlikely that Robert Downey Jr. will be returning to the big screen as the late Tony Stark, a.k.a. Iron Man, anytime soon. But he will be joining the board of the Boston-based digital security firm Aura, which is … the next best thing?
"Honestly, the exponential growth of online crime, just in the last several years, is truly terrifying," said Downey Jr. in a statement announcing his new involvement with the Seaport-based startup. "It requires an innovative solution to protect our families, which is why I'm joining Hari [Ravichandran] and his team at Aura to tackle the crisis head-on."
And apparently Downey Jr.'s involvement will go beyond a simple vote on the board. The actor plans to join board meetings in person whenever possible, Eva Dudzik, a spokesperson for Aura, told the Boston Business Journal. He's also making an unspecified personal investment in the company and will be working as a "strategist and brand advocate," according to the company's statement.
His first contribution in that regard is the video "Role of a Lifetime," which ostensibly chronicles Downey Jr. — at his Robert Downey Jr.-ist (he even drops a bleeped f-bomb) — as he auditions to be Aura's new "Online Safety Spokesperson" after a casting call for a "Robert Downey Jr. type."
After a very public battle with drug addiction in the '80s and '90s, Downey Jr. became one of Hollywood's great comeback stories. Among the industry's highest-paid performers, he's estimated to have earned in the neighborhood of $465 million for his Marvel work alone, having appeared as Tony Stark in 10 films from 2008-2019. He's also been nominated twice for Academy Awards: Best Actor for 1993's "Chaplin" and Best Supporting Actor for 2009's "Tropic Thunder."
Aura moved to the Seaport, above the restaurant Del Frisco's, last year, according to the Business Journal. Founded in 2017, the company bills itself as providing "smart, simple online safety" via an app powered by artificial intelligence.
Newsletter Signup
Stay up to date on all the latest news from Boston.com