Celebs
Matt Damon and Casey Affleck are back filming 'The Instigators' in Quincy
The Cambridge natives were filming the Apple Original Films project in New York last month.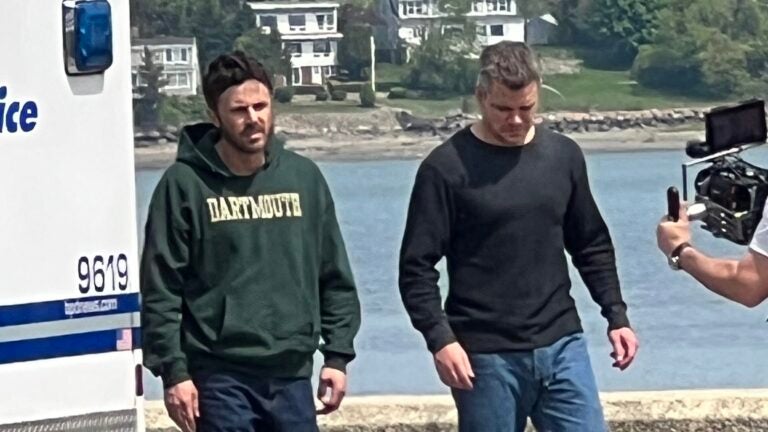 Matt Damon and Casey Affleck were back in the Boston area again on Thursday, filming scenes for their upcoming Apple Original Films movie "The Instigators" in Quincy.
The duo were in production early Tuesday afternoon at Wollaston Beach, with crews setting up near Squantum Yacht Club. The duo were wearing the same attire as they were when they filmed scenes in Boston back in March and early April, with Damon in a dark sweater and Affleck in a green Dartmouth sweatshirt.
After filming scenes in areas including the North End, Back Bay, and at the Mass. Ave bridge earlier this spring, crews headed to New York state for a month of filming.
Typically, Boston is the city where filmmakers go to pretend they're in New York City, as was the case for scenes in 2016's "Ghostbusters," 2021's "Don't Look Up," and 2022's "Spirited," and the upcoming "Madame Web," to name a few examples. But in the case of "The Instigators," the opposite has been true.
"Matt Damon lives in Brooklyn and wanted to shoot near his home," location manager Lauri Pitkus told Newsday, adding that she helped pick out locations in Manhattan and Long Island that doubled as Massachusetts locales.
Directed by Doug Liman ("The Bourne Identity"), "The Instigators" will follow "two thieves who must go on the run with the help of one of their therapists after a robbery goes awry," according to a plot synopsis shared with Deadline.
The movie is being written by Chuck MacLean, who last worked with Damon on the Boston-set TV series "City On A Hill," which was canceled by Showtime in October after three seasons.
Along with Damon and Affleck, "The Instigators" stars Paul Walter Hauser ("Black Bird"), Hong Chau ("The Menu"), Ving Rhames ("Mission: Impossible"), Ron Perlman ("Hellboy"), Alfred Molina ("Spider-Man 2"), Michael Stuhlbarg ("A Serious Man"), and rapper Jack Harlow.
Newsletter Signup
Stay up to date on all the latest news from Boston.com