Celebs
'SNL' star Kenan Thompson visits Olneyville N.Y. System in Providence
Thompson stopped for a late-night bite at the iconic diner on Saturday.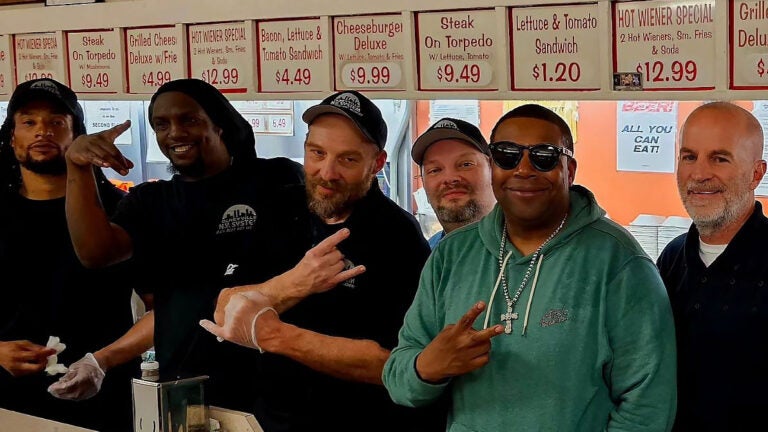 He's in Rhode Island to film a movie about a burger joint — but Kenan Thompson dined at Rhody's iconic hot dog joint.
Around 11 p.m. Saturday — a time when the 'SNL' GOAT might typically be readying for showtime at Studio 8H from 30 Rockefeller — he popped into Olneyville New York System in Providence.
Alas, he did not order three all-the-way with fries and coffee milk — he had the tuna melt and coke.
The SNL star, who is in Rhode Island filming "Good Burger 2," is "not a meat guy," said Olneyville owner Greg Stevens. "I think it was more about the history, about late night in Providence. We're known for late-night eats."
For the uninitiated, Olneyville System wieners, a late-night Rhody staple since 1946, have a reputation — like Del's lemonade or Narragansett beer — as being iconically Rhode Island. (Put it this way: fans can buy three all-the-way with fries and coffee milk stickers.)
Stevens, who is a fourth-generation owner and has worked at Olneyville for 50 years, said Thompson hung out a while. "He's a regular guy. He didn't deny anybody. He was generous with taking photos," he said.
"One of my guys, Cliff [Scott], apparently is a real TV guy. He knew all of his work. So they talked quite a bit."
In fact, Stevens said, the photo of Scott and Thompson posted to the Olneyville Instagram page was taken on Thompson's phone: "He took the picture with Cliff, and sent it to him." (Epic.)
Thompson apparently made his way around the Ocean State Saturday, starting with delivering coffee and doughnuts to the Newport, R.I. Police Department, with Newport Mayor Xay Khamsyvoravong.
"Yes we really do love coffee and donuts," the police department posted to Facebook, along with two pics of Thompson.
Thompson and Kel Mitchell started filming "Good Burger 2" in North Providence May 18. The former Friendly's' Restaurant on Mineral Spring Avenue in North Providence, R.I. has transformed into a Good Burger.
Since filming commenced, the duo has been generous with their time — fist bumping the crowds, signing autographs, and snapping selfies.
Some 25 years after their 1997 cult classic "Good Burger" — based on their hit sketch from Nickelodeon's "All That" — Thompson and Kel Mitchell are reprising their roles as Dexter (Thompson) and Ed (Mitchell). Steven Feinberg, executive director of the Rhode Island Film & Television Office, previously told Boston.com that Nickelodeon Studios and Paramount+ movie plans to film in Rhody through June 20.
The old Friendly's is "an anchor location," Feinberg said, adding that other locations include East Providence, downtown Providence, Warwick and East Greenwich.
The Rhode Island connection? Thompson co-founded Artists For Artists with Rhode Island native/film producer John Ryan, Jr.
"A friend of mine, Ed Brady, knows John," Feinberg said previously. "He said, have you heard they're talking about doing a sequel to 'Good Burger'? I said, yeah, I'm aware. He said, well, my friend, John Ryan, Jr. is a producer on it. Do you want me to connect you? I said, absolutely."
Brady and Ryan are also pals of Olneyville's Stevens. Stevens said the three likely stopped in his eatery as a last stop on the way home.
"I know Ed; I know Johnny. They texted me: Hey Greg, we're coming through. I guess [Thompson] did the whole state tour. He went all over the place Saturday, Newport Police and everything. So he came in. Super nice guy. Everybody recognized him. We talked about the restaurant, the history."
Lauren Daley can be reached at [email protected]. She tweets @laurendaley1.
Newsletter Signup
Stay up to date on all the latest news from Boston.com