Celebs
Harrison Ford spotted at Mass. farmers market ahead of son's college graduation
The "Indiana Jones" actor and wife Calista Flockhart were in town to watch their son Liam graduate from Amherst College.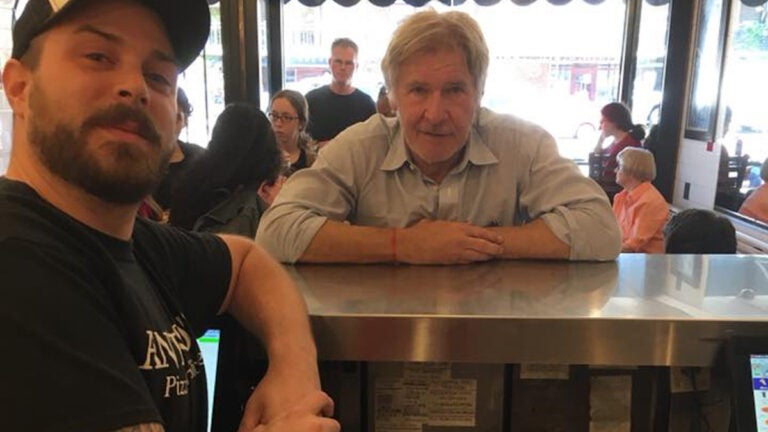 What are the odds of running into Harrison Ford at a farmers market in Amherst?
While "The Empire Strikes Back" taught us you should never tell Ford the odds, the likelihood of spotting the "Star Wars" and "Indiana Jones" actor in Amherst over the last few years are surprisingly good.
Ford and his wife, "Ally McBeal" actress Calista Flockhart, have visited the town a number of times since 2018, including this past weekend, when their son, Liam, 22, graduated from Amherst College.
Before attending commencement on Sunday, Ford was spotted strolling through the weekend farmers market in Amherst on Saturday by Joyce Douthwright, the owner of Cold Spring Soapery.
"We're vendors at the market, and I saw him talking to our market manager," Douthwright told MassLive. "He has always been one of my favorite actors, so I was thrilled to see him in person. He looks great for 80."
Ford and Flockhart also visited Amherst back in 2018 when touring colleges with Liam, stopping by a local pizzeria. The actors then returned to Amherst College in 2019 and 2020 for move-in weekend.
The actor recently discussed the difficulties of parenting while continuing to work steadily as an actor in an interview with Esquire.
"If I'd been less successful, I'd probably be a better parent," Ford said. "The more constant gardener is the better parent, and I've been out of town, up my own a**, for most of my life."
Flockhart adopted Liam in 2001, one year before meeting Ford, according to People. Ford later formally adopted Liam as well.
"She's brought a child back into my home," Ford told Reader's Digest in 2009, when Liam was 7. "My youngest, other than Liam, is 17. It's a wonderful opportunity to be part of a child's growing up, which is always an endless springtime. You see the blossoming and the growing and the nurturing and the payoff."
Newsletter Signup
Stay up to date on all the latest news from Boston.com