Celebs
Rainn Wilson on how his faith drives his climate activism
"The Office" actor Rainn Wilson discussed his faith and his climate activism during the Globe Summit on Tuesday.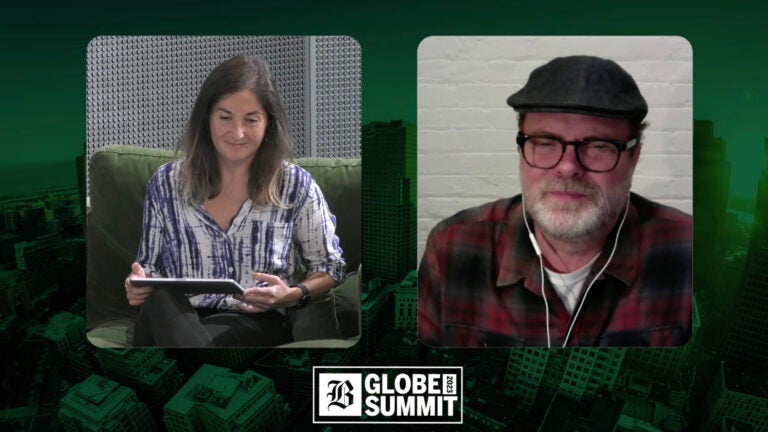 It shouldn't have to be said, but it bears repeating that actor Rainn Wilson has little to nothing in common with Dwight Schrute, the paper salesman he played on "The Office" who tended to sow discord simply by being himself.
Case in point: There's no way Schrute would ever address an audience the way Wilson did at the 2023 Globe Summit on Tuesday, discussing his Bahá'í faith, his commitment to fighting climate change, and his unwavering belief that "world peace is possible — nay, even inevitable."
During a chat with Boston Globe climate reporter Sabrina Shankman via remote video, Wilson spoke about how embracing his long-dormant faith helped him push through the despair that global warming often engenders and devote himself fully to environmental activism.
"The founder of the Bahá'í faith says, 'Let all men be concerned with ushering forth an ever-advancing civilization,'" Wilson told an audience in Boston at WBUR's CitySpace. "So there's a spiritual mandate in the Bahá'í faith to try and make the world a better place."
Wilson was one of the early speakers on day one of the Globe Summit, which for the last three years has served as a coming-together for influential thinkers across numerous disciplines to discuss the greatest challenges of our time.
During his conversation with Shankman, Wilson discussed his "come to Jesus" moment, an awakening he unpacked extensively in his new book, "Soul Boom: Why We Need A Spiritual Revolution."
"There are spiritual ideas that connect with climate change," Wilson said. "When you look at the role that we all have to play in increasing community, increasing consultation, and uniting our hearts in helping humanity reach that that final stage of its evolution, where we live together in peace and harmony and unity."
Following his spiritual mandate to try to reach as many people as possible with his climate activism, Wilson has tapped into his celebrity to help spread awareness. Earlier this year, he changed his name on Twitter to "Rainnfall Heat Wave Extreme Winter Wilson," garnering headlines while promoting Arctic Basecamp, a climate advocacy nonprofit.
Wilson has also enlisted fellow alums of "The Office" in his efforts, inviting actress Ellie Kemper to hand out ice cream cones in New York City featuring everyday flavors like vanilla that could be permanently erased by climate change.
Given that anytime cast members of "The Office" get together for a mini-reunion is an event for fans and the media alike, Wilson said he is eager to do more.
"I would love to try and harness the power of 'The Office' cast for some climate action," Wilson said. "Who cares about Dwight Schrute? But when you get all the folks back together in a mini-reunion, then 'The Office' fans light up with glee."
The three-day summit, which features guests like former Patriots cornerback Devin McCourty, Red Sox manager Alex Cora, and gun control activist David Hogg, runs through Thursday, can be streamed live via the Globe Summit website.
Newsletter Signup
Stay up to date on all the latest news from Boston.com