Celebs
Gisele Bündchen on her post-divorce life: 'Before I was more surviving, and now I'm living'
In an interview with CBS, Gisele Bündchen discussed her new life as a single mom, saying she wishes ex-husband Tom Brady 'the best.'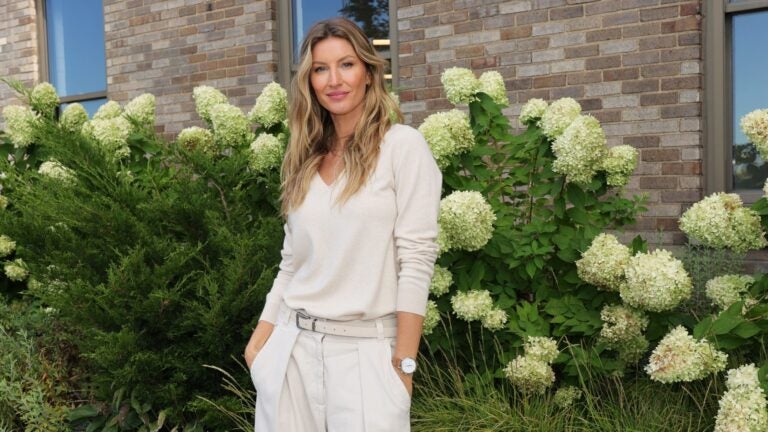 Close to a year after her divorce from Tom Brady, supermodel Gisele Bündchen has entered a new phase in her life.
In an interview with CBS News, Bündchen discussed how her life has changed after the end of her 13-year marriage to Brady.
"I'm in a different place in my life," Bündchen said. "I'm able to choose more of what I want. I think before I was more surviving, and now I'm living, which is different."
When CBS reporter Lee Cowan asked Bündchen whether she would change anything about her life's journey, from starting a modeling career as a teenager to embracing life as a single mom at 43, Gisele said she "wouldn't have it any other way."
"I wouldn't have any other life. I wouldn't have done it," Bündchen said. "If they say, 'Can you change something in your life?' I wouldn't change absolutely anything."
"Not even getting divorced?" Cowan asked.
"I mean, it's not what I dreamed of and what I hoped for," Bündchen replied. "My parents have been married for 50 years, and I really wanted that to happen. But I think you have to accept, you know, sometimes that the way you are in your 20s, it's sometimes you grow together, sometimes you grow apart.
Gisele was also quick to add that she remains "grateful" for her time with Brady.
"He's the father of my kids, so I always wish him the best," Bündchen said. "And I'm so grateful that he gave me wonderful children, and I think, you know, when a door shuts, other doors open."
Earlier this month, Bündchen told People magazine that her divorce from Brady, whom she married in 2009, had been "very tough" on her family. (The couple co-parents their two children, Benny, 13, and Vivian, 10.)
"It's been very tough on my family. It's been a lot — in every area of my life," Bündchen said. "I feel like whenever it rains, it pours."
After a year of homeschooling, Gisele told People that Benny and Vivi started at school in the Miami area this fall, with Vivi joining the swim team and Benny playing football wearing Brady's No. 12 jersey.
"They're getting to know friends in school. They like it. It's just all new. But they're really liking it and they're getting into their things," Bündchen said. "[Benny] just started [football]. I just feel so proud of them. They're so loving. They're growing up to be just so thoughtful and considerate of others."
Watch Gisele Bündchen's full interview with "CBS News Sunday Morning" below.
Newsletter Signup
Stay up to date on all the latest news from Boston.com