Celebs
Adam Sandler spotted all over his hometown of Manchester, N.H.
The actor made stops at his alma maters, a well-known diner, and the Mall of New Hampshire.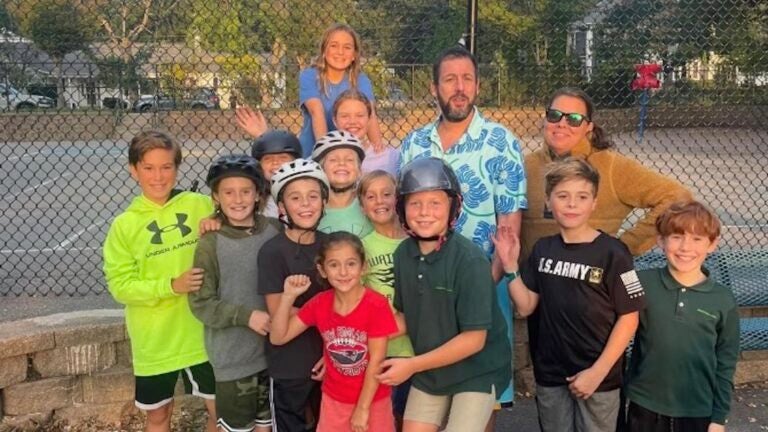 New Hampshire-raised comedian and actor Adam Sandler was spotted in his hometown of Manchester this week, making several appearances around the city on Tuesday and Wednesday.
Sandler stopped by two of his alma maters, Webster Elementary School and Hillside Middle School, greeting students and taking group pictures.
A representative from the Manchester School District said Sandler was seen outside Webster after the school day but did not have further details to share.
Additionally, he also grabbed a bite to eat with his mother and nephew at the Red Arrow Diner, a well-known spot with locations across the Granite State.
According to a Facebook post from the diner, Sandler "enjoyed chicken rice soup, a plain burger, and a side of pickles."
Several other Sandler sightings were shared to "u local New Hampshire," a Facebook group created by Manchester-based news station WMUR-TV.
One of these instances occurred at the Mall of New Hampshire, with Sandler photographed by a shopper outside of an Old Navy. Various sightings at other locations around the city were also posted to the group.
Sandler's most recent on-screen appearance was in "You Are So Not Invited to My Bat Mitzvah," which premiered exclusively on Netflix Aug. 25. Sander co-stars with his wife, Jackie, and his two daughters, Sadie and Sunny, in the coming-of-age film.
The release of the actor's next film, "Spaceman," has been delayed to 2024 alongside numerous Netflix originals due to the ongoing SAG-AFTRA strike. In the meantime, Sandler will be embarking on a comedy tour, "The I Missed You Tour," in October, November, and December; however there are no stops in New England.
Newsletter Signup
Stay up to date on all the latest news from Boston.com