Celebs
Dane Cook, 51, marries Kelsi Taylor, 24, in Hawaii
Comedian and Arlington native Dane Cook tied the knot after six years of dating the singer/fitness instructor.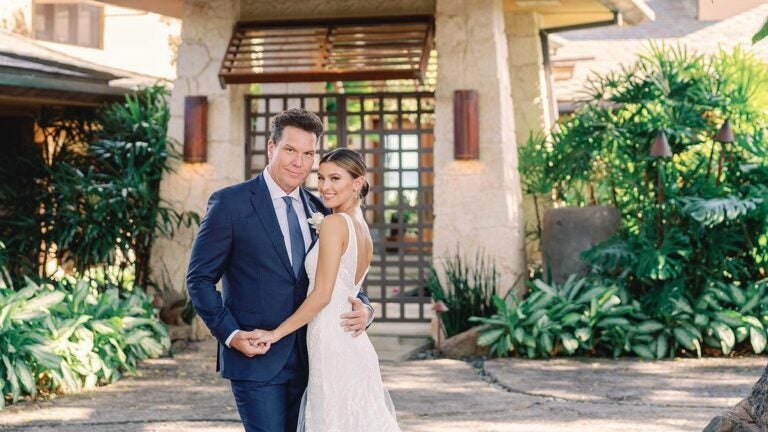 After five years of dating followed by a one-year engagement, comedian and Arlington native Dane Cook married fitness instructor Kelsi Taylor at an intimate ceremony in Hawaii over the weekend.
"I just want everyone to know that me and [Taylor] are on a non-stop smile binge this week," Cook wrote on Instagram. "We are so in love surrounded by beauty. I've shared so many incredible times in my life with her and now we have our own wedding to add to the list."
According to People, the 20-person ceremony was held on Oahu, where close family and friends of Cook, 51, and Taylor, 24, dined on wedge and local green salads with a yuzu honey dressing, seared beef tenderloin, and roasted carrots.
In a 2022 interview with Boston.com, Cook discussed proposing to Taylor at a family favorite vacation spot in Maine.
"Some people are Cape Codders, but we were Northerners growing up — we'd go up to Hampton Beach or Maine in the summer," Cook said. "Nubble Lighthouse on York Beach was my mom's favorite place on Earth. When she passed away, she asked us to release her ashes there. To bring Kelsi to this place that we both love, it felt like my mom's spirit was there."
Cook also told Boston.com he wasn't letting the outside noise affect his relationship with Taylor, who he began dating when she was 18.
"We've had a lot of fun with our relationship, and we've taken some hits for "the other narrative," I guess you could call it," Cook said. "We're enjoying the comedic moment right now, but next year we're focusing on our future plans together."
Newsletter Signup
Stay up to date on all the latest news from Boston.com