Celebs
Nia Long blasts Boston Celtics for handling of Ime Udoka situation
Actress Nia Long also criticized the team employee with whom Ime Udoka allegedly had an improper relationship.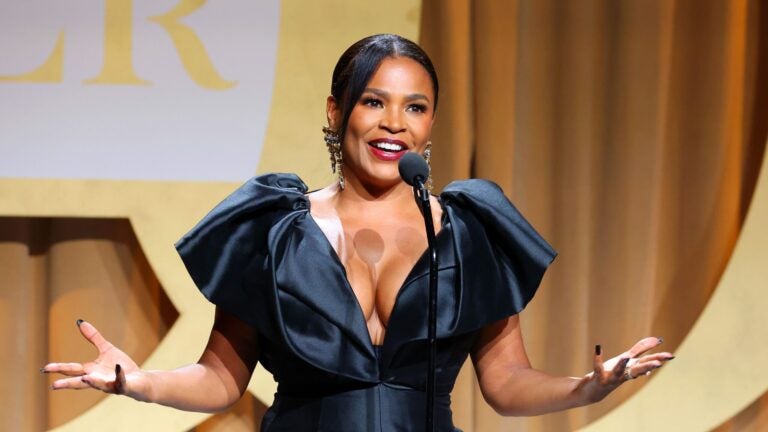 Actress Nia Long ("The Best Man") isn't done taking the Boston Celtics to task for the team's handling of the suspension of her ex-fiancée, Ime Udoka.
Shortly after the one-year anniversary of Celtics leadership indefinitely suspending Udoka for violating team policies, Long took to Instagram and called out both the Celtics as well as the team employee with whom Udoka allegedly had an improper relationship.
The video shared by Long features a speech by Dr. Yaba Blay, a scholar and activist whose work focuses on the experiences of Black women and girls.
In the clip, Blay speaks to soccer star Abby Wambach and her wife, author Glennon Doyle, about how "the world has to stop" for the tears of white women, and how many white women use that knowledge as a manipulation tool "to avoid accountability."
"The minute a white woman cries, the world has to stop — 'Oh my god, what's wrong with you, baby?'" Blay said. "Black woman cry — we could be rolling around the ground screaming, and you are unmoved because you've been socialized not to see us as human beings."
Blay also contended that white women understand this societal imbalance, and "very deliberately turn that s*** on as a way to avoid accountability."
"That's not fragility, that's manipulation," Blay said. "That's strategic. That's diabolical.
"We're supposed to let you off the hook because you can't handle it? No, you don't want to," Blay continued. "And every time we hold your feet to the fire, all of a sudden, 'Oh my God, I'm so sorry, I didn't know.' This is how you run away. So how do I hold you accountable?"
Long pinned the video to her Instagram — meaning it will remain the top post when any of her 4.5 million followers visit her account — and added the caption, "Where was this level of awareness a year ago @celtics ???"
Following Udoka's suspension in September 2022, the team announced in February 2023 that interim head coach Joe Mazzula would assume the role permamently, with The Boston Globe reporting that Udoka was no longer with the franchise. In April 2023, Udoka was named head coach of the Houston Rockets.
This isn't the first time Long has been critical of Celtics decision-makers for their handling of Udoka's suspension.
In an interview with The Hollywood Reporter, Long criticized the Celtics for deciding "to make a very private situation public," telling the magazine that she had to take her and Udoka's son, Kez, 11, out of school following Udoka's one-year suspension for violating team policies.
"I think the most heartbreaking thing about all of this was seeing my son's face when the Boston Celtics organization decided to make a very private situation public," Long told THR. "It was devastating, and it still is. He still has moments where it's not easy for him."
"If you're in the business of protecting women — I'm sorry, no one from the Celtics organization has even called to see if I'm OK, to see if my children are OK," the actress continued. "It's very disappointing."
The Celtics did not immediately respond to a request for comment.
Newsletter Signup
Stay up to date on all the latest news from Boston.com