Celebs
From 'Seinfeld' to 'Star Wars,' 12 stars you can't miss at Rhode Island Comic Con this weekend
Christina Ricci, Marisa Tomei, Paula Abdul, and LeVar Burton are just a few of the celebs in Providence Nov. 3-5.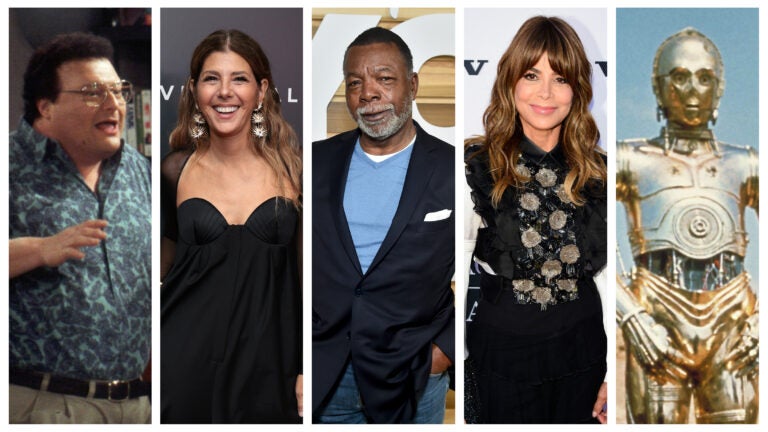 From "Seinfeld" to "Star Wars," "Mad Men" to "Yellowjackets," Marvel movies to Hobbit movies — call this a meteor shower because the amount of stars descending upon Providence, R.I. for Rhode Island Comic Con this weekend does not even make sense, my friend.
Here are 12 names you won't want to miss at the event in Providence from Nov. 3-5. Grab your autograph book, and jump in the car.
Wayne Knight
Hellooo, Newman.
Whether he was feuding with Jerry, chugging Mello Yello for bottle-returns, plotting a dog-napping, pining for Elaine or his landlord's wife, requesting calzones or devouring muffin stumps ("They call him the cleaner"), this postal worker always delivered.
Someone needs to ask him about that "Seinfeld" reunion Jerry teased in Boston last month (and then email me immediately with his response). Just make sure to bring him some Mike's Pastry — three times a week he shall require a cannoli.
Show about nothing aside, Knight has a "Jurassic Park" cult following. He goes down in cinema history as the worst IT guy of all time. (#Barbasol.) See his schedule here.
Marisa Tomei
Speaking of "Seinfeld," we also have George's dream date. ("Apparently this Marisa Tomei loves funny, quirky bald men!")
George could only dream, but the rest of us can meet the Oscar winner, whom you might also know from little arthouse flicks like "My Cousin Vinny," and as Tom Holland's Aunt May in Marvel's Spider-Man franchise. Schedule here.
Evangeline Lilly
Speaking of Marvel stars: Whether you know her as Kate from "Lost," Tauriel from "The Hobbit: The Desolation of Smaug," or Michael Douglass's daughter and Paul Rudd's partner The Wasp in Marvel's "Ant-Man" series, you can meet the "Quantumania" star this weekend. Schedule here.
Christina Ricci
You likely watched her in "Casper," "Addams Family Values" or on Netflix's "Wednesday" all October. But spooky movies aside, the Golden Globe nominee also played the murder-obsessed Misty on the Emmy-nominated "Yellowjackets," a traumatized woman in "Monstrous," a journalist uncovering grim gruesome acts at a mental hospital in "Escaping the Madhouse: The Nelly Bly Story," a suspected axe murderer in "The Lizzie Borden Chronicles," a werewolf victim in "Cursed," Ichabod Crane's love interest in "The Legend of Sleepy Hollow," an accident victim with visions in "The Gathering"…. Hmm. OK, I'm sensing a theme here. But also "Buffalo 66." An underrated gem. Schedule here.
LeVar Burton
Take a look, he's not in a book — he's here in southern New England (and launching a new podcast). Some may know him as Geordi from "Star Trek: The Next Generation," but he'll always be LeVar from "Reading Rainbow" to me. He's also a fun Twitter follow. Schedule here.
Paula Abdul
Attention kids of the '80s — well, late '80s — and "American Idol" fans, this is not a drill. Paula Abdul is in Providence. Enough said. Schedule here.
John Ratzenberger
Newman isn't the only beloved postal worker in town — Boston's Cliff Clavin will drop some trivia on you. Aside from drinking with Norm (or Nahm) where everybody knows your name, he's also the voice of Hamm in the "Toy Story" franchise, along with a slew of Disney Pixar hits: "A Bug's Life," "Finding Nemo," "The Incredibles," "Wall-E"… I'll stop there. Oh, and apparently "Captain Planet" (mind = blown) and "Star Wars: The Empire Strikes Back." (By the way, any interest in buying his house?) Schedule here.
Carl Weathers
Sure, he was Apollo Creed in the "Rocky" franchise, but sparring Stallone (and dozens of other roles) aside — was Chubbs in "Happy Gilmore." True '90s legend. Adam Sandler's golf coach is here to shake your hand despite that alligator attack. These days he's Din Djarin's buddy on "The Mandalorian," though his best role in my book was as Tobias Fünke's acting coach in "Arrested Development." (Baby, you got a stew goin'.) Schedule here.
Molly Ringwald & castmates
The star of John Hughes hits "The Breakfast Club," "Pretty in Pink," and "Sixteen Candles" appears solo and with Breakfast Clubbers Anthony Michael Hall, Judd Nelson, and Ally Sheedy. She'll also appear with "Pretty in Pink" castmate Andrew McCarthy for an event, and with Hall for a "Sixteen Candles" reunion. Schedule here.
C-3PO (a.k.a. Anthony Daniels)
Speaking of "Star Wars," we have C-3PO, or, as he's known in human form, Anthony Daniels. Since the original 1977 "Star Wars," Daniels has … Aaaand I just lost the "Star Wars" fans. They're all in line at the Convention Center. Schedule here.
Randy Quaid
Call him Ishmael.
You might love him from "Independence Day" or "National Lampoon's Christmas Vacation," but to me, he'll always be that Amish bowler knocking pins with Woody Harrelson and Bill Murray in the Farrelly Brothers' cult-classic "Kingpin." ("You leave Rebecca out of this, mister.") See his schedule here.
Harry Hamlin
He was fantastic on "Mad Men," but when I see Hamlin, I see Big Dog fighting over cabinet space with Larry David on "Curb Your Enthusiasm." ("Big Dog does not give up cabinets.") He was also delightfully sinister on "Veronica Mars." Schedule here.
And a few more …
I promised you 12 and I'll stick to my word … but if I could name a few more?
Get on up, it's bobsled time: Doug E. Doug from "Cool Runnings," appears solo and with "Cool Runnings" castmates.
Cary Elwes — aka Westley from cult-favorite "The Princess Bride" — is in the house.
Oh, Al. Katey Sagal from "Married with Children," "Futurama," and "Sons of Anarchy" appears solo and with the casts of "Sons" and "Futurama." You can also meet a slew of her castmates one-on-one, including Roslindale native voice actor Billy West and Hellboy himself Ron Perlman.
Shannen Doherty of "Mallrats," "Heathers," "Beverly Hills 90210," and "Charmed."
Mike Starr, the antacid-chewing dude chasing Jim Carrey and Jeff Daniels in "Dumb and Dumber."
Seth Green from "Family Guy," "Austin Powers," and "Guardians of the Galaxy: Vol. 3."
Mary McDonnell from Netflix's buzzy new "The Fall of the House of Usher," and "Battlestar Galactica." Edward James Olmos, her "Battlestar" co-star, appears with her at a team-up, and solo.
Meanwhile, catch voice actors from "Adventure Time," "Darkwing Duck," "Animaniacs," Disney's "Mulan," Disney's "Pocahontas," the cast of "X-Men: The Animated Series," the cast of the original "Teenage Mutant Ninja Turtles," "SpongeBob SquarePants," and much more.
All details here. GA tickets from $115 adult, $50 kids.
Lauren Daley can be reached at [email protected]. Follow her on Twitter @laurendaley1.
Newsletter Signup
Stay up to date on all the latest news from Boston.com