Commentary
A petition to replace the Christopher Columbus statue with the Route 1 orange dinosaur is gaining steam, sort of
The change.org petition was inching toward its 2,500-signature goal by mid-day Sunday.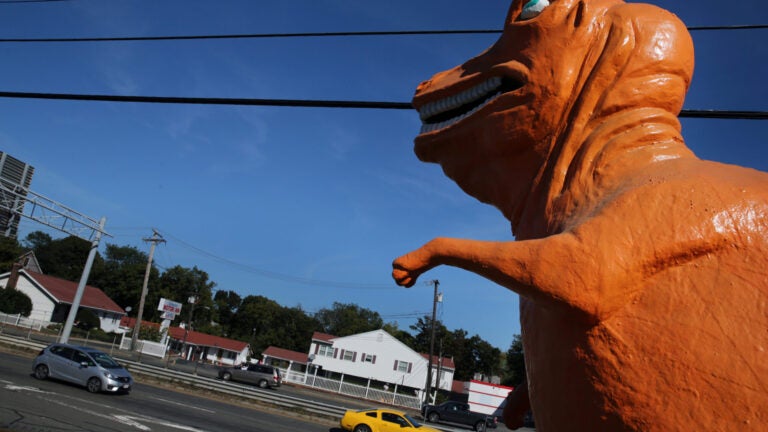 More than 500 years later, Christopher Columbus is still making waves. Back then it was for getting famously lost on his way to the West Indies, and today, it's for still being celebrated despite having allegedly slaughtered and enslaved any number of indigenous people once he didn't get there. (The unfortunate residents of Hispanolia, where Columbus did land in 1492, surely wished he had found his way to China instead.)
Hence the dialogue following last week's beheading of the Christopher Columbus statue in Boston's North End. While most (although not necessarily all) seem to agree that wanton destruction of property is usually not a great idea, there's much debate as to what the ultimate fate of the now-removed statue should be. (Boston.com readers, in fact, can weigh in with their own opinions here. Spoiler alert: So far, lots of them want to see Chris returned after his head is re-affixed.)
As of now, the United American Indians of New England, North American Indian Center of Boston, IndigenousPeoplesDayMA, and the New Democracy Coalition would all like to see the statue permanently removed, and Mayor Marty Walsh said he's willing to at least "take time to assess the historic meaning of the statue" before making any decisions.
But others — notably members of the Italian-American Alliance of Boston — are dead set against that option, having gone so far as to plan a rally "to demand restoration and return of the Christopher Columbus statue," according to a press release from the group. The rally, originally scheduled for Sunday afternoon, has since been cancelled — but, say organizers, "in its place, Boston's Mayor Marty Walsh will meet with the leaders of the Italian American Alliance who had scheduled the rally."
So clearly there will be more to come on that, but in the meantime, it seems another possible solution has presented itself: A change.org petition is calling to "Replace Christopher Columbus Statue With The Route 1 Orange Dinosaur," and we think they kind of mean it. Created by change.org user Barryphillip Arruda, it was inching toward its 2,500-signature goal by mid-day Sunday, with 1,504 and counting.
As historians of Route 1 in Saugus will tell you, the dinosaur attained icon status while looming over Route 1 as part of the course at the Route One Miniature Golf & Batting Cages. Panic ensued when that business was sold to make way for the Essex Landing development, but the developers had the foresight to preserve the landmark on an elevated perch where Route 99 ("The Gateway to Malden") splits off from Route 1.
Now, however, the change.org petitioners envision a new location for the old dino, in Christopher Columbus Park. Here are some of the reasons they've cited for signing on, per the change.org petition page:
"One of these things is a ruthless carnivore, exploiting his fellow creatures without remorse or repentance. And the other is a statue of a T. rex."
"Because that ridiculous, mis-posed T. rex deserves the historical honor erroneously awarded that Genovese [scoundrel]. T. rex never enslaved or tortured anyone in the name of God and Country. Personally, instead of the Columbus statue, I'd have preferred one of the Hilltop Steakhouse Cows, but that's not an available choice, I guess."
"Because, I too, have a big head and short arms." (A reference to Disney's "Meet the Robinsons," natch.)
Granted, such a transfer seems unlikely, but on the other hand stranger things have happened. Stay tuned to see whether the petition's quixotic goal comes to pass, and in the meantime, it's somehow reassuring that at least some are apparently able to keep a sense of humor amid these troubling and generally rancorous times.
Want to share your opinion as to what should fill that space (or others in Boston)? Fill in the form below: