Commentary
Review & Setlist: Elvis Costello takes a wild, and sometimes wacky, road at Beverly's Cabot
Costello and The Imposters playfully juggled classic tracks, obscure nuggets, and recent standouts Tuesday.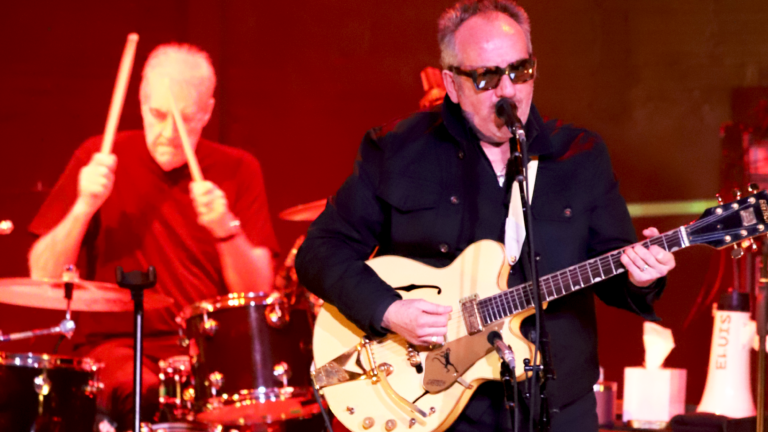 When you go to an Elvis Costello show, you never know exactly which Elvis you're going to get. The rocker? The crooner? The Burt Bacharach-style lounge act?
At a rare small-theater show with his band The Imposters at The Cabot in Beverly Tuesday night, we got all three — and then some.
Fresh off a 10-night stand at the Gramercy Theatre in New York City, and nearby theater shows in Worcester and Portsmouth, Costello and his band turned in an eclectic and energetic two-hour set, playfully juggling classic tracks, obscure nuggets, and recent standouts — although few "hits." (Anyone familiar only with the likes of "Veronica" and "Oliver's Army" would likely have been lost.)
And — apparently taken by The Cabot's historic confines and its past life as the site of a long-running magic show — Elvis also turned out to be a jaunty vaudevillian master of ceremonies, referring to himself as a "highly trained magician" and regaling the crowd with stories of his parents' fateful first meeting over a record shop counter, his angry grandmother, and his early-'70s discovery of "this Dutch singer, Bruce Springsteen," leading into a driving take on "Radio, Radio."
It's worth noting that at Costello's recent shows you also are never quite sure which voice you're going to get — and with the Beverly stop being the 68-year-old's fifth show in six days, it did take a while for his rasp to adapt. His burly vocals were able to sustain raucous opening takes through "This Year's Girl" and last year's "A Boy Named If," but things got bumpier on a rough-hewn version of "Man Out of Time," originally recorded for his 1982 masterpiece "Imperial Bedroom," probably his smoothest sounding album.
He hit his stride by the fourth song, though: Although a version he performed at Leader Bank Pavilion last summer seemed to dissipate in the night air, the spooky, moody "Hetty O'Hara Confidential," from 2020's "Hey Clockface," turned out to be ideally suited for the intimate Cabot setting. "Anybody feeling a little scandalous?" Costello asked conspiratorially before launching into a knife-sharp and perfectly sinister rendition of probably that album's best track.
From there Costello's setlist was basically an adventure into the unexpected, from the delightful (a pitch-perfect version of "Clubland" off 1981's "Trust") to the head-scratching ("I Don't Want Your Lyndon Johnson," which Elvis says he discovered on an old single he bought at a record store in Ithaca, New York, but who knows with him?). The result at times was pacing that felt a bit off: He'd seem ready to rock out, and then sit down for, say, an intense rendition of 2002's moody, mostly forgotten "When I Was Cruel No. 2," or launch into the offbeat, hip-hop-flavored "Come the Meantimes" from his 2013 collaboration with The Roots.
(He also has a tendency to throw off the lyrics to some of his best known songs almost behind the beat, in what has to be an intentional choice that smacks of an almost Dylanesque pique — he may be looser and chattier than he used to be, but the former angry young man is still going to do things his way, popular sentiment be damned.)
Interestingly, though, despite the thrill of seeing Costello in such an intimate setting with his full band — the incomparable Steve Nieve on keyboards, Pete Thomas on drums, Davey Faragher on bass, and special guest Charlie Sexton on guitar — the highlight of the night involved mostly just Elvis, an acoustic guitar and a '60s-style lounge chair, paying tribute to the recently passed Bacharach.
His take on "Toledo," from the duo's recently reissued 1998 album "Painted from Memory," was nothing short of exquisite. And "Blood and Hot Sauce," a rowdy full-band take on a song from Costello's unproduced stage musical "A Face in the Crowd," makes you hope that show eventually sees the light of day.
Meanwhile, even with all the different Elvises on display over the course of the night, in the end you can almost always count on Costello to embrace his inner Rock Star. And that he did: Starting with his much-loved first hit "Alison" (which he claimed he didn't sing when they first started out, because "I couldn't play it"), he and the Imposters rolled through a spectacular encore with wild takes on "(I Don't Want To Go To) Chelsea," "Magnificent Hurt," "Pump It Up," and "(What's So Funny 'Bout) Peace, Love And Understanding?" that had the Cabot crowd ecstatic.
If there's one lesson to be learned about Elvis Costello in 2023 from Tuesday night's show at The Cabot — which, incidentally, continues to establish itself as a premier Greater Boston venue with a seemingly nonstop string of great bookings — it's that Elvis is going to sing what he wants, when he wants to, and you can come along with him or not. Fortunately in Beverly, the audience was clearly full of appreciative fans more than willing to take the trip.
Setlist for Elvis Costello in Beverly:
Start: 8:15 p.m.
This Year's Girl
A Boy Named If
Man Out Of Time
Hetty O'Hara Confidential
Radio, Radio
I Don't Want Your Lyndon Johnson/Gimme That Wine
When I Was Cruel No. 2
Clubland
Accidents Will Happen
Come The Meantimes/Rudie Can't Fail
Watching The Detectives
Toledo/Funny How Time Slips Away
Paint The Red Rose Blue
The Man You Love To Hate
Blood & Hot Sauce
Alison
(I Don't Want To Go To) Chelsea
Magnificent Hurt
Pump It Up
(What's So Funny 'Bout) Peace, Love And Understanding?
End: 10:20 p.m.
Editor's note: This review has been corrected to clarify the provenance of Costello's unproduced stage musical.
Need weekend plans?
The best things to do around the city, delivered to your inbox.