Community
This is the best Fourth of July cookout meal, according to readers
"Add some homemade potato salad and slaw and ice-cold beverages and you have a meal fit for all!"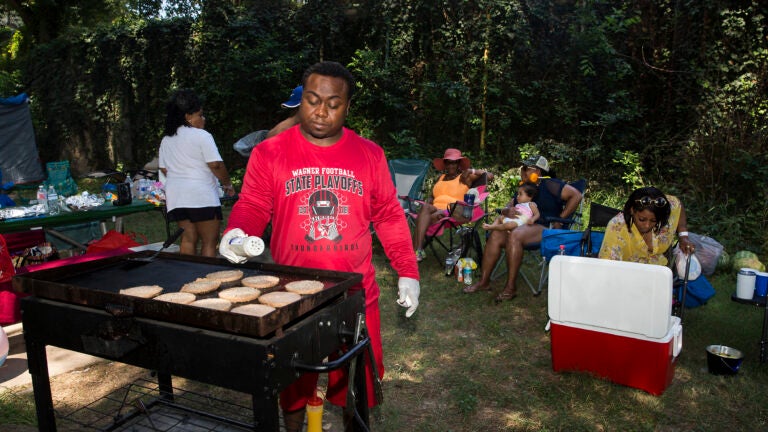 The forecast for this weekend may be cloudy, but Boston.com readers are still hoping to get their hands on some classic Fourth of July barbecue food.
Last year's holiday weekend came as COVID cases were surging across the nation, but now that most parts of the country are in a post-lockdown period, a recent survey by The Vacationer found that 73 percent of Americans plan to attend a cookout on the Fourth of July this year.
We asked readers what food they're most looking forward to enjoying this Independence Day weekend, and they delivered with more than a dozen barbecue classics. Ahead of the holiday weekend, we wanted to know which dish would take the crown as the must-have food to have on your plate.
Among the favorite suggestions were grilling favorites such as smoked ribs and pulled pork, as well as classic New England dishes such as lobster rolls and clams, but the clear winner, with 36 percent of the 107 votes, was a barbecue staple: Hamburgers.
Coming in as the second favorite choice were hot dogs, which got 14 percent of the vote. Grilled chicken and clams may not be making any star appearances at these reader's cookouts, however, as both dishes tied for the least popular menu item.
Next to those hamburgers, you'll probably find corn on the cob, which won out for the best side dish with 39 percent of the vote. Also popular among readers is potato salad.
Several readers responded with comments about how they'll be spending the holiday weekend (and with what foods); you'll find a sampling of their remarks below.
Responses have been edited for length and clarity.
"Going to Nathan's Hot Dog Eating Contest at Coney Island." — Dave Barishian, Hope, RI
"Remembering the many years I went to the Boston Pops 4th of July concert on the Esplanade."
"Kansas City-style ribs, both St. Louis and baby back cuts, grill roasted chicken wings and thighs, and bone-in rib-eye steaks. Add some homemade potato salad and slaw and ice-cold beverages and you have a meal fit for all!"
"Having a cookout with my friends in the back yard." — Jim, Dorchester
"I will be doing ribs and burgers and brats in my smoker as well as grilling steak tips, chicken, and hot dogs. My wife will be making chili and several salads. So glad to be able to have our friends and family together again." — Bob, Lunenburg
Boston.com occasionally interacts with readers by conducting informal polls and surveys. These results should be read as an unscientific gauge of readers' opinion.
Newsletter Signup
Stay up to date on all the latest news from Boston.com