Community
What makes a true Bay Stater? You be the judge.
"Get off when you see the orange dinosaur."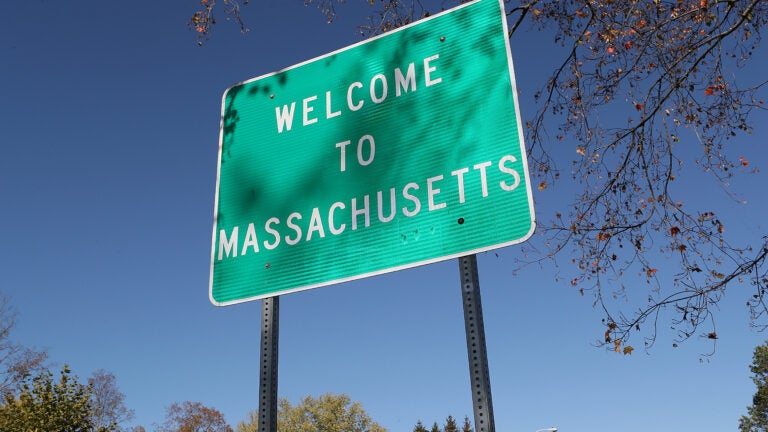 The people of Boston and its surrounding areas know how to spot a Massachusetts native in a crowd of transplants and tourists from a mile away. Given the different communities that make up Bay Staters, it can sometimes be difficult to define what makes a true native, but the people of Mass. will certainly try.
We've asked Boston.com readers to let us know what makes a true Bay Stater by sharing the figures of speech and landmarks only natives would understand. What makes you from the South Shore, Western Mass., or Cape Cod? We want you to tell us.
"People from the South Shore know bar pizza. People from the North Shore know roast beef. People from Western Mass. complain about the lack of trains to Boston," one reader said.
Here are some phrases readers say only true Mass. natives will appreciate:
"That Dunks always gets my coffee wrong, let's go to the other Dunks next door."
"Gonna do a packie run, the Dr. MCGILLIGUDDY'S in the freezer is almost friggin gone."
"That'll nevah be Tukkah's Cup. It's always gonna be Timmy's."
"128 will ALWAYS be 128, and NEVER 95."
"It's my 3rd bent rim this winter."
"Can I have a peanut butter and fluff sandwich?"
"Giving directions: Yah, so go up this road and bang a hard right. Then hang a left and it's right there. You can't miss it. If you see the packie, bang a uey 'cuz you've gone too far."
"I want jimmies on my hoodie."
"'Storrowed' makes you laugh, sigh, and complain all at the same time."
"Get off when you see the orange dinosaur."
"The twin cities mean Fitchburg and Leominster, not Minneapolis and St. Paul."
"You still call it 'Great Woods.'" — Jane Wilson
Readers also shared some region-specific idiosyncrasies and cultural touchstones:
Arlington
"Skating on Hill's Pond." — Anne
Amherst
"When you don't pronounce the 'h' or say UMass Am-hurst. It's just UMass, there isn't another."
"It's Am-urst, not Am-hurst."
Cambridge
"You either live in 'The Coast or The Port.'"
"You talk about the Brigham's and Bailey's in Harvard Square."
Cape Cod
"Every Memorial Day: 'No more left turns…'"
"Fried Clams always includes the bellies. Also…what Down Cape or Upper Cape really means." — Jean Boyd
"28 is the road number, not the speed limit."
Charlestown
"I'm going down to Sully's. Nice! Which one? New or old?"
Hyde Park
"'On Dawgs' makes sense to you."
Jamaica Plain
"You've seen more than one mayor drunk at Doyles."
"You sailed at 'The Pond,' drank up 'the Arb's and swam at 'the Tank.'"
Lexington
"April 19th is the most important holiday of the year."
Medford
"Wanna go to Mickey D's at the Meadow Glen Mall?" — Jim N
Natick
"You go to a place called The Chat"
"Your hotdogs are from Caseys!"
Newburyport
"Yeat. Break-o-day hill. Skunk Hollow. Fran Dalton. Duncan Chase." — Peter Flynn
"Greeting someone by saying "YEAT!"
Newton
"Bring home a pint from Brigham's with the fixins."
"You go down the Lake to meet a mush."
North Shore
"Santarpio's"
"What are you having for your birthday dinner? Kowloon."
"Beef 3-way."
"Everything south of the Tip O'Neill tunnel is "The Cape"
"Vacations up New Hampshire and Maine"
"You know you're from the North Shore when you complain that Kelly's has gone downhill since they expanded, but you still go there at least once a month." — Norm Blanchard
"Holiday lights display on the Lynn Fells parkway is the only place you can see Elvis, aliens, and Santa Claus all at once." — Kathryn Williamson
Roslindale
"ROSSIE SQUARE NOT YUPPIZED ROZZIE VILLAGE."
Roxbury
"Would you like a boiled egg if I fried it?" — KTM
Somerville
"Victor's Deli…gone too soon."
"Leones for Sicilian slice and Mama Lisa's for calzone."
South Boston
"I'm not going to Sullivan's for a hot dog, I'm going to the circle for a spukie." — Tom Francis
South Shore
"You refer to the living room as the 'parlor.' You also like to drink tonic, not Coke."
"Goin downa Cape for the weekend!"
Springfield
Stoughton
Walpole
"Everyone graduated high school with a Sully, Murph, Fitzy, and an O'nie."
Western Massachusetts
"Bypassing Big E and Tanglewood traffic, the Mohawk Trail, Bridge of Flowers, Basketball Hall of Fame, Red Rose Pizza, the 'non-Boston' accent, the 'Welcome to Wilbraham, Home of Friendly Ice Cream' on the Mass. Pike." — Joanne in Western MA
"You correct people who say that Worcester is Western Mass."
"You have to convince out-of-staters you are actually from Massachusetts even though you don't pahk ya cahr." — Sully
Woburn
"You're at Breakers for the third time this week."
Worcester
"The final part of the learner's permit was successfully driving through Kelley Square."
"I'm actually from Wista."
"If you don't have money for tonic or a frappe, there's a bubbler."
Newsletter Signup
Stay up to date on all the latest news from Boston.com