Community
What would you do if you won the VaxMillions giveaway?
We want to know how our readers would spend their lottery winnings if they took home a prize.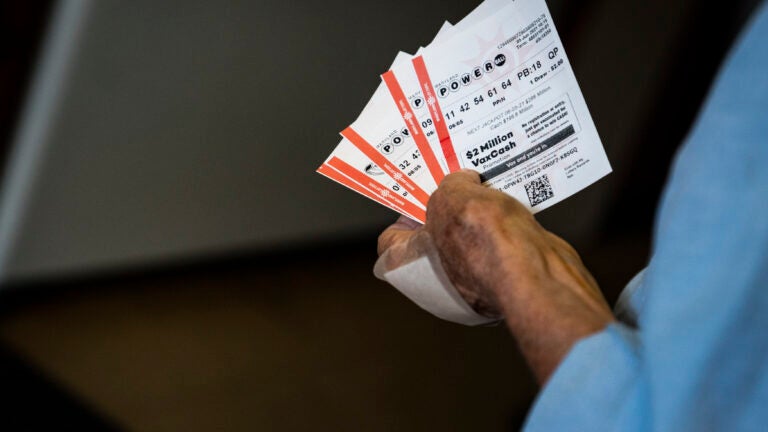 In an effort to encourage Massachusetts residents to get vaccinated, Governor Charlie Baker announced the VaxMillions giveaway. Vaccinated Massachusetts residents could win $1 million, or a $300,000 scholarship for those under 18.
Erlinda Bodden, 46, of Hyde Park won $1 million in the Massachusetts State Lottery prize in May and registered for the VaxMillions to hopefully continue her winning streak.
Bodden was shopping for her son's favorite Gatorade, Frost Glacier Cherry, in Milton Food Mart when she purchased the winning ticket.
Bodden typically takes $40 out of her paychecks to spend on lottery tickets hoping to win something substantial. Her lucky day came on a Friday in May.
"I was so surprised. You know, you always play hoping you're going to win, until you actually do. It was just one of those a-ha moments," Bodden said.
Usually she scratches off her tickets in the evening at home, after her two sons finish dinner and she's able to relax. This time, however, she started scratching off the ticket an hour before she got off work as a community health worker. One of the nurses came in to check and see if she was OK because she heard Bodden hyperventilating in the other room.
"At this point I am bouncing around the office. I just kept pacing back and forth. I was like running a marathon but in one spot," Bodden said. "I said 'Trisha, Trisha, I need you to look at this. Tell me what that says.' She looked at me and said 'I think you're a millionaire.'"
Bodden left work, picked up her son from school, and headed straight to the Lottery Commission office. When she picked up the envelope of cash, $650,000 before taxes, her son turned to her and said that he would save the money first if they were to get in a car accident on the way back to their house, "God forbid." Bodden was thinking the same thing.
She used some of the money to pay off her outstanding loans, invest, and take her two teenage sons on a trip to Disney World this past Christmas.
If she wins the VaxMillions, Bodden would put the money toward her coworkers.
"We held it down last year. I was so proud of my team and I made a promise that if I win this one, I'm going to share it with you guys. Through COVID and everything, everybody kept coming to work. It was incredible," Bodden said.
When purchasing lottery tickets, Bodden has developed a few strategies for choosing the right one. She routinely buys new tickets and checks the Massachusetts State Lottery website to find older tickets that have the highest percentage of unclaimed prizes. Just after the interview with Boston.com, Bodden won $200 off of a 100X scratch-off lottery ticket that she bought for $10.
"You can't win if you don't play," Bodden said.
We want to know what our readers would do if they won the lottery. What would you spend the money on? Do you have any strategies for finding a winning ticket? Let us know below or e-mail us at [email protected].
Newsletter Signup
Stay up to date on all the latest news from Boston.com