Community
How Boston.com readers would spend their 'VaxMillions' vaccine lottery winnings
"Pay off my school loans, and then use the leftover $20 to buy a pizza."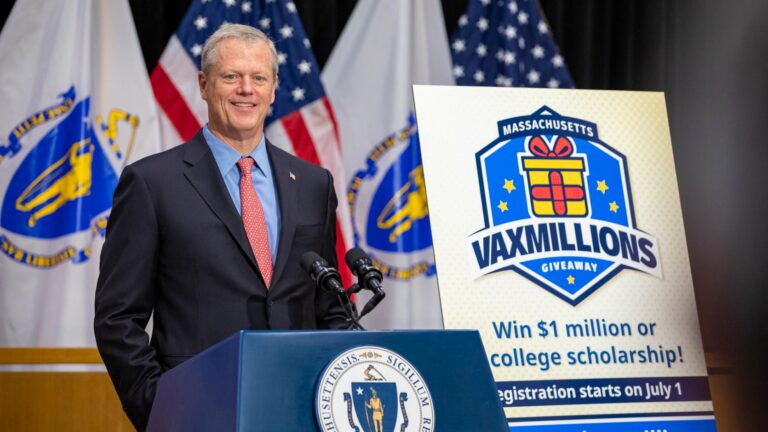 Erlinda Bodden, a health worker for homeless communities in Cambridge, couldn't believe her eyes when she scratched off the remaining numbers on her lottery ticket, revealing that she won the $1 million prize. Now, she's hoping to win the VaxMillions.
The first deadline for the VaxMillions giveaway is this week and vaccinated Massachusetts residents could win $1 million, or a $300,000 scholarship for those under age 18.
VaxMillions registration opened on July 1, and vaccinated residents are encouraged to register through Aug. 19. There are five drawings, and the first deadline is Thursday, July 22.
We asked Boston.com readers what they would do if they took home a prize, and if they had any strategies for winning the jackpot.
More than 50 respondents wrote in detail about putting the money toward their loved ones, retiring, quitting their jobs, investing, and paying off their student loans and mortgages. "I would put enough away for my son's college education, and put a big chunk of it away for retirement. Then I would probably make one or two purchases that I would never make if I hadn't won and then invest the rest," Al in Norwood wrote. "I know it sounds boring, but these are things that need to be done."
Some readers wanted to treat themselves. Justin from Bridgewater, an apparent Star Wars fan, said he would order a "tailor-made Jar Jar Binks costume." Others said they would donate the money to mutual aid funds, food banks, and initiatives to help prevent the spread of COVID-19.
Readers' winning strategies to play the lottery widely varied. Jay in Andover said he strictly plays $2 tickets that could amount in prizes over $300 million. Paul in Jamaica Plain instead prefers to spend $40 a week on one kind of ticket, like the $4 million scratch-off. Perhaps the best strategy comes from Jesse in Somerville who said to enjoy the fantasy of playing the lottery and ignore the odds.
Below is a sampling of how some readers would spend their lottery winnings.
Some responses have been edited lightly for clarity and grammar.
Pay off debt
"Pay off my school loans, and then use the leftover $20 to buy a pizza." — Leanne, Allston
"I'd pay off my student loans and mortgage, then max out our HSAs and 401(k)s. After that? My husband and I will think long and hard about how to make it last while occasionally treating ourselves. We came of age during the 2008 recession and know the value of living modestly with a safety net." — Amanda, Lakeville
"I would spend 20 percent on fun stuff and pay off my house. If anything is left over, it goes in the bank!" — Paul, Jamaica Plain
"I would pay off my student loans and then contribute the $1,000 that usually goes to the U.S. Department of Education each month to our local economy. I would donate the rest of the VaxMillions to mutual aid funds around the greater Boston area. I only buy a lottery ticket if I have a psychic vision about it first. I won $100 this way." — Brianne, Groveland
"My husband and I would pay off our student loan debt and our home mortgage. It would be incredibly freeing! We would invest whatever is leftover in our children's savings accounts." — Brittany, Leominster
"Pay off my debts, renovate my house, get an electric car. If there's any money left, travel." — Jesse, Somerville
"Pay off my debts. I am so tired of worrying about money." — Leslie, Quincy
Share it with family and loved ones
"Give half to the tax men. Half again to the wife. Half again to friends and family. Half again to charities, church, land conservation. Leaves me about $62,000 after taxes. I guess I'll buy a car and/or put money aside for a new roof." — Jay, Andover
"I would give a third of the money to my son, a third to my daughter, and I would keep the other third for me and my wife. Sounds fair to me!" — Joe, Mattapoisett
"I would get the best care possible for my mom. Her terminal illness has progressed to the point where she needs professional care. Then I would donate a substantial amount to the Waltham House at the Home for Little Wanderers. Then pay off my condo and debt." — Jay, Malden
"I would get Uber/Lyft gift cards to give to my girlfriend so she could come visit me more often. I would also commission a full-size, authentic, tailor-made Jar Jar Binks costume to be made for myself to wear to the next Boston Comic Con. If there was any money left over after that (and taxes), I would throw a big BBQ for all my discord friends." — Justin, East Bridgewater
Buy a home
"Move out of Boston and buy a home in the suburbs." — Chris, Dorchester
"Easy: buy a condo. I'm not currently in a position to make a 20 percent down payment on a condo but this would put me there and then some!" — Alex, Cambridge
"Would try to buy a house. But after the combination of Massachusetts taxes and Boston property prices, my winnings probably would turn out to be barely more than a downpayment." — Conor, Boston
Donate it
"I would donate it to the COVAX initiative. We need to wipe out this pandemic worldwide! I need that more than my family needs anything else." — Charlotte, Hudson
"Donate to anyone who is running against an incumbent in Massachusetts." — Mike G, Watertown
"I would bank or invest half of it and the other half I would give to homeless charities, food banks, and small landlords and tenants who have been waiting for months for federal aid that still hasn't been delivered. Those people may lose their homes and property waiting for government money." — Amanda, Melrose
Quit 'my miserable job'
"I would quit my current job and pick up a part-time job doing something I love with no stress that gets me out in the morning and gives me afternoons off. Most likely something with helping people either in person or via a support line. I'm good at dealing with people and finding solutions." — Dave, Woburn
"I would quit my miserable job and find something else without having to worry about expenses while job searching. That is real freedom." — Meghan, Braintree
Newsletter Signup
Stay up to date on all the latest news from Boston.com